FUSO Adds New Products to Line-up in Indonesia
| | |
| --- | --- |
| •  | Fuso will add more variety to its current line-up in its largest export market, enabling customers to have more choice of vehicles |
| •  | Fuso is enhancing its 24-hour customer service for "Zero Down Time" |
| •  | With the expansion of the new FUSO line-up and enhanced customer service, Daimler Trucks Asia aims to further increase its market share to 50% in the medium to long term, and remain in No.1 position in Indonesia |
Kawasaki: Mitsubishi Fuso Truck and Bus Corporation (MFTBC), one of Asia's leading commercial vehicle manufacturers, cooperating with Daimler India Commercial Vehicles Pvt. Ltd. (DICV) under the umbrella of Daimler Trucks Asia (DTA), will offer new models of medium-heavy-duty trucks – FZ 4928, tractor– in the near future.  This vehicle was unveiled for Indonesia at South East Asia's biggest automotive exhibition,  the Gaikindo Indonesia International Auto Show (GIIAS) 2015, which was held from the 20-30th of August at the Indonesia Convention Exhibition (ICE), South Tangerang, Indonesia.
The tractor vehicle is the first FUSO model to be offered in the medium-heavy-duty truck segment in Indonesia. It will supplement the FI 1217, FJ 2523 and FJ 2528 models, which were introduced from last year, to fulfill the needs of customers and give them a wider choice of vehicles.
Fuso has been a market leader in Indonesia for 45 consecutive years since 1970. This fact is the positive result of closely collaborating with our customers to create the most suitable products and dedicated customer service. P.T. Krama Yudha Tiga Berlian Motors (KTB), the authorized distributor, is currently enhancing its 24-hour customer service by further introducing "Truck Centers" across Indonesia, where repair and maintenance are provided 24 hours a day. This initiative has been undertaken with the concept of "Big Bang Service with Zero Down Time" in mind, which avoids interfering with the operating hours of customers. This breakthrough service for commercial vehicles is aiming for non-stop business opportunities resulting in optimum results and eventually creating maximum customer satisfaction.
Michael Kamper, Senior Vice President and Head of Marketing, Sales and Customer Service of Daimler Trucks Asia, said, "With currently 1.1 million population units, Indonesia is the largest export market for us. We are proud to be a leading brand for 45 years and this proves that we are offering highly reliable products and services. With our local business partner, we want to further increase our market share to around 50% in the medium to long term."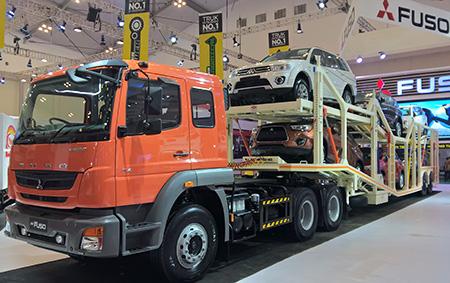 FUSO FZ 4928 heavy-duty tractor, displayed in GIIAS 2015
About MFTBC
Based in Kawasaki, Japan, Mitsubishi Fuso Truck and Bus Corporation (MFTBC) is one of Asia's leading commercial vehicle manufacturers. In 2014, the company sold a total of about 174.595 vehicles including light-, medium- and heavy-duty trucks and buses, a 1.7% increase over the previous year. Daimler AG owns 89.29% of MFTBC shares and various Mitsubishi group companies own 10.71% of MFTBC shares. MFTBC is an integral part of the Daimler Trucks Division of Daimler AG.
About DICV
Daimler India Commercial Vehicles (DICV) is a 100% subsidiary of Daimler AG, Stuttgart, Germany. It currently produces and sells a range of 9 to 49 ton trucks for the Indian market as BharatBenz, and FUSO trucks for export to markets in South East Asia, Africa, the Middle East and Latin America. DICV's state-of-the-art manufacturing facility at Oragadam, near Chennai, houses its truck and bus plant. It is the only Daimler Truck plant worldwide to produce commercial vehicles, engines and parts for three brands – Mercedes Benz, BharatBenz and FUSO.
The FUSO brand in Indonesia
FUSO is the number one commercial vehicle brand in Indonesia in the overall truck and bus segment. In the light-duty truck segment (5-8 tons GVW) served by the Colt Diesel, the company continues to lead the market with a share of 46.8% percent (January-December 2014).
The company reached its one millionth sales milestone in 2013 since its market entry in 1970. Mitsubishi Fuso products for Indonesia are distributed by P.T. Krama Yudha Tiga Berlian Motors (KTB). MFTBC holds 18% of KTB shares.