New General Distributor Appointed for FUSO in New Zealand
| | |
| --- | --- |
| ・  | MFTBC has appointed a new general distributor for the Fuso brand in New Zealand |
| ・  | The new distributor, FUSO New Zealand Ltd., (FUSO NZ), has been established in Auckland, New Zealand and will be responsible for import and wholesale |
| ・  | The transition between the current distributor Mitsubishi Motors New Zealand (MMNZ) and FUSO NZ has begun and will be completed by January 2017 |
| ・  | With the new distributor FUSO NZ, MFTBC aims to increase market share in the coming years by introducing new truck and bus models and an expanded network |
Kawasaki, Japan and Auckland, New Zealand – Mitsubishi Fuso Truck and Bus Corporation (MFTBC), one of Asia's leading commercial vehicle manufacturers, cooperating with Daimler India Commercial Vehicles Pvt. Ltd. (DICV) under the umbrella of Daimler Trucks Asia (DTA), has appointed a new general distributor for its Fuso brand in New Zealand.
FUSO New Zealand Ltd., (FUSO NZ), has been established in Auckland, New Zealand and will be responsible for the import and wholesale businesses exclusively for the Fuso brand in the New Zealand market. The newly formed company is fully-owned by Keith Andrews Trucks (KAT).
The import and wholesale businesses for FUSO is currently managed by Mitsubishi Motors New Zealand (MMNZ), with whom MFTBC has had a long-standing relationship. The transition has already been initiated between the current distributor MMNZ and FUSO NZ and will be completed by January 2017. FUSO NZ will take over the full business operation, following the smooth transition period with MMNZ. FUSO customers will not experience any disruption during or after the transition period, as it will have no impact on the operative business of FUSO dealers and the extensive network of 26 customer services and parts sales outlets across New Zealand.
Mr. Michael Kamper, Senior Vice President and Head of Marketing, Sales and Customer Services Trucks Asia, said: "We look forward to working together with FUSO NZ, which will be a dedicated General Distributor for the Fuso commercial vehicles brand. FUSO NZ is fully owned by Keith Andrews Trucks which is a highly successful and longstanding FUSO dealer, having the right competence to propel the Fuso brand in New Zealand."
FUSO has been in the New Zealand market for more than 40 years. Having sold more than 700 vehicles in 2015, there are around 22,000 trucks currently in operation in the country.
Mr. Kurtis Andrews, Managing Director for FUSO NZ, said: "We are excited about the development. There is significant work to be done to re-establish FUSO as the number one truck brand in New Zealand. Over the next five months, we will be working with MMNZ to ensure a smooth transition for our customers. From 2017, we will be looking to establish a range of initiatives that will include the expansion of the network and the range of products, which we believe will give FUSO a significant boost in its market share in the coming years."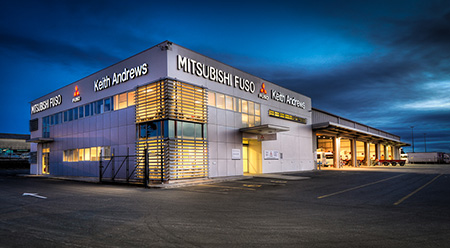 FUSO at a Glance
FUSO is one of the brands of Daimler Trucks, covering nearly all regions around the world such as Asia, Africa, Latin America, Europe and the Middle East. FUSO's light-duty to heavy-duty trucks (GVW 3.5–49 tons), vans, industrial engines and buses are sold in more than 160 markets. The Fuso brand is based on the four core brand values; Trusted Quality, Economic Efficiency, Solid & Functional Design and Committed Services.
MFTBC at a Glance
Based in Kawasaki, Japan, Mitsubishi Fuso Truck and Bus Corporation (MFTBC) is one of Asia's leading commercial vehicle manufacturers. In 2015, the company sold a total of about 154,200 vehicles including light-, medium- and heavy-duty trucks and buses under the Fuso brand. 89.29% of its shares are owned by Daimler AG and10.71% by various Mitsubishi group companies. MFTBC is an integral part of the Daimler Trucks division of Daimler AG.
KAT at a Glance
Keith Andrews Trucks (KAT) is New Zealand's largest FUSO Dealer, providing sales parts and services across the upper North Island. The company has been in operation for 25 years and its four branches service the Northland, Auckland, Waikato and Bay of Plenty regions. The company employs more than 100 staff and a new full-service dealership will be added in 2017.
Daimler Trucks Asia at a Glance
Daimler Trucks Asia (DTA) is an organizational unit that jointly operates Mitsubishi Fuso Truck and Bus Corporation (MFTBC) – an icon of the Japanese commercial vehicle industry with more than 80 years of history and Daimler India Commercial Vehicles (DICV) – a young challenger in the Indian market. DTA has a strategic business model that allows its group entities to collaborate in product development, production, exports, sourcing and research activity to provide the best of value products.