Daimler Trucks Asia Presents World Premiere of FUSO's eCanter at IAA 2016
| | |
| --- | --- |
| ・  | Daimler Trucks Asia (DTA) presents the world premiere of the small series of FUSO's light-duty electric truck "eCanter" at the Internationale Automobil-Ausstellung (IAA) 2016 in Hanover, Germany |
| ・  | Through customer trials in real-life conditions, the zero emission FUSO eCanter proved to be technically reliable and economic, with enough mileage and payload for daily use |
| ・  | The small series will be delivered to customers in the US, Japan and Europe from late 2017 |
| ・  | DTA will further increase its global presence in mature markets and growth markets with the application of Daimler's cutting-edge technologies in electric trucks and robust and powerful trucks |
| ・  | Mr. Marc Llistosella, President and CEO of MFTBC and Head of Daimler Trucks Asia, said: "The new all-electric FUSO eCanter underlines our commitment to thinking ahead and developing sustainable and reliable transportation solutions to benefit our customers, society and even our planet. DTA has been the center of competence for hybrid and electric technologies within Daimler Trucks. Based on our successful customer trials, we will bring the latest innovations to the world." |
Hannover, Germany; Kawasaki, Japan; Chennai, India – Daimler Trucks Asia (DTA) presents the world premiere of the small series of FUSO's light-duty all-electric truck "eCanter" at the 2016 Internationale Automobil-Ausstellung (IAA) – the biggest international commercial vehicle show to be held from 22nd to 29th September in Hanover, Germany.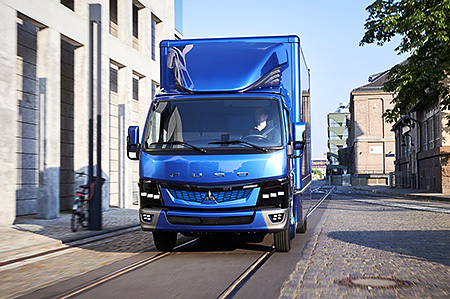 The new all-electric FUSO eCanter
Six years after the first generation of the all-electric truck premiered at the 2010 IAA, the third generation model will be presented with further technical developments. These developments come from customer trials of the second generation vehicle, the "FUSO Canter E-CELL", done in 2013 in Japan, 2014 in Portugal and currently in Stuttgart, Germany. The continuous trials have enabled Daimler Trucks Asia to design the zero-emission FUSO eCanter to cater to the specific needs of customers and make it perfectly suitable for everyday use in short range delivery and inner city transportation.
The eCanter can travel a range of more than 100km, exceeding the average distance that many short-radius distribution trucks usually travel per day – for example, in Japan, on an average, 80% of light-duty inner-city delivery trucks travel about 50km a day.
Based on this knowledge gained from the customer trials, DTA has developed a modular concept for batteries that offers more mileage and/or more payload depending on the individual needs of customers. A package of three to five lithium-ion batteries has been lined-up with a capacity of 13.8kWh each. Five battery packs are fitted onto the vehicle with a permissible gross vehicle weight (GVW) of 7.5 tons while securing 100kms of daily mileage, giving customers a flexible option based on their usage. Charging the batteries at 200 volts takes around seven hours, while the use of a rapid DC charging system can reduce it to less than one hour (73kW, 80% of battery capacity). Key components also include an electric motor with an output of 185kW and maximum torque of 380Nm.
In addition, the FUSO eCanter has reached a payload of 2-3 tons, an amount necessary for customers to operate their fleet efficiently. At the same time, DTA's preliminary analysis has shown that the model can save about 1,000 Euro per10,000km and cut operating costs by up to 64 percent compared to conventional diesel trucks. Coupled with a reduction in maintenance costs of around 30 percent, this makes the vehicle an economical solution for customers who would be able to pay back the initial cost in two years' time.
Mr. Marc Llistosella, President and CEO of MFTBC and Head of Daimler Trucks Asia, said: "The new all-electric FUSO eCanter underlines our commitment to thinking ahead and developing sustainable and reliable transportation solutions to the benefit of our customers, society and even our planet. DTA has been the center of competence for hybrid and electric technologies within Daimler Trucks. Based on our successful customer trials, we will bring the latest innovations to the world."
The small series of eCanter will be delivered from late 2017 in the US, Japan and Europe to selected customers who are related to inter-city delivery services. Being a front runner in the fully-electric light-duty truck segment, DTA has so far invested 40mn Euro in the development of electric driving including research and development. The zero emission model will be manufactured at DTA's state-of-the art production plant in Tramagal, Portugal and Kawasaki, Japan.
Connectivity for eCanter
The eCanter at the IAA will give visitors a glimpse into the future of Daimler Commercial Vehicles' connectivity technologies. This includes not only a digital key and meter console but also a digital control panel in the center console. Other digitalized features include LED lights, air conditioning, music player and navigation. The Connectivity concept for Daimler's booth at the event pertains to three main features: vehicle health, travel history and task allocation. Vehicle health is the ability to scan various parts of the vehicle to detect abnormalities. Travel history allows a driver to see how much distance has been covered per day as well as the status of charge over the driving period. There is also data to show the distribution and energy efficiency of drivers' journeys. Task allocation describes the interaction between the digital control panel and the fleet manager's personal computer. It can send tasks to a driver who can then automatically relay the pick-up and delivery time back to their fleet manager.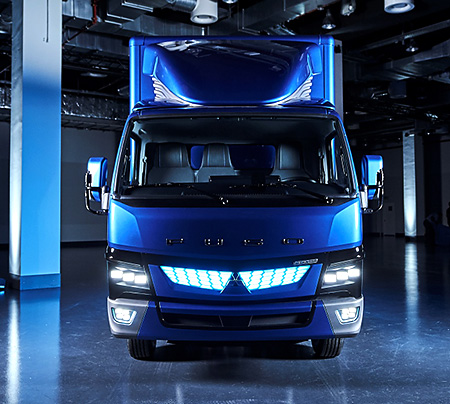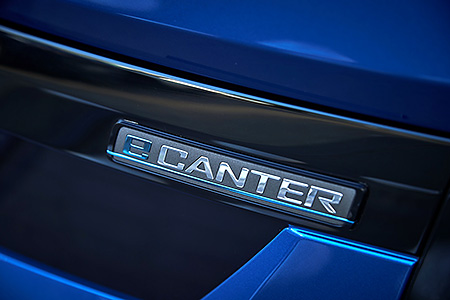 Trucks for the world – DTA is increasing its global presence
DTA will further increase its presence globally in mature markets and growth markets with the application of Daimler's cutting-edge technologies in electric trucks and the robust and powerful trucks under the Fuso and BharatBenz brands respectively. This is the positive outcome of the successful integration of the two entities Mitsubishi Fuso Truck and Bus Corporation (MFTBC) and Daimler India Commercial Vehicles (DICV). In June 2016, DTA crossed an export milestone of 5,000 units of the all-new FUSO range from DICV's plant in Chennai, India. To demonstrate the success and progress of the strategic organization at the IAA, DTA will present the high-powered tractor FUSO TV (Concept 4043S) targeted at the Middle East, Southeast Asian, African and Latin American regions, the stylized heavy-duty truck, BharatBenz 3723R for the Indian market and the Mercedes-Benz (MB) School Bus – the first range of MB school buses manufactured in India for the Middle East. Displayed alongside will be FUSO's concept truck, Super Great V "Spider" with four arms and four legs. Designed and developed through DTA's creative efforts, this multi-functional and powerful truck will demonstrate FUSO's support in building the foundation of our future.
Daimler Trucks Asia at a Glance
Daimler Trucks Asia (DTA) is an organizational unit that jointly operates Mitsubishi Fuso Truck and Bus Corporation (MFTBC) – an icon of the Japanese commercial vehicle industry with more than 80 years of its history – and Daimler India Commercial Vehicles (DICV), a young challenger in the Indian market. DTA has a strategic business model that allows its group entities to collaborate in product development, production, exports, sourcing and research activity to provide the best of value products.
MFTBC at a Glance
Based in Kawasaki, Japan, Mitsubishi Fuso Truck and Bus Corporation (MFTBC) is one of Asia's leading commercial vehicle manufacturers. In 2015, the company sold a total of about 154,200 vehicles including light-, medium- and heavy-duty trucks and buses under the Fuso brand. 89.29% of its shares are owned by Daimler AG and10.71% by various Mitsubishi group companies. MFTBC is an integral part of the Daimler Trucks division of Daimler AG.
DICV at a Glance
Daimler India Commercial Vehicles (DICV) is a 100% subsidiary of Daimler AG, Stuttgart, Germany. DICV is a full-fledged commercial vehicle player in the Indian market. It currently produces and sells above 9 to 49 tons trucks for the Indian volume market, under the brand BharatBenz. BharatBenz stands for Indian engineering with German DNA. Under its bus division, the company produces and sells BharatBenz buses and Mercedes-Benz buses from its manufacturing plant at Oragadam. Bharat-Benz products have been engineered to serve all major customer segments with a focus on total-cost-of ownership, safety, reliability and comfort. The DICV-built FUSO trucks from Oragadam are exported to markets in South East Asia, Africa, and Latin America.
The state-of-the-art production plant at Oragadam, near Chennai, spreads over 400 acres (160 hectares). It includes a modern test track designed to simulate Indian conditions – making it one of its kinds in Asia. DICV has made an initial investment of 4,400cr and additional 425cr for the bus plant facility.
For more information: