The All-new FUSO Model Launched in Algeria
| | |
| --- | --- |
| ・  | FUSO's robust heavy-duty truck FJ launched in Algeria |
| ・  | FUSO's reach in Algeria enhanced by adding second General Distributor, Diamal |
| ・  | FUSO is the first Japanese brand to introduce light-and heavy-duty vehicles that comply with Algerian requirements, where FUSO expects to significantly increase its market share |
| ・  | FUSO's light-duty Canter will be assembled in Algeria from 1Q 2017 – one of the first distributors to assemble trucks that meet the new Algerian standards |
Kawasaki, Japan – Mitsubishi Fuso Truck and Bus Corporation (MFTBC), one of Asia's leading commercial vehicle manufacturers, cooperating with Daimler India Commercial Vehicles Pvt. Ltd. (DICV) under the umbrella of Daimler Trucks Asia (DTA), launched the robust heavy-duty truck FJ in Algeria.
Algeria, with a population of 39.67 million and USD166.8 billion of GDP (2015), is the second largest commercial vehicles market in Africa with about 50,000 units imported per year (2015). After facing a dip in market volume due to the introduction of new regulations and low oil prices, the market volume is expected to grow rapidly from 2017 onwards.
To capture this growth opportunity, FUSO is introducing this new model in the Algerian market. The all-new robust FJ was revealed at the headquarters of the newly appointed General Distributor (GD), Diamal, in November, with customers and journalists invited. The vehicle will be the first Japanese brand to comply with new safety regulations introduced in Algeria in 2015. Diamal is a subsidiary of the French company Compagnie Française de l'Afrique Occidentale (CFAO) which owns 60% of Diamal' s shares and has 16 years of experience in the Algerian commercial vehicles. With the start of this activity for Diamal as MFTBC's second GD for the Algerian market, it is consolidating its existing presence to go after larger market share.
Diamal also plans to start assembling the light-duty Canter from the first quarter of 2017 in its Sidi Moussa facility in Algiers, Algeria. The assembly plant will span 70,000 square meters, which includes a storage park, delivery center and soon a bonded area. With this industrial project, Diamal will be one of the first distributors in Algeria to assemble commercial vehicles locally that meet the new Algerian standards.
The new product range will complement the existing FUSO portfolio for the Algerian market that includes the already successful light-duty Canter. This addition offers customers more choices in this market. After two years of development, the FJ has been designed to meet local needs of both uptime and robustness for heavier loads as well as difficult driving conditions. The FJ also complies with all safety and emission regulations in effect in Algeria. MFTBC is showing high commitment to Algeria as it is a primary growth market in Africa for years to come.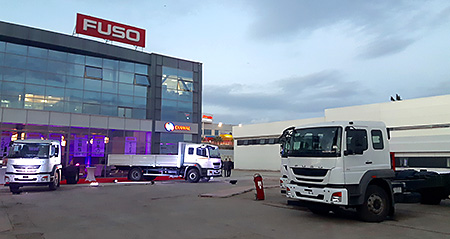 FUSO at a Glance
FUSO is one of the brands of Daimler Trucks, present in nearly all regions around the world such as Asia, Africa, Latin America, Europe and the Middle East. FUSO's light-duty to heavy-duty trucks (GVW 3.5–49 tons), vans, industrial engines and buses are sold in more than 160 markets. The Fuso brand is based on four core brand values; Trusted Quality, Economic Efficiency, Solid & Functional Design and Committed Services.
MFTBC at a Glance
Based in Kawasaki, Japan, Mitsubishi Fuso Truck and Bus Corporation (MFTBC) is one of Asia's leading commercial vehicle manufacturers. In 2015, the company sold a total of about 154,200 vehicles including light-, medium- and heavy-duty trucks and buses under the Fuso brand. 89.29% of its shares are owned by Daimler AG and10.71% by various Mitsubishi group companies. MFTBC is an integral part of the Daimler Trucks division of Daimler AG.
Daimler Trucks Asia at a Glance
Daimler Trucks Asia (DTA) is an organizational unit that jointly operates Mitsubishi Fuso Truck and Bus Corporation (MFTBC) – an icon of the Japanese commercial vehicle industry with more than 80 years of history and Daimler India Commercial Vehicles (DICV) – a young challenger in the Indian market.
DTA has a strategic business model that allows its group entities to collaborate in product development, production, exports, sourcing and research activity to provide the best of value products.