Mitsubishi Fuso Truck and Bus Corporation (MFTBC) Announces Investment of 118 Oku JPY in its Kawasaki Plant
MFTBC consolidates its headquarters and production facilities at its Kawasaki Plant No. 1 (K1); optimizes work efficiency and communication
Constructs new headquarter building housing various departments currently located in Shin-Kawasaki and Kawasaki Plant No. 2 (K2).
All offices and facilities undergo renewal to enhance working conditions for employees
Major investment in automation, robotics and IT systems will increase production efficiency and move the plant towards Industry 4.0
Kawasaki, Japan   Mitsubishi Fuso Truck and Bus Corporation (MFTBC), one of Asia's leading commercial vehicle manufacturers under the umbrella of Daimler Trucks Asia, today announced it will invest 118 Oku JPY in its main production base in Kawasaki/ Japan.
Under the label of its "Campus Plus" project, MFTBC will consolidate its operations   currently separated in 3 locations – within its main production plant at K1. For this purpose, the company has started construction of a new Product Center that will house its headquarters, R&D and design center. The state of the art building features 10,792 square meters of office space on five floors.
At the same time, existing offices within K1 will undergo renovation, offering a modern and conducive work environment to all employees. More than 5,300 square meters of office space have already been refurbished. New shower facilities for workers and an upgraded canteen will follow within the next 2 years.
Marc Llistosella, Head of Daimler Trucks Asia: "Our long-term success as a leading commercial vehicle manufacturer and frontrunner in electric trucks boils down to our team of talented and motivated employees at MFTBC. With Campus Plus, we invest in these people to create a conducive and inspiring work environment where all our employees can strive to become the best in their capacity."
Earlier this year, MFTBC announced that it will sell its K2 site to Daiwa House Industry Co., Ltd, aiming to relocate its operations to K1 by 2019.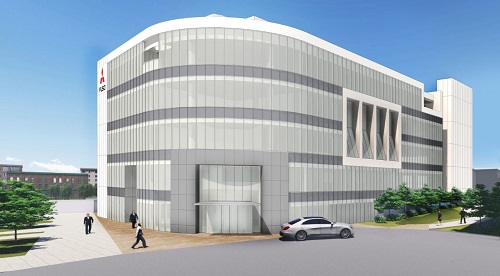 The Product Center
Investment in cutting-edge production facilities and systems
MFTBC also continues to heavily invest into the extension and modernization of its K1 production facilities.
For this, the company will construct a new Production Building at K1 that will house some of the processes currently located at the K2 site. Start of production at this building is scheduled to commence by the end of 2018.
Under the internal label "Factory of the Future" MFTBC additionally invests in automation, robotics and IT systems, to further steer the plant towards Industry 4.0. Measures include autonomous transportation-vehicles within the plant, a higher grade of automation, the introduction of exoskeletons to support production workers, and an IT-logistics-landscape that coordinates all in and out streams of the factory within one system. MFTBC will invest 24 Oku until 2018, aiming to generate annual savings of 13 Oku per year by improving overall efficiency.
Sven Graeble, Senior Vice President of Operations, MFTBC said: "Kawasaki is the lead plant of Mitsubishi Fuso. Through our investments in automation, robotics and IT-systems, we will improve efficiency, increase production quality and prepare the plant for the mass-production of electric trucks."
The investment underlines the continuation of improvements implemented at MFTBC which has invested 100 Oku JPY since 2007 in the straightening and modernization of the production line, the construction of a new end-of-line and the relocation of the transmission-production to the MFTBC plant in Nakatsu.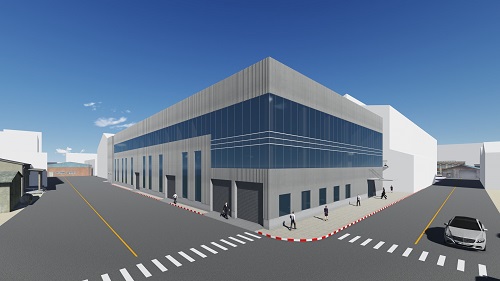 The Production Building
FUSO at a Glance
FUSO is a Daimler Truck brand, covering nearly all regions around the world including, Asia, Africa, Australia, Latin America, Europe and the Middle East. FUSO's light-duty to heavy-duty trucks (GVW 3.5 49 tons), vans, industrial engines, and buses are sold in more than 170 markets worldwide. The Fuso brand is based on four core brand values; Trusted Quality, Economic Efficiency, Solid & Functional Design, and Committed Services.
Daimler Trucks Asia at a Glance
Daimler Trucks Asia (DTA) is an organizational unit that jointly operates Mitsubishi Fuso Truck and Bus Corporation (MFTBC)   an icon of the Japanese commercial vehicle industry with more than 80 years of history   and Daimler India Commercial Vehicles (DICV), a young challenger in the Indian market.  DTA has a strategic business model that allows its group entities to collaborate in product development, production, exports, sourcing and research activity to provide the best of value products.
MFTBC at a Glance
Based in Kawasaki, Japan, Mitsubishi Fuso Truck and Bus Corporation (MFTBC) is one of Asia's leading commercial vehicle manufacturers. In 2016, the company sold a total of 130,000 vehicles including light, medium, and heavy-duty trucks and buses under the FUSO brand, with 89.29% of its shares owned by Daimler AG and10.71% by various Mitsubishi group companies. MFTBC is an integral part of the Daimler Trucks division of Daimler AG.