Fuso Dealer Partner Taihei Kogyo Inc. to reopen its renovated Tsuruoka branch
Enhanced work efficiency and productivity with the introduction of cutting-edge equipment in the repair and maintenance facility
Streamlined operations through improvements to the office work environment
Mitsubishi Fuso Truck and Bus Corporation (MFTBC; headquarters: Kawasaki City, Kanagawa Prefecture; President and CEO Hartmut Schick), announces that its dealer partner Taihei Kogyo Inc. (headquarters: Chiyoda-ku; President and CEO Yukinori Muto; hereafter referred to as Taihei Kogyo) has renovated its Tsuruoka branch and is ready to begin service at its new facility on Tuesday, February 12th.
Taihei Kogyo is a Mitsubishi Fuso dealer partner with 15 outlets in Niigata, Akita, and Yamagata prefectures, and is reopening its Tsuruoka branch in Yamagata prefecture.
The new repair and maintenance shop is now able to use a newly introduced 4 pillar lift and floor lift efficiently within each stall thanks to the stalls having greater depth than previously. As a result, a total of eight vehicles can be serviced at once in the six stalls available. Furthermore, by removing piping such as air hose reels and oil hose reels from the ceiling and installing them under the floor, the operating area of the overhead crane has expanded and working efficiency has improved. Introducing these new facilities and reviewing their arrangement have boosted productivity.
"At the renovated repair shop we can provide even better maintenance service now that we've introduced state-of-the-art equipment to enhance productivity. We have also installed the latest equipment in the office with the purpose of optimizing efficiency. As a result of this, improvements have been seen in the office working environment. The Tsuruoka branch will continue to provide services that are even more satisfying to our customers," says President and CEO Yukinori Muto.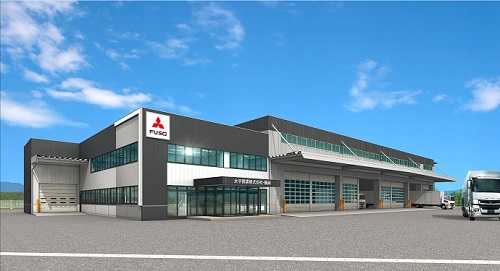 Taihei Kogyo Tsuruoka Branch
Profile of Tsuruoka Branch

| | |
| --- | --- |
| Name | Taihei Kogyo Inc. Tsuruoka Branch |
| Address | 125-1 Murakita, Shirayama, Tsuruoka City, Yamagata Prefecture 997-0841 |
| Business hours | 8:30-17:00 |
| Closed | Sundays, National holidays, Second and fourth Saturdays, Year-end and New Year holidays, and summer holidays |
| Business focus | Sales of Mitsubishi Fuso trucks and buses, repair and maintenance of said vehicles, sales of spare parts |
| Number of stalls | Repair and maintenance lines, test line: total seven stalls |
Media Contact
Florian Laudan, Head of Communications, Daimler Trucks Asia
Phone: +81 44 330-7970 E-mail: florian.laudan@daimler.com
Humza Ahmad, Manager, International and Domestic PR, Corporate Communications, MFTBC
Phone: +81 44 330-7857 E-mail: humza.ahmad@daimler.com
FUSO at a Glance
FUSO is a Daimler Truck brand, covering nearly all regions around the world. FUSO's light-duty to heavy-duty trucks (GVW 3.5 49 tons), vans, industrial engines, and buses are sold in more than 170 markets. The FUSO brand is based on four core brand values; Trusted Quality, Economic Efficiency, Solid & Functional Design, and Committed Services.
MFTBC at a Glance
Based in Kawasaki, Japan, Mitsubishi Fuso Truck and Bus Corporation (MFTBC) is one of Asia's leading commercial vehicle manufacturers. In 2016, the company sold a total of 130,000 vehicles including light, medium, and heavy-duty trucks and buses under the FUSO brand, with 89.29% of its shares owned by Daimler AG and10.71% by various Mitsubishi group companies. MFTBC is an integral part of the Daimler Trucks division of Daimler AG.