FUSO Launches New Concrete Mixer Equipped
Strategic Heavy-duty FJ Truck in Thailand
| | |
| --- | --- |
| •  | FJ is the first model of the all-new robust, fuel efficient FUSO range launched in Thailand |
| •  | FUSO has made Thailand one of its strategic growth markets, aiming at an increase in market share and sales numbers with the introduction of new models |
| •  | FJ units handed over to customers in official ceremony |
Kawasaki, Japan – Mitsubishi Fuso Truck and Bus Corporation (MFTBC), one of Asia's leading commercial vehicle manufacturers, cooperating with Daimler India Commercial Vehicles Pvt. Ltd. (DICV) under the umbrella of Daimler Trucks Asia, today announced it has launched its strategic heavy-duty truck FJ 2528 in Thailand. In a ceremony held in Bangkok, the local distributor, Fuso Truck (Thailand) Co. Ltd., handed over the first trucks to its customers. The FJ 2528 is a concrete mixer (25 tonne GVW, 6×4) that will strengthen Fuso's existing portfolio of products in Thailand and offer a wider choice to its customers.
Fuso is well established in Thailand with its traditional portfolio of light-, medium- and heavy-duty trucks, but aims to further increase its market share, as one of its strategic growth targets.  Fuso plans to launch additional models in the near future.
Michael Kamper, Senior Vice President, Head of Marketing Sales and Customer Service, Trucks Asia, said, "The fact that we have already received many orders for our FJ 2528 concrete mixer in Thailand before the vehicle was even widely available there shows that this truck is the perfect answer to customer needs. Our range of robust FUSO trucks produced by DICV, which we have already launched in 9 countries in Africa and Asia, thus will enable us to expand in new markets, increase our market share in existing markets, and become stronger in the heavy-duty segment in particular."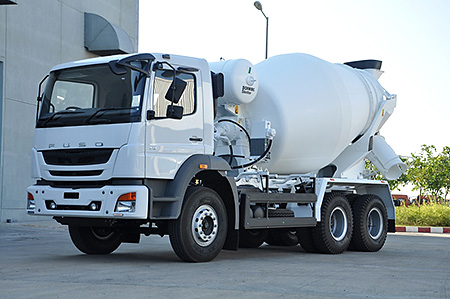 FUSO FJ 2528 heavy-duty concrete mixer truck
"More choice for customers"; 5 robust and fuel-efficient FUSO trucks continuing to make their debuts in the world.
These robust and fuel-efficient newly-developed trucks meet our ever-increasing customer expectations in growth markets, and reinforce FUSO's presence in the world.
The all-new range of FUSO trucks comprises 5 new models in total, 2 light-medium-duty models (the 9-16 tonne GVW FA and FI models) and 3 medium-heavy-duty models (the 16-49 tonne GVW FJ, FO and FZ models), providing more choice to our customers.
Since the start of production, these FUSO trucks have been launched in and exported to 9 countries in Asia and Africa. Last year FUSO began exporting to Indonesia, FUSO's largest export market and Southeast Asia's largest economy.
This FUSO truck range is manufactured at the Oragadam plant in Chennal, India, by MFTBC's partner organization DICV, a 100% Daimler AG-owned subsidiary. The trucks have been rigorously tested and assessed under the most strenuous driving conditions to ensure maximum reliability.
About MFTBC
Based in Kawasaki, Japan, Mitsubishi Fuso Truck and Bus Corporation (MFTBC) is one of Asia's leading commercial vehicle manufacturers. In 2014, the company sold a total of about 174.595 vehicles including light-, medium- and heavy-duty trucks and buses, a 1.7% increase over the previous year. Daimler AG owns 89.29% of MFTBC shares and various Mitsubishi group companies own 10.71% of MFTBC shares. MFTBC is an integral part of the Daimler Trucks Division of Daimler AG.