Daimler Trucks Asia Reveals New Products for India and Export Markets and Opens New Bus Plant in India
| | |
| --- | --- |
| •  | Premiere of the new BharatBenz 3143 as first local deep mining truck & BharatBenz 4940 as local heavy duty tractor and the BharatBenz 2536 tipper for construction |
| •  | Expansion of export business continues around the world |
| •  | New range of Mercedes-Benz Buses and BharatBenz Buses expand the current product portfolio in India |
| •  | EUR 50 million invested in Chennai plant to build up the bus business |
Kawasaki/Chennai: Mitsubishi Fuso Truck and Bus Corporation (MFTBC), one of Asia's leading commercial vehicle manufacturers, cooperating with Daimler India Commercial Vehicles Pvt. Ltd. (DICV) under the umbrella of Daimler Trucks Asia (DTA), today presented a range of strategic high-power heavy-duty trucks to be launched in India, followed by export to other countries: The BharatBenz 3143 Tipper for mining application in India, the BharatBenz 2536 Tipper for construction and the BharatBenz 4940 tractor model for container transport or over dimensional cargo. At the same time, DICV has opened a new bus plant, representing an investment of €50 million. Along with the plant, the company presented a local range of buses for India to tap into the huge Indian bus market.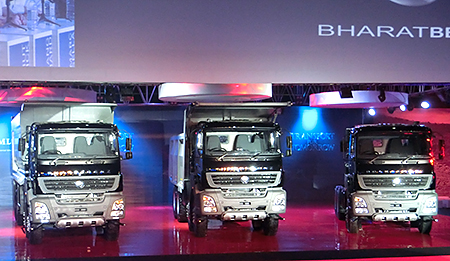 New Strategic High-Power Trucks Unveiled
Dr. Wolfgang Bernhard, a member of the Board of Management of Daimler AG, responsible for trucks and buses said, "We continue to strengthen our presence in the Indian commercial vehicle market with new products, now also including buses. In doing so, we are opening a new chapter of growth. This investment represents the ongoing pursuit of our strategy of targeted expansion for our global market presence."
Mr. Marc Llistosella, Head of Daimler Trucks Asia, stated "Opening another production facility and introducing a second wave of products in such a short time is another testimony for the strength of our Indian operations. And in combination with our worldwide FUSO network, this makes the recipe for sustainable growth at Daimler Trucks Asia."
New trucks to serve India and export markets
The new BharatBenz 3143 heavy-duty truck is a truck for mining applications that celebrated its international debut at IAA Commercial Vehicles Show in Hanover/ Germany last year. It is initially launched in India under the BharatBenz brand and will be exported to countries in Asia, Africa and GCC under the FUSO brand later. With a gross vehicle weight of 48 tons and a four-axle configuration available in two wheelbases, the truck has been designed for use in mines in deep and steep exploration sites. The mining segment is particularly important in India as well as other growth markets because they boast a wealth of natural resources and extract raw materials such as iron ore, anthracite and many different minerals. The 430 hp offered by the BharatBenz 3143 make it the strongest local truck by far for the Indian and other markets. Reliability, low servicing costs and very high degree of adaptation to local conditions such as the heat and unsurfaced roads are other advantages that the vehicle offers to customers. The vehicle is the first truck produced in India meeting these requirements, perfectly expanding the BharatBenz and FUSO product portfolio.
The intelligent platform strategy allowed the engineers at Daimler Trucks to develop the model in less than three years. That is why the BharatBenz 3143 is powered by the tried-and-tested Mercedes-Benz OM 457 engine, which has proven itself over many millions of kilometers not just in Asia, but also in Europe and North and South America. The OM 457 will set new technological standards in India and other growth markets.
In addition to the BharatBenz 3143, DTA presented the BharatBenz 2536 Tipper, powered by the same OM 457 engine – in this case with 360 Hp and featuring a Gross Vehicle weight rating of 33 tons. It is designed for work in construction sites. Completing the high power portfolio, is the BharatBenz 4940TT that is best suited for transporting heavy-lift project cargo in areas of construction and infrastructure projects that include turbines, heat exchangers, windmill propellers and various industrial equipments. This model will be launched in the market later this year.
New Bus Plant opened and new range of buses for India unveiled
At the same event, DICV has also presented a new range of buses under the Mercedes-Benz and the BharatBenz brands that have been developed for sales in the Indian market. For this purpose, a new Bus Plant was built which also was inaugurated today. With the Indian bus market being the second biggest in the world, this second wave of products from India lays the foundation for an enhancement of business for Daimler Trucks Asia on its way to the target of 290,000 units in 2020.
About EUR 50 million has been invested in the expansion of the bus business. The bus plant which covers a total area of roughly 113,000 square meters, is initially set up for a capacity of 1,500 vehicles a year. This can be expanded up to a maximum of 4,000 units. Once production has been ramped up, about 300 people will be additionally employed in India. Once the new bus plant has been inaugurated, the plant in Chennai will be the first Daimler Trucks plant in the world to produce trucks, buses and engines for a total of three different brands: BharatBenz, FUSO and Mercedes-Benz.
From Chennai to the global export markets
MFTBC and DICV, which operate under the umbrella of Daimler Trucks Asia, are also using the new vehicles to reinforce their export business from India. Since May 2013 DICV is producing FUSO branded trucks that are exported to currently more than 10 growth markets of Asia, Africa and South America, with the Middle East and other markets in Latin America to be added this year. The new range of high-power trucks will enhance the existing range and help to strengthen the FUSO range in the HDT segments.
About MFTBC
Based in Kawasaki, Japan, Mitsubishi Fuso Truck and Bus Corporation (MFTBC) is one of Asia's leading commercial vehicle manufacturers. In 2014, the company sold a total of about 174,595 vehicles including light-, medium- and heavy-duty trucks and buses, a 1.7% increase over the previous year. Daimler AG owns 89.29% of MFTBC shares and various Mitsubishi group companies own 10.71% of MFTBC shares. MFTBC is an integral part of the Daimler Trucks Division of Daimler AG.