MFTBC's Kawasaki Plant to Supply Components to Daimler Trucks' Freightliner for First Time
| | |
| --- | --- |
| ・  | MFTBC's Kawasaki Plant to supply axles parts to Daimler Trucks North American brand Freightliner for the first time |
| ・  | Daimler Trucks to make optimal use of its Kawasaki production site in response to increasing demand due to strong North American business |
Kawasaki, Japan – Mitsubishi Fuso Truck and Bus Corporation (MFTBC), one of Asia's leading commercial vehicle manufacturers cooperating with Daimler India Commercial Vehicles under the umbrella of Daimler Trucks Asia, will start suppling axle components for Freightliner, one of Daimler Trucks' brands in North America, from its Kawasaki Plant from 26 December.
The components to be produced at the plant are gear sets of rings and pinions that form a portion of the final drive, itself a component of an axle. The components are currently produced at the Kassel Plant in Germany and the São Bernardo do Campo Plant in Brazil, as well as at the plant of Detroit Diesel, a North American engine, axle and transmission manufacturer, which is also part of Daimler Trucks. In response to increasing demand thanks to strong North American business for Daimler Trucks, these gear components will be machined at the Kawasaki Plant as well, and then shipped to be assembled into parts for axles and installed on Freightliner trucks in North America.
MFTBC will put the Kawasaki Plant's production capacity to good use, contributing to a stable supply of parts within Daimler Trucks. The move is also part of the Daimler Trucks Asia parts export strategy, under which the organization has already exported more than 1 million parts from its plant in Chennai, India to other Daimler entities.
The Kawasaki Plant will produce 6,000 gear sets annually, with the first shipment going out in December.
A ceremony to celebrate this initial shipment was held on December 11 at the Kawasaki Plant. Senior Vice President and Head of Operations Trucks & Buses Yoshiro Motoyama, celebrating with the team members who supported the project at the ceremony, said on this occasion: "Gear sets production requires high-level machining and grinding techniques. This is a clear evidence that the Kawasaki Plant's high level of craftsmanship is highly evaluated within Daimler Trucks. We want to contribute to it by supplying high-quality made-in-Kawasaki products."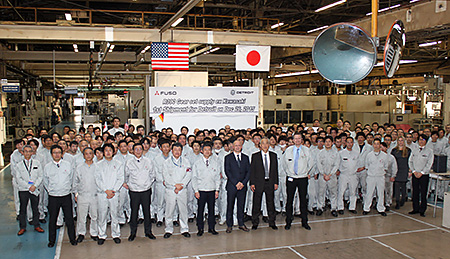 The ceremony to celebrate the initial shipment
About MFTBC
Based in Kawasaki, Japan, Mitsubishi Fuso Truck and Bus Corporation (MFTBC) is one of Asia's leading commercial vehicle manufacturers. In 2014, the company sold a total of about 174.595 vehicles including light-, medium- and heavy-duty trucks and buses, a 1.7% increase over the previous year. Daimler AG owns 89.29% of MFTBC shares and various Mitsubishi group companies own 10.71% of MFTBC shares. MFTBC is an integral part of the Daimler Trucks Division of Daimler AG.