FUSO's "Canter E-CELL" to be Tested Under Actual Operating Conditions for First Time in Germany
| | |
| --- | --- |
| ・  | Five fully-electric light-duty vehicles to be tested under actual operating conditions in partnership with the Municipality of Stuttgart and a logistics company for one year |
| ・  | Investment of EUR 40 million so far in the development of electric vehicle driving |
| ・  | Growing importance of electric vehicles for urban short-range distribution |
| ・  | FUSO as a front runner of fully-electric light-duty trucks |
| ・  | Results of the fleet test in Portugal in 2015: Canter E-CELL saves 1,000 EUR per 10,000 kilometres and cuts operating costs by up to 64 percent |
| ・  | Canter E-CELL produced in a state-of-the-art facility in Tramagal, Portugal |
Kawasaki, Japan – Mitsubishi Fuso Truck and Bus Corporation (MFTBC), one of Asia's leading commercial vehicle manufacturers, cooperating with Daimler India Commercial Vehicles Pvt. Ltd. (DICV) under the umbrella of Daimler Trucks Asia (DTA) has launched a twelve-month fleet test of five fully-electric light-duty model "Canter E-CELL" vehicles for the first time in Germany in partnership with the Municipality of Stuttgart and a logistics company Hermes, thus further pursuing its commitment to sustainable urban transport.
The field tests will enable FUSO to prove the capability of electric vehicle technologies to be in use under tough actual operating conditions with the ultimate goal of producing zero emissions for our customers and society.
The Municipality of Stuttgart will test four trucks: two Canter E-CELL vehicles equipped with hydraulic tipper bodies will be used for road construction and landscaping, and two others with box bodies for furniture transport and waste disposal operations. The logistics company Hermes will also carry out a field test for parcel deliveries in urban traffic.
Being a front runner of fully-electric light-duty trucks, MFTBC has so far invested 40 million EURO in the development of electric vehicle driving, including research and development.
Growing importance of electric vehicles for urban short-range distribution
At the handover ceremony for the customer trials held in Stuttgart, Germany on 11 April, Dr. Wolfgang Bernhard, Member of the Board of Management of Daimler AG and Head of Daimler Trucks & Buses said: "Today's combustion engine is highly efficient, eco-friendly and, above all, clean. In long-distance transport it will remain the only option for a long time to come. In urban short-radius distribution, a partial switch to electric trucks will become technically feasible and economically viable within a few years' time. With this fleet test, we are making a small yet important contribution to urban mobility. FUSO is pushing ahead with the further development of this technology."
FUSO as a leading producer of fully-electric light-duty trucks
MFTBC is the center of competence for hybrid technology within Daimler Trucks Asia, and with this experience, it is also responsible for developing the fully-electric vehicles. Marc Llistosella, President and CEO of MFTBC says: "I am firmly convinced the Canter E-CELL will prove its strengths of environmental and economical friendliness under actual operating conditions. Our test in Portugal showed savings of around 1,000 EUR per 10,000 kilometers in comparison to diesel trucks."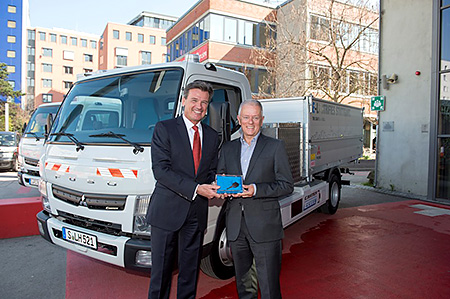 Handover ceremony at Stuttgart, Germany
Results of the fleet test in Portugal in 2015
In 2015 FUSO conducted the first ever real-life test with the Canter E-CELL in Portugal, in which it proved to be highly successful with eight vehicles involved in transporting goods. The results of this one-year test showed the fully-electric vehicles could stand for daily use in short-distance delivery and urban transport. With a range of over 100 kilometers, the vehicles exceeded the average daily distance that many light-duty trucks covered for a daily short-distance distribution. Based on the prevailing costs of diesel and electricity in Portugal, operating costs by the fully-electric vehicle model were up to 64 percent lower in comparison to a conventional diesel truck.
State-of-the art production at Tramagal Plant
The Canter E-Cell model is manufactured in a state-of-the art plant in Tramagal, Portugal. Since 2011, Daimler has invested around EUR 27 million in the facility, which has about 50 years of history. The plant, located about150 kilometers north-east of the capital city of Lisbon, occupies an area of 39,900 square meters. More than 300 employees produce FUSO's Canter models for about 30 European countries as well as for Israel, Morocco and Turkey. Almost 95 percent of vehicles are exported.
FUSO at a Glance
FUSO is one of the brands of Daimler Trucks, covering nearly all regions around the world such as Asia, Africa, Latin America, Europe and the Middle East. Amongst them are there more than 150 markets where FUSO's light-duty to heavy-duty trucks (GVW 3.5–49 tons), vans, industrial engines and buses are sold. The Fuso brand is based on four core brand values; Trusted Quality, Economic Efficiency, Solid & Functional Design and Committed Services.
MFTBC at a Glance
Based in Kawasaki, Japan, Mitsubishi Fuso Truck and Bus Corporation (MFTBC) is one of Asia's leading commercial vehicle manufacturers. In 2015, the company sold a total of about 154,200 vehicles including light-, medium- and heavy-duty trucks and buses as the Fuso brand. 89.29% of its shares is owned by Daimler AG and10.71% by various Mitsubishi group companies. MFTBC is an integral part of the Daimler Trucks division of Daimler AG.