"ROSA" Makes Entry to Light Bus Market in Vietnam
~FUSO Starts First International bus KD Operation~
| | |
| --- | --- |
| ・  | FUSO's ROSA enters the light bus market in Vietnam for the first time |
| ・  | FUSO starts first international KD operation for ROSA |
| ・  | FUSO responds to increasing demand for light buses and meets various customer needs in the fast-growing market |
| ・  | FUSO will enhance its market presence with its wide range of products from light buses to heavy-duty trucks |
Kawasaki, Japan – Mitsubishi Fuso Truck and Bus Corporation (MFTBC), one of Asia's leading commercial vehicle manufacturers, cooperating with Daimler India Commercial Vehicles Pvt. Ltd. (DICV), under the umbrella of Daimler Trucks Asia (DTA), has launched the light bus ROSA in the Vietnamese market to respond to increasing market demand for light buses. ROSA will be manufactured in the assembly plant located in Cu Chi, Vietnam. FUSO will increase its presence in the fast-growing market by offering a wide range of products from light buses to heavy-duty trucks.
FUSO responds to different needs in the light bus segment in the Vietnamese market
Vietnam has projected an average GDP growth rate of about 6.7% for the period of 2015 to 2017, a 1% increase compared to the 2010-2014 period, making it the fastest growing with Philippines in Southeast Asia. This has resulted in an increase in demand for light buses for schools, hotels, offices, factories and the tourism industry. FUSO has introduced four models of ROSA in Vietnam. With flexible seat arrangement that meets varying customer needs and specific chassis that are designed for buses, ROSA is the first of its kind in the light bus segment in Vietnam. Besides ensuring customer safety and comfort, it has proven high durability, recording a total mileage of 20,000 km on a local test drive from North to South Vietnam.
FUSO has started its first KD operation for ROSA internationally
MFTBC's Kawasaki Plant exports the key components of ROSA and the light bus model is manufactured in a local assembly plant, operated by the production company SAMCO (Saigon transportation Mechanical Corporation). The plant is located in an industrial park in the suburb of Ho Chi Minh City. The 40,000 square meter facility was completed and certified in March 2016, with an annual production capacity of 1,000 units.
Customer's high expectations for quality products and services
MBV has a strong foothold in the market, and is responsible for the sales and customer services of ROSA. With its high quality services and 17 dealerships all over Vietnam, MBV aims to sell approximately 1,000 units per year.
At the launch event of ROSA held on May 11th at Ho Chi Minh City, Mr. Michael Kamper, Senior Vice President and Head of Marketing, Sales and Customer Services, Daimler Trucks Asia, said: "FUSO started production of the light bus ROSA in 1960, and has since become one of the best-selling light-duty buses, especially due to its high quality. We are proud to announce the start of the production of ROSA in Vietnam and are confident that our customers will appreciate the fast delivery."
Mr. Michael Behrens, President and CEO of MBV added: "We are pleased to introduce a Japanese-made light bus that is tailor-made to suit Vietnamese customers, promising safety, economy and comfort. A large first order of 100 units from a prominent fleet customer has already shown us the high customer expectations of the new product."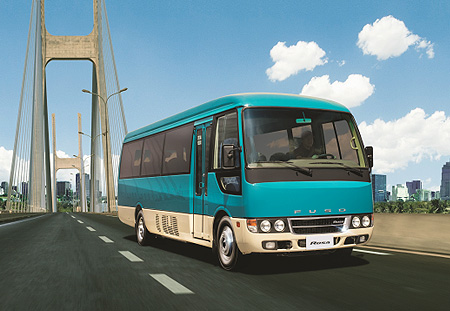 "ROSA" light bus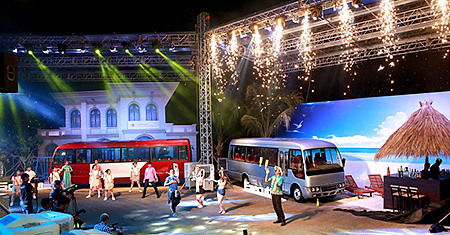 "ROSA" Launch event in Vietnam
"ROSA"– playing an active role in everyday life globally
Since the start of its production in1960, ROSA has had a wide range of applications from being a multi-purpose transport vehicle to a kindergarten bus, a special welfare vehicle and a camping car, becoming the highest selling model of FUSO's bus lineup in both Japanese and international markets. From producing 100,000 units in 1997, FUSO managed to achieve 200,000 units of total production volume in 2015. Apart from being available in Japan, it is exported to more than 40 markets worldwide, accounting for over 80 % of the total sales in 2015.
FUSO in Vietnam
FUSO has been strengthening its business in Vietnam as it is a strategic key market with considerable growth opportunities. In mid-2014, FUSO started local assembly and the sale of light-, medium- and heavy-duty trucks through MBV, expanding its line-up from light-duty trucks to medium- and heavy-duty trucks. In 2015, FUSO introduced its all-new robust range of medium- and medium-heavy-duty trucks. With the new models, FUSO will provide a wide variety of options that suit the needs of local customers, aiming to increase its market share in Vietnam. In just one business year, FUSO ended 2015 with a sales volume increase of about 30% from 2014.
FUSO at a Glance
FUSO is one of the brands of Daimler Trucks, covering nearly all regions around the world such as Asia, Africa, Latin America, Europe and the Middle East. Amongst them are 150 markets, where FUSO's light-duty to heavy-duty trucks (GVW 3.5–49 tons), vans, industrial engines and buses are sold. The Fuso brand is based on four core brand values; Trusted Quality, Economic Efficiency, Solid & Functional Design and Committed Services.
MFTBC at a Glance
Based in Kawasaki, Japan, Mitsubishi Fuso Truck and Bus Corporation (MFTBC) is one of Asia's leading commercial vehicle manufacturers. In 2015, the company sold a total of about 154,200 vehicles including light-, medium- and heavy-duty trucks and buses under the Fuso brand. 89.29% of its shares are owned by Daimler AG and10.71% by various Mitsubishi group companies. MFTBC is an integral part of the Daimler Trucks division of Daimler AG.