FUSO Launches all-new Trucks in Peru
| | |
| --- | --- |
| ・  | FUSO introduces the medium-duty truck "FA" and "FI" and heavy-duty truck "FJ" in Peru, the biggest FUSO market of Latin America |
| ・  | The new trucks are designed to endure harsh driving conditions in Peru thus meeting high customer expectations |
| ・  | Through this launch and an extensive network of 30 workshops in the country, FUSO will further increase its market share |
Kawasaki, Japan – Mitsubishi Fuso Truck and Bus Corporation (MFTBC), one of Asia's leading commercial vehicle manufacturers, cooperating with Daimler India Commercial Vehicles Pvt. Ltd. (DICV) under the umbrella of Daimler Trucks Asia (DTA), has launched its all-new FUSO medium-duty trucks FA, FI and heavy-duty truck FJ, in Peru.
Peru has unique geographical conditions with the Andes running from north to south and many of the mountain ranges that are 4,000 meters high above sea level. Under such conditions, trucks have to go long distances through steep mountain roads and climb high altitudes, therefore requiring them to have high engine performance and robustness.
Mr. Michael Kamper, Senior Vice President and Head of Marketing, Sales and Customer Services, Daimler Trucks Asia, said: "Since the start of sales of the all-new FUSO range in 2013, FJ has already gained great reputation for having the ideal configuration that meets the most demanding conditions of Peru. Peruvian customers including fleet owners and start-up companies have high expectations from the trucks in relation to engine performance, fuel efficiency, aerodynamics, comfort and drivability".
At the launch event held on 24 May in Lima, Peru, Mr. Jorge Gonzalez, General Manager at MC Autos del, Peru said: "FUSO does not just produce products of high quality, functional and efficient design, but also boasts of an extensive service network in 30 locations throughout Peru and a large stock of spare parts. With this launch, we aim to increase our market share to double digits in the future".
FUSO has been present in the Peru market since the 1980s with a wide range of vehicles from light-duty buses to light-, medium- and heavy-duty trucks. It maintains the biggest market share among commercial vehicle brands. The light-duty truck Canter and light-duty bus ROSA have been particularly well known for their high engine performance and durability. With this all new range of trucks, FUSO will aim to further increase customer choice, enhance its sales and gain new customer base.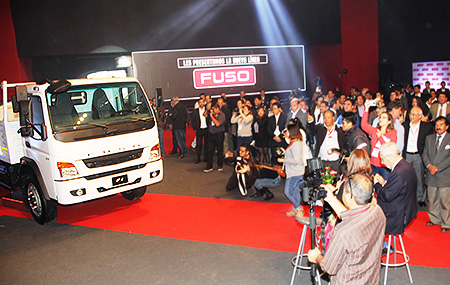 The launch event in Lima, Peru
More choice for customers; with the all-new FUSO range
These newly developed robust and fuel-efficient trucks meet the ever increasing customer expectations in growth markets, and reinforce FUSO's presence in the world. The all-new range of FUSO trucks comprises 5 models in total, 2 medium-duty models ( 9-16 tons GVW FA and FI) and 3 heavy-duty models (25-49 tons GVW and GCW FJ, FO and FZ), providing more choice to our customers. The all-new FUSO truck range is manufactured at the Oragadam plant in Chennai, India, by MFTBC's partner organization DICV, a 100% Daimler AG-owned subsidiary. The trucks have been rigorously tested and assessed under the most strenuous driving conditions to ensure maximum reliability.
FUSO at a Glance
FUSO is one of the brands of Daimler Trucks, covering nearly all regions around the world such as Asia, Africa, Latin America, Europe and the Middle East. Amongst them are 160 markets, where FUSO's light-duty to heavy-duty trucks (GVW 3.5–49 tons), vans, industrial engines and buses are sold. The Fuso brand is based on four core brand values; Trusted Quality, Economic Efficiency, Solid & Functional Design and Committed Services.
MFTBC at a Glance
Based in Kawasaki, Japan, Mitsubishi Fuso Truck and Bus Corporation (MFTBC) is one of Asia's leading commercial vehicle manufacturers. In 2015, the company sold a total of about 154,200 vehicles including light-, medium- and heavy-duty trucks and buses under the Fuso brand. 89.29% of its shares are owned by Daimler AG and10.71% by various Mitsubishi group companies. MFTBC is an integral part of the Daimler Trucks division of Daimler AG.