FUSO launches new, robust Truck range in Kuwait
| | |
| --- | --- |
| ・  | FUSO introduces the medium-duty truck "FA" and "FI" and heavy-duty truck "FJ" in Kuwait |
| ・  | FUSO aims to expands its customer base in Kuwait by offering a wider range of trucks for various industries in Kuwait |
| ・  | Through its country-wide spread service centers, FUSO provides high quality services to customers in Kuwait |
Kawasaki, Japan – Mitsubishi Fuso Truck and Bus Corporation (MFTBC), one of Asia's leading commercial vehicle manufacturers, cooperating with Daimler India Commercial Vehicles Pvt. Ltd. (DICV) under the umbrella of Daimler Trucks Asia (DTA), recently launched its all-new FUSO medium-duty trucks FA, FI and heavy-duty truck FJ, in Kuwait.
Since the introduction of the all-new FUSO range in the Middle East, starting from the United Arab Emirates (UAE) in November 2015, and Qatar, Saudi Arabia, Oman and Jordan soon after, the new FA, FI and FJ models have already earned great reputation for their robustness and fuel efficiency.
Kuwait is currently promoting the diversification of industries, breaking heavy dependence on oil for national resources and, at the same time updating infrastructure. FUSO will contribute to the industry development in Kuwait, by offering its wide range of products, from loading capacity 3-18 tons in the cargo range to GCW 40-49 tons in the tractor range, thereby leading to the expansion of its customer base. Since its entry to the Kuwait market in 1977, FUSO's vehicles have been highly trusted by customers for its economic efficiency, drivability and safety that meet the local needs.
The all-new FUSO trucks are sold by local distributor Maseelah Trading Company. FUSO provides high quality customer services through 16 service centers that are densely deployed in the country to support customer's vehicle uptime.
Daimler Commercial Vehicles opened its regional center (RC) in Dubai, UAE, in October 2015, to support sales and customer services for 19 markets in the Middle East and North African region, with Kuwait being one of them. Since this RC opening, Kuwait has seen an increase in sales volume by double digits. With this all new range of trucks, FUSO will aim to further increase customer choice, enhance its sales and widen its customer base.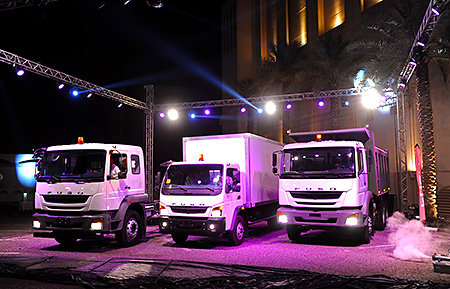 The launch event in Kuwait
More choice for customers; with the all-new FUSO range
These newly developed robust and fuel-efficient trucks meet the ever increasing customer expectations in growth markets, and reinforce FUSO's presence in the world.
The all-new range of FUSO trucks comprises 5 models in total, 2 medium-duty models ( 9-16 tons GVW FA and FI) and 3 heavy-duty models (25-49 tons GVW and GCW FJ, FO and FZ), providing more choice to our customers. The all-new FUSO truck range is manufactured at the Oragadam plant in Chennai, India, by MFTBC's partner organization DICV, a 100% Daimler AG-owned subsidiary. The trucks have been rigorously tested and assessed under the most strenuous driving conditions to ensure maximum reliability.
FUSO at a Glance
FUSO is one of the brands of Daimler Trucks, covering nearly all regions around the world such as Asia, Africa, Latin America, Europe and the Middle East. Amongst them are 160 markets, where FUSO's light-duty to heavy-duty trucks (GVW 3.5–49 tons), vans, industrial engines and buses are sold. The Fuso brand is based on four core brand values; Trusted Quality, Economic Efficiency, Solid & Functional Design and Committed Services.
MFTBC at a Glance
Based in Kawasaki, Japan, Mitsubishi Fuso Truck and Bus Corporation (MFTBC) is one of Asia's leading commercial vehicle manufacturers. In 2015, the company sold a total of about 154,200 vehicles including light-, medium- and heavy-duty trucks and buses under the Fuso brand. 89.29% of its shares are owned by Daimler AG and10.71% by various Mitsubishi group companies. MFTBC is an integral part of the Daimler Trucks division of Daimler AG.