FUSO Launches All-new Range in Paraguay
| | |
| --- | --- |
| ・  | FUSO launches all-new FUSO range "FA" and "FI" in Paraguay |
| ・  | The new trucks are designed to endure tough driving conditions in Paraguay thus meeting high expectations from customers |
| ・  | All-new FUSO vehicles will be sold by authorized distributor Condor S.A.C.I with an extensive network of more than10 outlets across the country |
| ・  | With this introduction, FUSO will further increase its market share in Paraguay |
Kawasaki, Japan – Mitsubishi Fuso Truck and Bus Corporation (MFTBC), one of Asia's leading commercial vehicle manufacturers, cooperating with Daimler India Commercial Vehicles Pvt. Ltd. (DICV) under the umbrella of Daimler Trucks Asia (DTA), has launched its all-new FUSO range "FA" and "FI" in Paraguay.
The key industry of Paraguay is agriculture, where transporters are required to carry heavy load that includes agricultural products, raw materials and general goods such as food & beverages, for long distances and on unpaved hilly roads, across large parts of the country. The all-new robust FUSO medium-duty models are designed to endure such tough conditions, thus meeting high demands of local freight customers. In addition to the robustness, maneuverability is required for urban use to weave through narrow streets.
Mr. Michael Kamper, Senior Vice President and Head of Marketing, Sales and Customer Services, Daimler Trucks Asia, said: "Since the entry into the Paraguay market in the 1970s, FUSO has been maintaining its reputation with its light-duty Canter. We are delighted to introduce our much-awaited, new medium-duty trucks that will make our product portfolio attractive to customers. With this introduction, FUSO will further increase its market share in Paraguay".
The new vehicles will be sold by authorized general distributor Condor S.A.C.I. (Condor), through an extensive network of more than10 outlets across the country.
MFTBC started its business relationship with Condor in September 2015, and since then the distributor has been selling the light-duty Canter. Condor also exclusively represents the Mercedes-Benz brand in Paraguay and has been selling its vehicles for 70 years since 1951.
At the launch event, held on 13 July in Asunción, the capital city of Paraguay, Mr. Guillermo Quellmalz, General Managing Director of Condor said: "Condor is now adding a new brand of Daimler Trucks to its product portfolio in Paraguay. The new Fuso brand will be enhanced with the experiences of sales and customer services. Today we open a new chapter with FUSO in our country". "The introduction of the new products will complement the current range, thus expanding our portfolio", he added.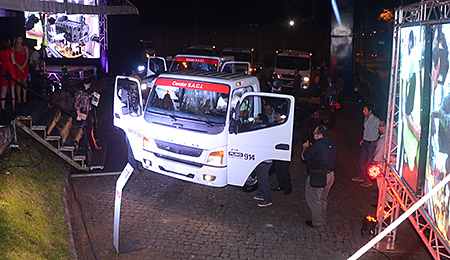 The launch event in Paraguay
FUSO at a Glance
FUSO is one of the brands of Daimler Trucks, present in nearly all regions around the world such as Asia, Africa, Latin America, Europe and the Middle East. FUSO's light-duty to heavy-duty trucks (GVW 3.5–49 tons), vans, industrial engines and buses are sold in more than 160 markets. The Fuso brand is based on four core brand values; Trusted Quality, Economic Efficiency, Solid & Functional Design and Committed Services.
MFTBC at a Glance
Based in Kawasaki, Japan, Mitsubishi Fuso Truck and Bus Corporation (MFTBC) is one of Asia's leading commercial vehicle manufacturers. In 2015, the company sold a total of about 154,200 vehicles including light-, medium- and heavy-duty trucks and buses under the Fuso brand. 89.29% of its shares are owned by Daimler AG and10.71% by various Mitsubishi group companies. MFTBC is an integral part of the Daimler Trucks division of Daimler AG.
Daimler Trucks Asia at a Glance
Daimler Trucks Asia (DTA) is an organizational unit that jointly operates Mitsubishi Fuso Truck and Bus Corporation (MFTBC) – an icon of the Japanese commercial vehicle industry with more than 80 years of history and Daimler India Commercial Vehicles (DICV) – a young challenger in the Indian market.
DTA has a strategic business model that allows its group entities to collaborate in product development, production, exports, sourcing and research activity to provide the best of value products.