FUSO Launches Highest Powered Heavy-duty Model in Kenya
| | |
| --- | --- |
| ・  | FUSO has launched its new heavy-duty model "TV" in its very first market – Mombasa, Kenya |
| ・  | "TV", specially designed to meet the local need for heavy payload, is the highest powered heavy-duty truck model in the FUSO product range |
| ・  | With the launch of the new product, FUSO will further increase its presence in Kenya |
| ・  | Kenya, with a recently opened Regional Center, is FUSO's commercial vehicle hub of East, Central and West Africa |
Kawasaki, Japan and Mombasa, Kenya – Mitsubishi Fuso Truck and Bus Corporation (MFTBC), one of Asia's leading commercial vehicle manufacturers, cooperating with Daimler India Commercial Vehicles Pvt. Ltd. (DICV) under the umbrella of Daimler Trucks Asia (DTA), has launched the highest powered heavy-duty truck model in its very first market, Kenya.
The TV 3340S Tractor with technical GCW of 65 tons is equipped with the OM457 – a new 6 Cylinder, 11.97 liter engine with 400hp that is used in a FUSO truck for the first time. This engine has already proven itself for its power and efficiency in other Daimler Truck products. The model adopts 12 speed power shift transmission and a hub-reduction with optimized rear axle ratios for different applications. The interior of the truck includes a full cabin with a sleeper berth. Developed from a Daimler Technology platform, the FUSO TV 3340S is specially designed to meet the local demand for high powered and fuel efficient trucks by Kenyan container transporters. In Kenya, FUSO has established a good reputation for its fuel efficiency and superior performance on sloped terrains.
Mr. Michael Kamper, Senior Vice President and Head of Marketing, Sales and Customer Services Trucks Asia, said: "This extremely robust tractor model has been added to our already wide product range in response to the demand for heavy-duty trucks. With this model in the Kenyan market, our customers will have a wider choice of products to effectively cater to their needs. Though Kenya is the first market in the world where we have launched this new FUSO product, we will subsequently introduce it in other markets."
In the Kenyan market, Simba Colt Motors has been FUSO's partner for 48 years, making it one of the longest standing general distributor relationships for FUSO worldwide. FUSO has sold 1,132 units during the period of January to July 2016 in Kenya. The sales have been increasing compared to the same period last year despite the weak commercial vehicle market situation. New vehicle sales and customer services are provided via19 locations throughout the country. Mr. Adil Popat, CEO for Simba Colt Motors said: "We are delighted that Kenya was chosen as the very first market to launch the TV model. We are convinced that this truck will more than satisfy the various needs of the market and will prove to be a winner in the near future."
As part of its Customer Dedication strategy, Daimler Commercial Vehicles opened a new Regional Center (RC) in Nairobi, Kenya in February 2016. The RC is responsible for the sales and customer services of all Daimler CV brands for East, Central and West Africa.
The region, with a total population of 770 million people consists of 41 markets including Kenya, Tanzania, and Nigeria. It offers great long-term potential for growth with 68% of the population under the age of 25. The dynamic development of the region is further supported by foreign direct investment, which has grown to six times its level since 2000. In parallel with the growing economy, it can be assumed that the transport sector will further develop, thereby increasing the demand for commercial vehicles.
FUSO has been launching its all-new range of trucks in Kenya, Tanzania, Uganda, Nigeria and South Africa since 2013. The new vehicle range including the TV tractor is manufactured in its state-of-the-art factory in Chennai, India and exported to the African markets. With this new model the product portfolio has been widened thus increasing customer choices in the country where many more infrastructure projects are planned.
Furthermore, in March 2016, the CKD assembly operation of the all-new robust FUSO range began at the AVA assembly-plant in Mombasa, Kenya.
TV Tractor 6×4 Specifications
Model
TVY2SJR2R
Crew
3(1+2)
Engine
OM457 LA-E3
(11.970-liter)
Max. output
400hp/1,900rpm
Max. torque
2,000Nm/1,100rpm
Transmission
G330 – 12-Speed Power Shift
Fuel tank capacity
455L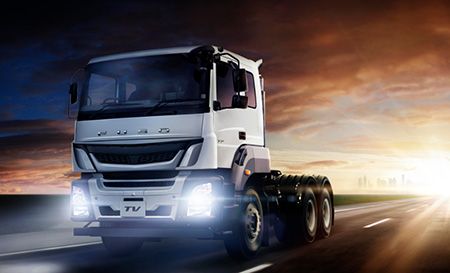 FUSO at a Glance
FUSO is one of the brands of Daimler Trucks, covering nearly all regions around the world such as Asia, Africa, Latin America, Europe and the Middle East. FUSO's light-duty to heavy-duty trucks (GVW 3.5–49 tons), vans, industrial engines and buses are sold in more than 160 markets. The Fuso brand is based on the four core brand values; Trusted Quality, Economic Efficiency, Solid & Functional Design and Committed Services.
MFTBC at a Glance
Based in Kawasaki, Japan, Mitsubishi Fuso Truck and Bus Corporation (MFTBC) is one of Asia's leading commercial vehicle manufacturers. In 2015, the company sold a total of about 154,200 vehicles including light-, medium- and heavy-duty trucks and buses under the Fuso brand. 89.29% of its shares are owned by Daimler AG and10.71% by various Mitsubishi group companies. MFTBC is an integral part of the Daimler Trucks division of Daimler AG.
Simba Colt Motors at a Glance
Simba Colt Motors, located in Nairobi, Kenya, was established in 1968 as a distributor of passenger cars for Mitsubishi Motors Corporation and the Canter light-duty truck for MFTBC. It operates sales and service facilities in Nairobi, Mombasa, Kisumu and Kisii and also has an extensive dealer network across the country. Simba Colt Motors covers the complete range of FUSO vehicles from light-, medium- to heavy-duty trucks as well as buses.
Daimler Trucks Asia at a Glance
Daimler Trucks Asia (DTA) is an organizational unit that jointly operates Mitsubishi Fuso Truck and Bus Corporation (MFTBC) – an icon of the Japanese commercial vehicle industry with more than 80 years of history and Daimler India Commercial Vehicles (DICV) – a young challenger in the Indian market. DTA has a strategic business model that allows its group entities to collaborate in product development, production, exports, sourcing and research activity to provide the best of value products.