FUSO Bags 250 Unit Deal for First ROSA Limousine Bus in Vietnam
| | |
| --- | --- |
| ・  | FUSO has received an order of 250 units of the light bus ROSA from a Vietnamese limousine and automobile customization service company D-Car for the high-end passenger transportation services sector |
| ・  | "FUSO ROSA Limousine D-Car" is the first ever limousine style light bus in the ROSA bus range |
| ・  | This business deal, made only three months after the launch of ROSA in Vietnam in May, is the biggest in the 21 year history of Mercedes Benz Vietnam, the distributor of FUSO vehicles in the Vietnamese market |
| ・  | The upgraded light-duty model is expected to inspire the high-end tourism sector in Vietnam |
Kawasaki: Mitsubishi Fuso Truck and Bus Corporation (MFTBC), one of Asia's leading commercial vehicle manufacturers, cooperating with Daimler India Commercial Vehicles Pvt. Ltd. (DICV) under the umbrella of Daimler Trucks Asia (DTA), has received a large order of 250 units of the light bus ROSA from a Vietnamese limousine and automobile customization service company D-Car, for usage in the high-end passenger transportation services sector.
The ROSA buses have been redesigned into luxurious limousine buses by D-Car that specializes in upgrading base vehicles to luxury versions. "FUSO ROSA Limousine D-Car" has been developed as FUSO's first ever limousine style light bus within the ROSA range, for the Vietnamese market. The seat arrangement has been modified from a standard 29 seats to 19 seats, creating more space and comfort for passengers. Furthermore, the limousine bus is equipped with a variety of modern services such as Wi-Fi, 3G Network, DVD screens, reading lights and refrigerators.
This deal, which has been made only three months after the launch of ROSA in Vietnam in May 2016, is the biggest ever business deal in the 21 year history of Mercedes Benz Vietnam (MBV), the exclusive distributor of FUSO vehicles in the Vietnamese market. The light bus ROSA, manufactured in the assembly plant located in Cu Chi, Vietnam, was introduced in the Vietnamese market in response to the increasing demand for light buses. Mr. Michael Behrens, CEO and General Director of MBV said: "The Japanese-made light bus is being customized to suit Vietnamese customers, promising safety, economy and comfort. In Vietnam, the luxury passenger transportation sector is about to take off and we are here at the right time with the right product."
The FUSO ROSA Limousine D-Car bus is expected to inspire the high-end tourism sector. Luu Cam Thanh, Owner of D-Car, said: "With FUSO's support in providing a large number of high-quality ROSA buses in such a short time, we can swiftly hand over the vehicles to our customers who want to enhance their services with light buses. By the end of 2016, FUSO ROSA Limousine D-Car will be available in most of the high-end passenger transportation services and tourism enterprises."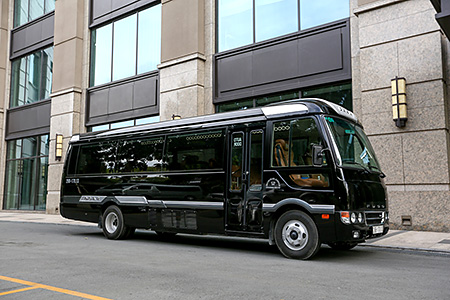 The "FUSO ROSA Limousine D-Car"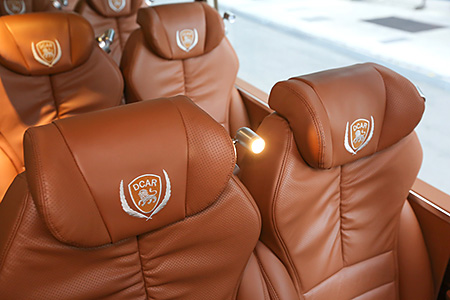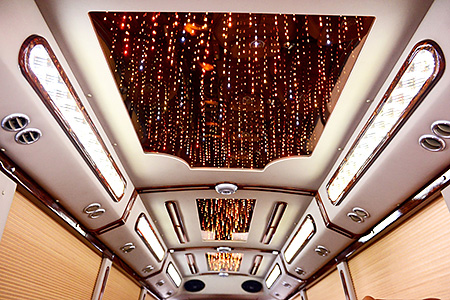 The luxurious interiors of the limousine bus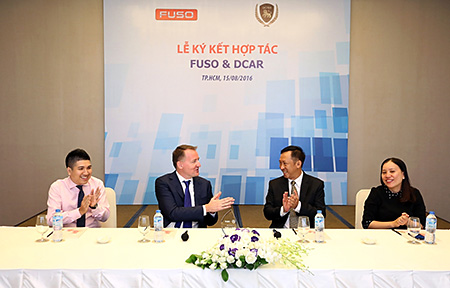 "ROSA"– playing an active role in everyday life globally
Since the start of its production in1960, ROSA has had a wide range of applications from being a multi-purpose transport vehicle to a kindergarten bus, a special welfare vehicle and a camping car, becoming the highest selling model of FUSO's bus lineup in both Japanese and international markets. From producing 100,000 units in 1997, FUSO managed to achieve 200,000 units of total production volume in 2015. Apart from being available in Japan, it is exported to more than 40 markets worldwide, accounting for over 80 % of the total bus sales in 2015.
FUSO in Vietnam
FUSO has been strengthening its business in Vietnam as it is a strategic key market with considerable growth opportunities. In mid-2014, FUSO started local assembly and the sale of light-, medium- and heavy-duty trucks through MBV, expanding its line-up from light-duty trucks to medium- and heavy-duty trucks. In 2015, FUSO introduced its all-new robust range of medium- and medium-heavy-duty trucks. With the new models, FUSO is able to provide a wide variety of options to suit the needs of local customers. In just one business year, FUSO ended 2015 with a sales volume increase of about 30% from 2014.
FUSO at a Glance
FUSO is one of the brands of Daimler Trucks, covering nearly all regions around the world such as Asia, Africa, Latin America, Europe and the Middle East. FUSO's light-duty to heavy-duty trucks (GVW 3.5–49 tons), vans, industrial engines and buses are sold in more than 160 markets. The Fuso brand is based on the four core brand values; Trusted Quality, Economic Efficiency, Solid & Functional Design and Committed Services.
MFTBC at a Glance
Based in Kawasaki, Japan, Mitsubishi Fuso Truck and Bus Corporation (MFTBC) is one of Asia's leading commercial vehicle manufacturers. In 2015, the company sold a total of about 154,200 vehicles including light-, medium- and heavy-duty trucks and buses under the Fuso brand. 89.29% of its shares are owned by Daimler AG and10.71% by various Mitsubishi group companies. MFTBC is an integral part of the Daimler Trucks division of Daimler AG.