FUSO Re-enters Uruguay Market with Three Model Lines
| | |
| --- | --- |
| ・  | FUSO re-enters the Uruguayan market with three models specifically geared for the needs of the market; light-duty model Canter, medium heavy-duty model FA and heavy-duty model FJ |
| ・  | This launch came after years of studies to assure success in the market |
| ・  | Autolider Uruguay, already a successful general distributor for Daimler Trucks, will distribute the Fuso line-up for the first time |
Kawasaki, Japan – Mitsubishi Fuso Truck and Bus Corporation (MFTBC), one of Asia's leading commercial vehicle manufacturers, cooperating with Daimler India Commercial Vehicles Pvt. Ltd. (DICV) under the umbrella of Daimler Trucks Asia (DTA), has re-entered the Uruguayan market with three models of its extensive brand offering to penetrate the market through its new distributor for its Fuso brand, Autolider Uruguay.
Autolider Uruguay was nominated as Fuso's distributor in 2013, after doing years of solid market studies and specific development processes into the needs of the Uruguayan market to help assure success. The distributor officially launched FUSO's light-duty model Canter, medium heavy-duty model FA and heavy-duty model FJ at its newly opened customer service facilities, which will showcase the Fuso brand line-up.
Mr. Carlos Bustin, President of the Board of Autolider Uruguay, at the facilities' opening event emphasized FUSO and its 85 year success story. He also presented his confidence in launching this initial Fuso brand line-up in the Uruguayan market, and said the distributor looks forward to further developments of more market activities in Uruguay with FUSO.
Autolider Uruguay is a successful general distributor for Daimler Commercial Vehicles' brands, including Mercedes-Benz Trucks, Vans, Buses, and Freightliner. It has been operative for about 30 years in Uruguay.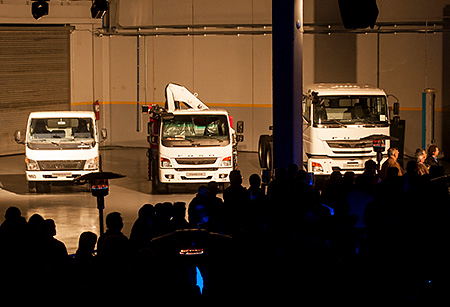 FUSO at a Glance
FUSO is one of the brands of Daimler Trucks, covering nearly all regions around the world such as Asia, Africa, Latin America, Europe and the Middle East. FUSO's light-duty to heavy-duty trucks (GVW 3.5–49 tons), vans, industrial engines and buses are sold in more than 160 markets. The Fuso brand is based on the four core brand values; Trusted Quality, Economic Efficiency, Solid & Functional Design and Committed Services.
MFTBC at a Glance
Based in Kawasaki, Japan, Mitsubishi Fuso Truck and Bus Corporation (MFTBC) is one of Asia's leading commercial vehicle manufacturers. In 2015, the company sold a total of about 154,200 vehicles including light-, medium- and heavy-duty trucks and buses under the Fuso brand. 89.29% of its shares are owned by Daimler AG and10.71% by various Mitsubishi group companies. MFTBC is an integral part of the Daimler Trucks division of Daimler AG.
Daimler Trucks Asia at a Glance
Daimler Trucks Asia (DTA) is an organizational unit that jointly operates Mitsubishi Fuso Truck and Bus Corporation (MFTBC) – an icon of the Japanese commercial vehicle industry with more than 80 years of history and Daimler India Commercial Vehicles (DICV) – a young challenger in the Indian market. DTA has a strategic business model that allows its group entities to collaborate in product development, production, exports, sourcing and research activity to provide the best of value products.