Mitsubishi Fuso's Kawasaki Plant Celebrates its 75th Anniversary
| | |
| --- | --- |
| ・  | The Kawasaki Plant celebrates the 75th anniversary of its establishment in 1941 |
| ・  | As the mother plant for the Fuso brand, the Kawasaki Plant manufactures commercial vehicles for the Japanese market and exports complete built units and KD kits to more than160 international markets |
| ・  | The cumulative production has reached more than 6.5 million units in 2016 |
| ・  | Being part of Daimler Trucks' global production network, the plant continues to seek improvements in production and logistics efficiencies to continue its heritage of Japanese quality |
Kawasaki, Japan – Mitsubishi Fuso Truck and Bus Corporation (MFTBC) celebrates the 75th anniversary of its major production facility – the Kawasaki Plant – that was opened in 1941. As the mother plant for the Fuso brand, the Kawasaki Plant manufactures commercial vehicles for the Japanese market and exports complete built units and KD kits to more than 160 international markets. The cumulative production has reached more than 6.5 million units in 2016.  Being part of Daimler Trucks' global production network, MFTBC continues to seek improvements in production and logistics efficiencies to continue its heritage of Japanese quality.
The Kawasaki Plant was established in 1941 to expand production capacity and focus on commercial vehicles that had been produced on a small scale at Mitsubishi Heavy Industries' Kobe Shipyard in Japan. During World War Two, the production had to be suspended after the plant got hit by a bomb. After the war, the factory produced rice-cooking pots and other small items for two years because material shortage didn't allow the production of trucks. When commercial vehicle production was restarted, it quickly grew between the 1950s and 1960s. Today, the plant manufactures FUSO's trucks and buses, as well as engines for industrial machines and components. For its long-standing history it has seen the line-off of: the first heavy-duty truck T33 with 8t loading capacity built in 1955, the first Canter T720 in 1963, the Canter Eco Hybrid in 2006 and the new Canter in 2016. The plant will soon make history once again with the production of the all-new electric truck eCanter in 2017. In 2016, the cumulative production reached more than 6.5 million units.
Mr. Marc Llistosella, President and CEO of MFTBC said: "Our Kawasaki Plant is not only the heart of the Fuso brand but also an icon of the Japanese production history. In its 75th year of existence, the plant has suffered airstrikes during World War Two, has contributed to the Japanese economic growth and given work to generations of proud FUSO employees. Today – updated with recent investments – it is ready to continue the success story with the soon to start production of the first fully-electric eCanter."
The Kawasaki Plant is a hub for exports to more than 160 markets; with the first vehicles – 600 units of the R32 Bus – having been exported to Chile in 1955. It is also a mother plant for KD facilities around the world. The first KD kits for heavy-duty trucks were exported to Australia in 1960, followed by KD kits for medium-duty trucks to Thailand and Indonesia respectively in 1970 and 1972. Through these experiences, the Kawasaki Plant has transferred production technologies to more than 20 operations across the world.
Being part of Daimler Trucks' global production network, the Kawasaki Plant continues to seek improvements in production and logistics efficiencies to demonstrate Japanese quality. In 2016, the Kawasaki Plant completed a three-year long Site Strategy Project to increase production and logistics efficiencies by introducing a fish-bone structure in its production lines. MFTBC invested about JPY10 billion in the significant upgrading. In 2015, it started to manufacture components for a Daimler Trucks' brand, continuing to fill an important role within the commercial vehicles organization.
Mr. Yoshiro Motoyama, Senior Vice President and Head of Operations Trucks and Buses, stated at the 75th anniversary event: "Our long-standing history has been possible because of the hard work and focused efforts of our 2,200 strong production workforce. We will continue to manufacture high quality trucks with advanced technologies that have helped to define our history, and to support the development of economies within Japan and throughout the world."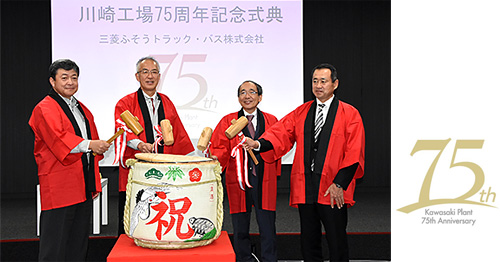 MFTBC at a Glance
Based in Kawasaki, Japan, Mitsubishi Fuso Truck and Bus Corporation (MFTBC) is one of Asia's leading commercial vehicle manufacturers. In 2015, the company sold a total of about 154,200 vehicles including light-, medium- and heavy-duty trucks and buses under the Fuso brand. 89.29% of its shares are owned by Daimler AG and10.71% by various Mitsubishi group companies. MFTBC is an integral part of the Daimler Trucks division of Daimler AG.
FUSO at a Glance
FUSO is one of the brands of Daimler Trucks, covering nearly all regions around the world such as Asia, Africa, Latin America, Europe and the Middle East. FUSO's light-duty to heavy-duty trucks (GVW 3.5–49 tons), vans, industrial engines and buses are sold in more than 160 markets. The Fuso brand is based on the four core brand values; Trusted Quality, Economic Efficiency, Solid & Functional Design and Committed Services.