The all-new FUSO Models Launched in Philippine through FUSO's First Dedicated Sales and Customer Service Center
| | |
| --- | --- |
| ・  | FUSO launches the all-new FUSO "FJ" and "FI" models in the Philippines |
| ・  | The new models have been revealed at FUSO's newly opened dedicated sales and customer service center – a first in the Philippine market |
| ・  | With this introduction, FUSO is poised to increase its market share of light-duty, medium-duty and heavy-duty truck segments |
Kawasaki, Japan – Mitsubishi Fuso Truck and Bus Corporation (MFTBC), one of Asia's leading commercial vehicle manufacturers, cooperating with Daimler India Commercial Vehicles Pvt. Ltd. (DICV) under the umbrella of Daimler Trucks Asia (DTA), has launched its all-new FUSO "FJ" and "FI" models in the Philippines.
The Philippines is one of the fastest-growing markets with a population of 101 million people, and a GDP growth rate of 7.1% in the third quarter of 2016. FUSO sees this continued economic growth as an opportunity to increases demand for trucks: total demand for trucks increased by more than double to around 10,000 units in 2016, compared to 2013. At the same time, the truck market is now seeing a shift away from the second-hand imported trucks to buying new vehicles, as customers have started realizing the benefits of new technologies equipped in new vehicles.
The all-new FUSO models have been unveiled at the opening ceremony of its sales and customer service center in Quezon City, Philippines, operated by one of FUSO dealers, Diamond Motor Corporation (DMC). The facility has become a first ever location dedicated to the Fuso brand in the archipelago. FUSO will increase the number of such FUSO dedicated dealers to seven in upcoming years.
Mr. Kay-Wolf Ahlden, Head of Daimler Regional Center Commercial Vehicles South East Asia, mentioned: "We are confident the new vehicles will exceed expectations of Filipino drivers in terms of comfort, handling and performance, while providing good returns for owners and operators in terms of low cost-of ownership. We have a plan to introduce more models until 2017 and more sales and marketing programs and outlets to reach our target customers."
The new models were previewed on the 24th of September at the 6th Philippine International Motor Show.
Mr. George Blaylock, President of DMC, stated at the opening ceremony of the dealer: "We are proud to inaugurate the first dealership exclusive for the Fuso brand in the Philippines. We started our business as a dealer for FUSO trucks in 1969, have been here for nearly 50 years. So we are excited to set out on this continuing venture for another 50 years."
Currently, Mitsubishi Motors Philippines Corporation (MMPC), Importer and General Distributor for the Fuso brand for the commercial vehicles segment in the Philippine market. In 2015, about 1,500 vehicles were sold in the market through its 48 dealers. FUSO expects its medium-duty and heavy-duty trucks to increase market share; while increasing sales of its iconic light-duty Canter. Mr. Yoshiaki Kato, President and CEO of MMPC, stated at the opening ceremony: "We are excited to open the doors of the country's very first FUSO dedicated facility. Guided by Daimler's expertise in the commercial vehicle business this facility has undergone strict standards to ensure that nothing short of the highest quality service will be provided to our customers. Sales of commercial vehicles have been gaining momentum for the past years so this timing is perfect for us. We are sure this new facility will help address this booming demand."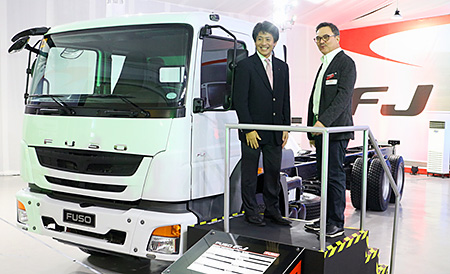 MMPC's Yoshiaki Kato (L) and DMC's George Blaylock (R) showed steadfast
commitment to push the product line in the Philippines.
FUSO at a Glance
FUSO is one of the brands of Daimler Trucks, present in nearly all regions around the world such as Asia, Africa, Latin America, Europe and the Middle East. FUSO's light-duty to heavy-duty trucks (GVW 3.5–49 tons), vans, industrial engines and buses are sold in more than 160 markets. The Fuso brand is based on four core brand values; Trusted Quality, Economic Efficiency, Solid & Functional Design and Committed Services.
MFTBC at a Glance
Based in Kawasaki, Japan, Mitsubishi Fuso Truck and Bus Corporation (MFTBC) is one of Asia's leading commercial vehicle manufacturers. In 2015, the company sold a total of about 154,200 vehicles including light-, medium- and heavy-duty trucks and buses under the Fuso brand. 89.29% of its shares are owned by Daimler AG and10.71% by various Mitsubishi group companies. MFTBC is an integral part of the Daimler Trucks division of Daimler AG.
Daimler Trucks Asia at a Glance
Daimler Trucks Asia (DTA) is an organizational unit that jointly operates Mitsubishi Fuso Truck and Bus Corporation (MFTBC) – an icon of the Japanese commercial vehicle industry with more than 80 years of history and Daimler India Commercial Vehicles (DICV) – a young challenger in the Indian market.
DTA has a strategic business model that allows its group entities to collaborate in product development, production, exports, sourcing and research activity to provide the best of value products.