FUSO Launches All-new Range in Bahrain
| | |
| --- | --- |
| ・  | FUSO launches its all-new FUSO range "FA", "FI", FJ and FZ in Bahrain |
| ・  | The new trucks are designed specifically to endure tough driving conditions of Bahrain's vast desert landscape meeting high expectations from customers |
| ・  | All-new FUSO vehicles will be imported and sold by General Distributor Zayani Motors with a network of five outlets across the archipelago |
| ・  | FUSO's new product launch ensures it will continue its leadership position in the Bahraini market; where it already enjoys the top position in the light-duty segment for decades |
Kawasaki, Japan – Mitsubishi Fuso Truck and Bus Corporation (MFTBC), one of Asia's leading commercial vehicle manufacturers, cooperating with Daimler India Commercial Vehicles Pvt. Ltd. (DICV) under the umbrella of Daimler Trucks Asia (DTA), has launched its all-new FUSO range "FA", "FI", FJ and FZ in Bahrain.
Bahrain, known as "two seas", is a small island state in the Gulf region, made up of an archipelago of 33 islands, with a population of 1.4m. The landscape of Bahrain for trucks is extremely challenging, as it is made up of more than 90% desert terrain. Their leading industry is oil, combined with continuous infrastructure projects including upgrading utility facilities, and expanding road networks being underway. In addition, Bahrain's main port of Mina Salman, has a lot of cargo traffic. All of these factors together require commercial vehicles that are built to endure tough driving conditions. The all-new robust FUSO medium-duty models are designed to meet the high demands of Bahrain's customers. With a 3.2% of GDP growth rate, the total demand for commercial vehicles remains steady around1,000 units.
FUSO's new vehicles will be sold by its authorized general distributor, Zayani Motors, through a network of five outlets across the archipelago. MFTBC started its business relationship with Zayani Motors in 1994, and since then it has been selling the light-duty truck Canter and the light-bus ROSA. Zayani Motors also exclusively represents the Fuso brand in the commercial vehicles segment. FUSO has been in the top position in the light-duty segment for decades.
Mr. Sebastian Henry, General Manager of FUSO, Daimler Commercial Vehicles MENA, said at the 21st February launch event in Manama, the capital city of Bahrain: "FUSO has a long association with Bahrain. Our business partner, Zayani Motors, has created its own reputation in the automotive business in Bahrain. We are working closer than ever before with the market through our regional center for the Middle East and North Africa, (RC MENA), which was established in Dubai, in October, 2015. This has enabled us to have a greater understanding of market realities, and a quicker reaction to market needs."
Mr. Majid K. Al Zayani, Managing Director of Zayani Motors said: "Today, we mark a new milestone in a historic long-standing relationship between the Al Zayani family, Zayani Motors and FUSO by launching the new line of medium to heavy-duty trucks. We are confident that the new range will emerge on top of the sales in the Bahraini market, assuring that they will exceed client expectations thanks to its advanced performance".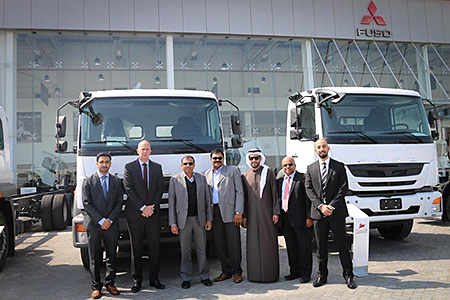 The launch event in Sitra, Bharain
FUSO at a Glance
FUSO is one of the brands of Daimler Trucks, present in nearly all regions around the world including; Asia, Africa, Latin America, Europe and the Middle East. FUSO's light-duty to heavy-duty trucks (GVW 3.5–49 tons), vans, industrial engines, and buses are sold in more than 160 markets. The Fuso brand is based on four core brand values; Trusted Quality, Economic Efficiency, Solid & Functional Design, and Committed Services.
MFTBC at a Glance
Based in Kawasaki, Japan, Mitsubishi Fuso Truck and Bus Corporation, (MFTBC) is one of Asia's leading commercial vehicle manufacturers. In 2015, the company sold a total of about 154,200 vehicles including light, medium, and heavy-duty trucks and buses under the Fuso brand. Together 89.29% of its shares are owned by Daimler AG, and 10.71% by various Mitsubishi group companies. MFTBC is an integral part of the Daimler Trucks division of Daimler AG.
Daimler Trucks Asia at a Glance
Daimler Trucks Asia (DTA) is an organizational unit that jointly operates Mitsubishi Fuso Truck and Bus Corporation (MFTBC) – an icon of the Japanese commercial vehicle industry with more than 80 years of history , and Daimler India Commercial Vehicles (DICV), a young challenger in the Indian market.
DTA has a strategic business model that allows its group entities to collaborate in product development, production, exports, sourcing and research activities to provide the best value of products.