FUSO showcases the all-electric eCanter at the NTEA Work Truck Show 2017 in USA
| | |
| --- | --- |
| ・  | FUSO showcased its all-electric light-duty truck eCanter at the National Truck Equipment Association (NTEA) Work Truck Show 2017, in Indianapolis, Indiana, USA |
| ・  | The truck on display is an outlook on the small series to be launched and delivered to customers later this year in the US, Europe and Japan |
| ・  | FUSO will be the first OEM to launch a series model of all-electric light-duty trucks, making it the frontrunner in electric trucks |
| ・  | Through customer trials in real-life conditions, the zero emission FUSO eCanter has proved to be technically reliable and economically viable with enough mileage and payload for daily use |
Kawasaki, Japan – Mitsubishi Fuso Truck and Bus Corporation (MFTBC) showcased its all-electric, battery-powered light-duty truck eCanter at the National Truck Equipment Association (NTEA) Work Truck Show in Indianapolis, Indiana, USA.
The eCanter is the answer to increasing noise and emission pollution in today's urban environments, making inner-city delivery clean and silent. It can travel a range of more than 100km, exceeding the average distance that many short-radius distribution trucks usually travel per day – for example, in Japan, on an average, 80% of light-duty inner-city delivery trucks travel about 50km per day.
Through customer trials in real-life conditions, the zero emission FUSO eCanter proved to be technically reliable and economical, able to cover enough mileage and payload for daily use.
Jecka Glasman, President and CEO, Mitsubishi Fuso Truck of America, Inc. said at the event; "We believe the eCanter will help us chart the future of light-duty trucking in urban environments. It delivers up to a 100 km range, with zero emissions and zero noise pollution—what we call positive energy. We have had preliminary conversations with several customers and their interest and enthusiasm for the product are very encouraging."
The displayed vehicle is an outlook on the small series of eCanter that was first shown at the 2016 International Automobil-Ausstellung (IAA) – the biggest international commercial vehicle show in Hanover, Germany, where it attracted worldwide attention.
The small series of
eCanter will be launched and delivered to customers from late 2017 in the US, Japan and Europe. This makes FUSO the first OEM to launch a series model of all-electric light-duty trucks that comes with full warranty and service through its extensive dealer network.
Being a frontrunner in the fully-electric truck segment, MFTBC has so far invested 40mn euros in the development of electric driving including research and development. The zero emission model will be manufactured at FUSO's state-of-the art production plants in Tramagal, Portugal and Kawasaki, Japan.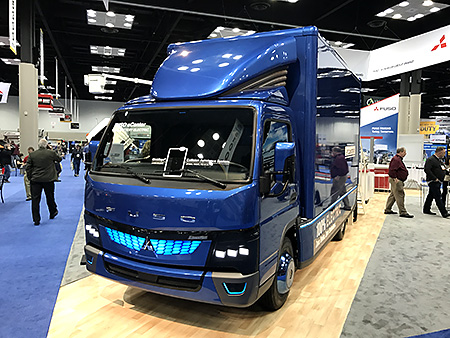 FUSO at a Glance
FUSO is one of the brands of Daimler Trucks, present in nearly all regions around the world including; Asia, Africa, Latin America, Europe and the Middle East. FUSO's light-duty to heavy-duty trucks (GVW 3.5–49 tons), vans, industrial engines, and buses are sold in more than 160 markets. The Fuso brand is based on four core brand values; Trusted Quality, Economic Efficiency, Solid & Functional Design, and Committed Services.
MFTBC at a Glance
Based in Kawasaki, Japan, Mitsubishi Fuso Truck and Bus Corporation (MFTBC) is one of Asia's leading commercial vehicle manufacturers. In 2015, the company sold a total of about 154,200 vehicles including light-, medium- and heavy-duty trucks and buses under the Fuso brand. 89.29% of its shares are owned by Daimler AG and10.71% by various Mitsubishi group companies. MFTBC is an integral part of the Daimler Trucks division of Daimler AG.