Daimler Trucks Asia starts production of Mercedes-Benz Trucks in Indonesia
Daimler Trucks Asia (DTA) uses multi-brand approach with FUSO and Mercedes-Benz to extend product offerings and further expand sales in Indonesia
Mercedes-Benz plant in Wanaherang, near Jakarta, was extended to increase capacity to handle assembly of Knock Down (KD) kits of the new Mercedes-Benz "Axor" heavy-duty truck, produced and shipped from DTA's plant in Oragadam, India.
Kawasaki, Japan – Daimler Trucks Asia (DTA), the umbrella organization of Mitsubishi Fuso Truck and Bus Corporation (MFTBC) and Daimler India Commercial Vehicles (DICV), today announced the start of production of Mercedes-Benz heavy-duty trucks in its Wanaherang plant in Indonesia. The ceremony included guests from the media, politics, and business partners. The plant that already produces Mercedes-Benz Passenger cars, was extended to now accommodate assembling heavy-duty trucks under the Mercedes-Benz Axor name. Mercedes-Benz Distribution Indonesia (MBDINA), a subsidiary of Daimler AG, will be distributing the trucks.
This start of production is the latest step in DTA's Indonesia strategy, which is its most important market in Asia. Being the market leader, with its FUSO brand accounting for more than 46% of market share, DTA will be expanding its product portfolio, offering heavy-duty trucks that include the quality and technological standards of Mercedes-Benz.
Kay-Wolf Ahlden, Head of the Daimler Regional Center Commercial Vehicles South-East Asia said at the occasion: "For DTA, Indonesia is the most important market in the region. Since FUSO entered the market in 1970, the brand has developed to become the leader with a strong product portfolio and sales/after-sales network. Local production of Mercedes-Benz Axor trucks now allows DTA to target growth opportunities with two strong brands that cater to different segments of the market."
Markus Villinger, CEO of Daimler Commercial Vehicles Indonesia, said: "Mercedes-Benz has built a significant recognition in the Indonesian market since its entry in the 1950s. With our locally assembled Axor heavy-duty trucks, we want to capitalize on this heritage and the strength of the brand to convince many new customers for Mercedes-Benz trucks in the Indonesian growth-market."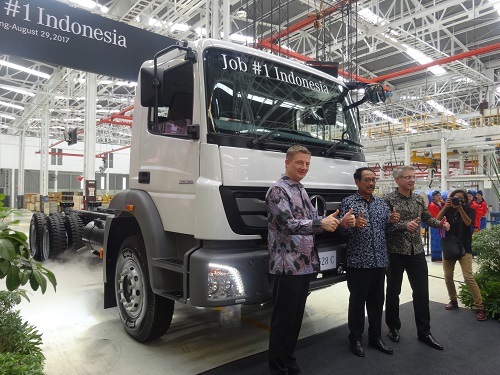 From left,
Markus Villinger、Daimler Commercial Vehicles Indonesia, Edy Putra Irawady, Dupty Minister for Commerce and Industry Affairs , Tim Grieger, Head of Production
With its two manufacturing hubs in Kawasaki, Japan, for FUSO Trucks, and in Oragadam, India for BharatBenz, Fuso and Mercedes-Benz Trucks & Buses; DTA is able to serve its International markets with three brands, and trucks that are either shipped as knocked-down (KD) kits, or completely built up (CBU) units. The new Axor heavy-duty trucks will be assembled at the Mercedes-Benz Plant in Wanaherang, Bogor, Indonesia. These kits are manufactured at DTA's state-of-the-art production facility in Oragadam, India. The first KD production and shipment of Mercedes-Benz trucks from its Indian Plant is also further proof of the production competency of DTA's local entity DICV, fulfils the highest Daimler quality standards.
Contact:
Florian Laudan, +81 90 46685273, florian.laudan@daimler.com
Daimler Trucks Asia at a Glance
Daimler Trucks Asia (DTA) is an organizational unit that jointly operates Mitsubishi Fuso Truck and Bus Corporation (MFTBC) an icon of the Japanese commercial vehicle industry with more than 80 years of history, and Daimler India Commercial Vehicles (DICV), a young challenger in the Indian market.  DTA is a strategic organizational business model that allows its group entities to collaborate in product development, production, exports, sourcing, and research activities to provide best-of-value products.