Mitsubishi Fuso   the frontrunner in electric trucks   hands over its series-produced all-electric truck "eCanter" to its first customers; Seven-Eleven and Yamato Transport
eCanter is the first series-produced electric truck to be used in commercial customer operations
Following the global launch of the eCanter in New York City, Yamato and Seven-Eleven are the first customers to receive initial eCanter trucks from their fleet order.
Seven-Eleven and Yamato each purchased twenty-five vehicles to be delivered over the next six months
The first vehicles were handed over in two press events taking place on the 19th of October
Kazuo Matsunaga, Chairman of MFTBC and DTA stated, "In times of rapid urbanization, manufacturers, forward thinking customers, and municipalities have to cooperate in order to lower greenhouse gas emissions and make cities greener and quieter. FUSO has taken the leadership role in the electrification of trucks, and is very happy to hand over these first eCanter to its customers today."
Kawasaki, Japan – Mitsubishi Fuso Truck and Bus Corporation (MFTBC), part of Daimler Trucks Asia (DTA), the front runner in electric trucks, has delivered the first units of its eCanter, in two ceremonies to its first Japanese customers, Seven-Eleven and Yamato Transport.
The eCanter is the first all-electric light-duty truck in series-production by a global manufacturer. The truck made its worldwide debut last month in New York City, and is being leased initially in a small series-production in Japan, Europe and the US. Today's handover ceremonies mark the first worldwide delivery of FUSO's eCanter into customer hands.
Kazuo Matsunaga, Chairman of MFTBC & DTA stated, "In times of rapid urbanization, manufacturers, forward thinking customers, and municipalities have to cooperate in order to lower greenhouse gas emissions and make cities greener and quieter. FUSO has taken the leadership role in the electrification of trucks, and is very happy to hand over these first eCanter to its customers today."
He added: "We are grateful we could convince such iconic and forward thinking companies like Seven-Eleven and Yamato, to become the first customers to receive the eCanter and operate it in their fleets, setting a benchmark for corporate citizenship".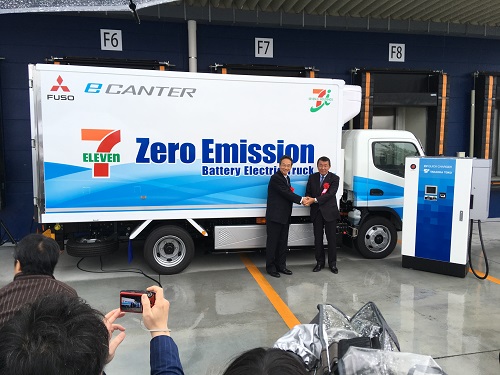 Handover of eCanter to Seven-Eleven in front of media
The handover ceremonies were held at Seven-Eleven's Chilled Hino Center (Hino City, Tokyo) and Yamato Transport's Haneda Chronogate (Ota Ward, Tokyo). Seven-Eleven will gradually start to operate the eCanter in eight of their centers in Tokyo, Kanagawa, Saitama and Chiba. Seven-Eleven is committed to reduce the burden on the environment by optimizing their distribution systems. Yamato Transport also plans to use the eCanter for its transport operations in the Kanto region to contribute to a sustainable urban environment. Seiichi Awa, Managing Director of Yamato, said: "As the largest logistics company in Japan, trucks are at the heart of our company. We are excited to be the first to integrate the electric eCanter into our operations and make deliveries emission-free. We believe electric trucks are the future of urban delivery."
The FUSO eCanter is a light-duty truck that emits zero local emissions and zero engine noise. This enables businesses to have deliveries, even in dense neighborhoods, in early morning hours and late into the night. It is also a positive business case, as customer fleet tests have shown that the electric eCanter can save up to approximately 1000 Euro per10.000 kilometers in operating costs. The electric truck has a GVW of 7.5 tons, carries 6 lithium-ion battery packs and offers a range of roughly100km on a single charge. Charging takes around 1.5 hours (DC quick-charging system) and 11 hours with a regular system (200 V). The body comes in various configurations such as box body and flatbed. MFTBC has a long history and experience in alternative drivetrains. Since 2005, we are manufacturing and selling the Canter Eco Hybrid. In 2010, we presented the first prototype of our all-electric light-duty truck "E-CELL".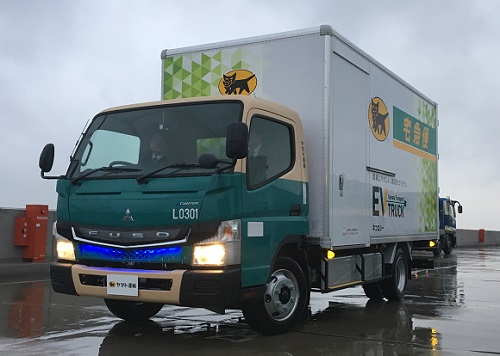 eCanter handed over to Yamato Transport
FUSO at a Glance
FUSO is a Daimler Truck brand, covering nearly all regions around the world including, Asia, Africa, Australia, Latin America, Europe and the Middle East. FUSO's light-duty to heavy-duty trucks (GVW 3.5 49 tons), vans, industrial engines, and buses are sold in more than 170 markets worldwide. The Fuso brand is based on four core brand values; Trusted Quality, Economic Efficiency, Solid & Functional Design, and Committed Services.
Daimler Trucks Asia at a Glance
Daimler Trucks Asia (DTA) is an organizational unit that jointly operates Mitsubishi Fuso Truck and Bus Corporation (MFTBC)   an icon of the Japanese commercial vehicle industry with more than 80 years of history   and Daimler India Commercial Vehicles (DICV), a young challenger in the Indian market.  DTA has a strategic business model that allows its group entities to collaborate in product development, production, exports, sourcing and research activity to provide the best of value products.
MFTBC at a Glance
Based in Kawasaki, Japan, Mitsubishi Fuso Truck and Bus Corporation (MFTBC) is one of Asia's leading commercial vehicle manufacturers. In 2016, the company sold a total of 130,000 vehicles including light, medium, and heavy-duty trucks and buses under the FUSO brand, with 89.29% of its shares owned by Daimler AG and10.71% by various Mitsubishi group companies. MFTBC is an integral part of the Daimler Trucks division of Daimler AG.