Mitsubishi Fuso Launches Dedicated Electric Product Brand E-FUSO Alongside Its All-electric Concept Heavy-duty Truck
Mitsubishi Fuso Truck and Bus Corporation (MFTBC)  is first OEM to launch dedicated brand for its electric trucks and buses
Showing clear commitment to electrify complete range of trucks and buses in upcoming years
Unveiling E-FUSO's Vision ONE concept all-electric heavy-duty truck with a range of 350 kilometers
First series-produced all-electric light-duty truck "eCanter" is delivered to first customers in Japan: Seven-Eleven and Yamato Transport Japan
Marc Llistosella, Head of Daimler Trucks Asia:  "With the unveiling of E-FUSO's Vision ONE, our outlook on a feasible all-electric heavy-duty truck, we again demonstrate we are the frontrunner in the electrification of commercial vehicles.  Just a month after launching our eCanter, the first series-produced all-electric light-duty truck in New York City, this is proof of our commitment to electrify our complete range of trucks and buses, from light to heavy duty. A commitment we substantiate with today's launch of E-FUSO   the first product brand dedicated exclusively to electric trucks and buses."
Kawasaki, Japan   Mitsubishi Fuso Truck and Bus Corporation (MFTBC), an entity under the umbrella of Daimler Trucks Asia, today strengthened the commitment of its FUSO brand for alternative drivetrains by announcing it will electrify its complete range of trucks and buses in upcoming years. At the Tokyo Motor Show, MFTBC launched its new product brand E-FUSO being the first OEM to launch a brand dedicated to electric mobility of trucks and buses. As proof, MFTBC showcased a concept all-electric heavy-duty truck with a range of up to 350 kilometers. The truck named E-FUSO Vision ONE – marks the top end of the electrification process the company will move towards in upcoming years. Substantial investments as well as access to the Daimler Network of battery and charging technology will back this strategy, and make E-FUSO the frontrunner in electric trucks.
Marc Llistosella, President and CEO of Mitsubishi Fuso Truck and Bus Corporation and Head of Daimler Trucks Asia stated "With the unveiling of E-FUSO's Vision ONE, our outlook on a feasible all-electric heavy-duty truck, we again demonstrate we are the frontrunner in the electrification of commercial vehicles.  Just a month after launching our eCanter, the first series-produced all-electric light-duty truck in New York City, this is proof of our commitment to electrify our complete range of trucks and buses, from light to heavy duty. A commitment we substantiate with today's launch of E-FUSO   the first product brand dedicated exclusively to electric trucks and buses." Llistosella added: "With the eCanter, we have proven electric trucks are feasible for commercialization. Today our eCanter saves up to 1000 Euros per 10.000 km in running costs. And with the rapidly evolving battery technology, we will continue to develop electric trucks and buses that will have a positive environmental and economic impact on society."
E-FUSO Vision ONE is our outlook for the coming years
The E-FUSO Vision ONE all-electric heavy-duty truck has a Gross Vehicle Weight (GVW) of 23.26 tons and a payload of 11.11 tons, which is only 1.8 tons less than its diesel counterpart. It can operate within a range of up to 350 km on a single charge.
While the electrification of long-haul trucks will still need substantial time to become technically feasible, the potential application for the Vision ONE heavy-duty truck is regional intra-city distribution.
By developing the eCanter – from extensive design, development, testing and now through production, MFTBC gained valuable insights, which will help to bring an electric heavy-duty truck onto the streets within the next four to five years.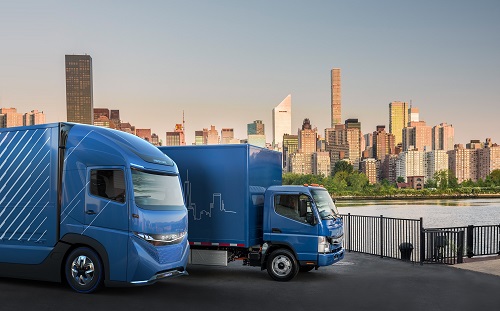 E-FUSO Vision ONE and eCanter
FUSO's eCanter   series-produced electric light-duty truck was recently handed over to both Seven-Eleven and Yamato Transport Japan
In addition to the E-FUSO Vision ONE, MFTBC also showcased its eCanter, the first series-produced all-electric light-duty truck, which was recently launched in New York City.
The eCanter has a GVW of 7.5 tons and a range of 100-120 km on a single charge. The first small series of the eCanter has been handed over to customers including: the convenience-store giant, Seven-Eleven, and Japan's largest delivery logistics provider Yamato. And in the United States, to United Parcel Service (UPS), and several NGOs, including Habitat for Humanity, Wildlife Conservation Society, and The New York Botanical Garden, who have also purchased the eCanter. It is, therefore, in operation in two of the world's largest megacities, New York City and Tokyo, demonstrating FUSO's concrete steps towards reducing air and noise pollution in urban areas, and its vision to help shape sustainable urban environments. 
Strong dedication to electrify the whole range of trucks and buses
With the launch of the product brand E-FUSO, MFTBC underlines its commitment to electrify its complete range of products. The commitment goes beyond the development of the heavy-duty truck, which marks the top end of the electrification process. In upcoming years, all truck and bus models by FUSO will include an additional electric powertrain alternative. The timing for the launch of each model will be in relation to the required technology and feasibility.
In addition to its deep experience in the development of electric trucks, E-FUSO also benefits from having access to the vast technical resources of its parent company Daimler AG. Daimler heavily invests in electric mobility, creating synergies between its passenger car and truck divisions. Deutsche Accumotive   a Daimler subsidiary   provides the batteries for E-FUSO trucks. Mercedes-Benz Energy   a specialist for stationary energy storage systems offers opportunities for a second lifecycle of the batteries. Daimler also has stakes in ChargePoint, the world's largest provider of charging stations and infrastructure, and in StoreDot   an Israeli start-up developing a new fast-charging battery technology.
FUSO's booth also displayed its all-new heavy-duty truck Super Great and its Aero Queen bus
Under the overarching motto "Light Up Tomorrow", which embodies MFTBC's vision of transforming and revolutionizing the commercial vehicle sector, FUSO also showcased its flagship all-new Super Great heavy-duty truck as a tractor. And with this model, FUSO introduced the new "colored by FUSO" service that gives customers the option to choose from 350 different factory-painted body colors. This saves customers up to 150,000 JPY, in repainting costs for the body after purchase. The fourth vehicle being showcased is the all-new FUSO Aero Queen bus launched in May this year. The model shown at the booth is equipped with luxurious seats, and a VR-system which allows visitors to experience a whole journey without having to move an inch.
FUSO at a Glance
FUSO is a Daimler Truck brand, covering nearly all regions around the world including, Asia, Africa, Australia, Latin America, Europe and the Middle East. FUSO's light-duty to heavy-duty trucks (GVW 3.5 49 tons), vans, industrial engines, and buses are sold in more than 170 markets worldwide. The Fuso brand is based on four core brand values; Trusted Quality, Economic Efficiency, Solid & Functional Design, and Committed Services.
Daimler Trucks Asia at a Glance
Daimler Trucks Asia (DTA) is an organizational unit that jointly operates Mitsubishi Fuso Truck and Bus Corporation (MFTBC)   an icon of the Japanese commercial vehicle industry with more than 80 years of history   and Daimler India Commercial Vehicles (DICV), a young challenger in the Indian market.  DTA has a strategic business model that allows its group entities to collaborate in product development, production, exports, sourcing and research activity to provide the best of value products.
MFTBC at a Glance
Based in Kawasaki, Japan, Mitsubishi Fuso Truck and Bus Corporation (MFTBC) is one of Asia's leading commercial vehicle manufacturers. In 2016, the company sold a total of 130,000 vehicles including light, medium, and heavy-duty trucks and buses under the FUSO brand, with 89.29% of its shares owned by Daimler AG and10.71% by various Mitsubishi group companies. MFTBC is an integral part of the Daimler Trucks division of Daimler AG.
Photos and Videos
http://www.truck-bus-van-content.daimler.com/event/fuso-ecanter/tokio_motor_show_final