Mitsubishi Fuso Celebrates Milestone of 2 Million Knock-Down Kits Packed and Shipped Overseas
Mitsubishi Fuso Truck and Bus Corporation (MFTBC) marks 2 millionth Knock-Down (KD) kit shipped overseas from its Higashi Ogishima Logistics Center
MFTBC built up14 KD markets worldwide since 1970
Kawasaki, Japan MFTBC– Mitsubishi Fuso Truck and Bus Corporation, part of Daimler Trucks Asia (DTA), celebrated a milestone of 2 million KD kits packed and shipped to markets overseas. The ceremony was held on November 17 at MFTBC's Higashi Ogishima Logistics Center with representatives from KD markets and MFTBC. 
Mr. Sven Graeble, Senior Vice President of Operations, MFTBC: "The achievement fills us with pride as MFTBC. It motivates and encourages our team to continue developing agile, innovative and efficient processes to further streamline and integrate our international operations to better serve our customers. Our sincere gratitude to our global KD partners whose relentless work is crucial for our shared success as a leading commercial vehicle manufacturer." Aligning with Daimler Trucks Asia's new strategy of product, process and people, highest product quality is ensured through state of the art inline quality checks, rigorous quality audits, and efficient KD kit packing processes.
Among the representatives from KD markets present at the ceremony, Mr. Lambertus Hutauruk, President & Director of PT Krama Yudha Ratu Motors (KRM), Indonesia, stated: "The 2 millionth KD shipment marks a significant milestone for the FUSO brand. This was achieved not only through outstanding products that Mitsubishi Fuso offers, meeting highest customer demands, but – as importantly – thanks to MFTBC's unequivocal support and trust placed in all KD markets." In March this year, FUSO in Indonesia, the largest receiving KD market, achieved a cumulative sales milestone of one million light-duty Canter trucks, locally known as Colt Diesel, since it began selling in the 1970s.
As the fourteenth KD market, MFTBC earlier this month inaugurated its latest KD assembly plant for light-duty Canter trucks in Lagos, Nigeria, together with its local distributor CFAO. The Canter is particularly popular due to its reliability, ruggedness and low maintenance cost, meeting economic needs and requirements of Nigerian customers. With a capacity of 500 Canter a year, MFTBC targets further growth in the emerging African market.
KD production under MFTBC first started in1970 and today accounts for over 40% of total sales volume. Inaugurated in 1991, the Higashi Ogishima Logistics Center receives components and parts for light, medium and heavy-duty trucks for KD packing from MFTBC's Kawasaki plant as well as external suppliers. KD kits are then shipped and locally assembled in its respective market.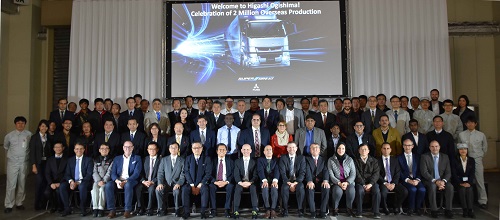 FUSO at a Glance
FUSO is a Daimler Truck brand, covering nearly all regions around the world including, Asia, Africa, Australia, Latin America, Europe and the Middle East. FUSO's light-duty to heavy-duty trucks (GVW 3.5 49 tons), vans, industrial engines, and buses are sold in more than 170 markets worldwide. The Fuso brand is based on four core brand values; Trusted Quality, Economic Efficiency, Solid & Functional Design, and Committed Services.
Daimler Trucks Asia at a Glance
Daimler Trucks Asia (DTA) is an organizational unit that jointly operates Mitsubishi Fuso Truck and Bus Corporation (MFTBC)   an icon of the Japanese commercial vehicle industry with more than 80 years of history   and Daimler India Commercial Vehicles (DICV), a young challenger in the Indian market.  DTA has a strategic business model that allows its group entities to collaborate in product development, production, exports, sourcing and research activity to provide the best of value products.
MFTBC at a Glance
Based in Kawasaki, Japan, Mitsubishi Fuso Truck and Bus Corporation (MFTBC) is one of Asia's leading commercial vehicle manufacturers. In 2016, the company sold a total of 130,000 vehicles including light, medium, and heavy-duty trucks and buses under the FUSO brand, with 89.29% of its shares owned by Daimler AG and10.71% by various Mitsubishi group companies. MFTBC is an integral part of the Daimler Trucks division of Daimler AG.