Mitsubishi Fuso Inaugurates its New Benchmark Quality Management Facility in Kawasaki
Mitsubishi Fuso Truck and Bus Corporation (MFTBC) inaugurates state of the art Quality Management Facility (DTA QM) at its Kawasaki plant.
With investments totaling 14 Oku JPY, QM Facility now comprises a material and measurement laboratory equipped with benchmark instruments and technology, as well as an Integrated Command and Control (ICCON) room for advanced analytics.
New facility ensures that FUSO not only maintains highest quality in all its parts and components, but also sets new standards in the field of quality.
Marc Llistosella, President and CEO of MFTBC and Head of Daimler Trucks Asia: "To be a leader in our business; ensuring top-notch quality of our products at all times is indisputable. Our brand new Quality Management Facility is therefore not only a pledge to our customers to meet highest standards, but also brings forward our ambition to set a new benchmark in quality for the commercial vehicle industry to follow."
Kawasaki, Japan – MFTBC   Mitsubishi Fuso Truck and Bus Corporation, a leading commercial vehicle manufacturer under the umbrella of Daimler Trucks Asia (DTA), today inaugurated its new Quality Management Facility with a ceremony held at MFTBC's Kawasaki plant.
With an overall investment of 14 Oku JPY in the new DTA QM facility, new laboratories and systems that aim to increase overall customer satisfaction by reducing product downtime and ensuring product reliability have been introduced. The department now features an Integrated Command and Control (ICCON) room, measurement lab, materials lab, and an integrated parts investigation center. With the new facility, DTA QM has consolidated all its functions previously located in different parts of the plant, boosting efficiency and communication within the department.
Marc Llistosella, President and CEO of MFTBC and Head of Daimler Trucks Asia: "To be a leader in our business; ensuring top-notch quality of our products at all times is indisputable. Our brand new Quality Management Facility is therefore not only a pledge to our customers to meet highest standards, but also brings forward our ambition to set a new benchmark in quality for the commercial vehicle industry to follow."
The ICCON room facilitates decision making by processing big data for advanced analytics that will allow early failure detection in production processes and products in the market. Additionally, MFTBC has started to interconnect all new Super Great trucks launched in May this year with its "Truckonnect" service, providing real-time data of vehicles to customers and HQ. This allows DTA QM to monitor the vital stats of trucks at all times and to proactively advice on potential issues by using algorithms.
A material lab for examination of product-materials as well as a measurement lab for analyzing parts-dimensions, feature state of the art instruments improving problem detection and solving speed. Ensuring a controlled environment for highest measurement precision, all labs are installed with temperature, humidity and vibration sensors that automatically factor in any deviations.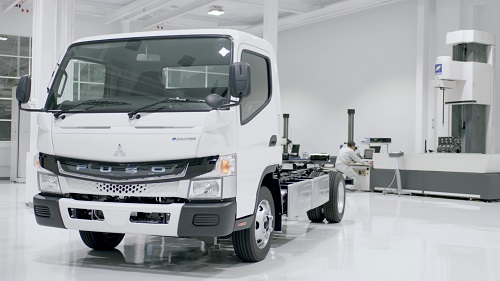 The Measurement Lab
In addition, DTA QM has upgraded its entire office area, which is now based on a free-seating system that includes a live-feed indicating available seats, allowing employees to set up their workstation anywhere within the department depending on their daily business needs. The conducive work environment and innovative set-up is designed to boost motivation and encourages enhanced communication and interaction among employees.
DTA Quality Management with its consolidated setup and new facilities takes up an indispensable role in all processes of the company, ensuring highest quality standards from R&D, testing and production through to after-sales service.
FUSO at a Glance
FUSO is a Daimler Truck brand, covering nearly all regions around the world including, Asia, Africa, Australia, Latin America, Europe and the Middle East. FUSO's light-duty to heavy-duty trucks (GVW 3.5 49 tons), vans, industrial engines, and buses are sold in more than 170 markets worldwide. The Fuso brand is based on four core brand values; Trusted Quality, Economic Efficiency, Solid & Functional Design, and Committed Services.
Daimler Trucks Asia at a Glance
Daimler Trucks Asia (DTA) is an organizational unit that jointly operates Mitsubishi Fuso Truck and Bus Corporation (MFTBC)   an icon of the Japanese commercial vehicle industry with more than 80 years of history   and Daimler India Commercial Vehicles (DICV), a young challenger in the Indian market.  DTA has a strategic business model that allows its group entities to collaborate in product development, production, exports, sourcing and research activity to provide the best of value products.
MFTBC at a Glance
Based in Kawasaki, Japan, Mitsubishi Fuso Truck and Bus Corporation (MFTBC) is one of Asia's leading commercial vehicle manufacturers. In 2016, the company sold a total of 130,000 vehicles including light, medium, and heavy-duty trucks and buses under the FUSO brand, with 89.29% of its shares owned by Daimler AG and10.71% by various Mitsubishi group companies. MFTBC is an integral part of the Daimler Trucks division of Daimler AG.