Mitsubishi Fuso to develop all-electric eCanter garbage truck
World's first all-electric light-duty truck in series-production to be converted for waste collection
Joint project between Kawasaki City and Mitsubishi Fuso is part of a comprehensive partnership agreement between Kawasaki City and Mitsubishi Fuso
Zero local emissions and quiet operation makes the eCanter garbage truck ideal for urban garbage collection
Kawasaki, Japan   MFTBC   Mitsubishi Fuso Truck and Bus Corporation, a leading commercial vehicle manufacturer under the umbrella of Daimler Trucks Asia (DTA), today announced the development of a waste collection vehicle (garbage truck) based on the all-electric eCanter.
The eCanter is the world's first all-electric light-duty truck in series-production, and was launched in the US, Japan and Europe in 2017. With the eCanter, MFTBC offers a viable solution for zero-emissions and noise-free delivery systems in urban areas. In addition to being an eco-friendly vehicle, the truck is highly cost and operationally efficient due to low maintenance costs while providing the range and load capacity required for inner-city distribution, making it an ideal truck for urban operation.
The vehicle will be jointly developed with ShinMaywa Industries, Ltd., headquartered in Takarazuka, Hyogo Prefecture, and headed by Tatsuyuki Isogawa. ShinMaywa has vast experience and expertise as an outfitter for waste collection vehicles.
Together with Kawasaki City, MFTBC and ShinMaywa intend to conduct first demonstration tests of the vehicle in spring 2019. The demonstration in Kawasaki City will include running tests and performance verification in garbage collection operation.
"I am pleased to announce the development of a waste collection version of our eCanter, which will be Japan's first all-electric garbage truck," announced Marc Llistosella, President and CEO of MFTBC and Head of Daimler Trucks Asia. He further commented that "Waste collection vehicles are highly public and indispensable for the environment and economy. With the eCanter garbage truck we will have a vehicle that emits no CO2 through the drivetrain, operates quietly, and will support municipalities in shaping a sustainable urban environment. We will continue to enhance its applications to meet a wide range of needs, so that we can introduce the eCanter garbage truck to many more customers."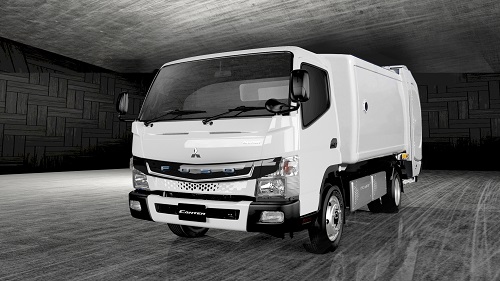 Image of the eCanter garbage truck
Vehicle Model

Performance

Charging Time

Battery Capacity

Outfit Specification

eCanter

Japan Specification

(GVW 7.5 t)

Maximum output: 135kW

Maximum torque: 390Nm

Normal charging: about 11 hours maximum

(AC single phase, 200V/30A)

Rapid charging: about 1.5 hours maximum

(DC 3 phases, 400V/125A)

13.8kW x 6 batteries

82.8kW

Garbage vehicle with revolving plate

(produced by ShinMaywa)
Media Contact
Florian Laudan, Head of Communications, Daimler Trucks Asia
Phone: +81 44 330-7970 e-mail: florian.laudan@daimler.com
Humza Ahmad, Manager, International and Domestic PR, Corporate Communications, MFTBC
Phone: +81 44 330-7857 e-mail: humza.ahmad@daimler.com
FUSO at a Glance
FUSO is a Daimler Truck brand, covering nearly all regions around the world. FUSO's light-duty to heavy-duty trucks (GVW 3.5 49 tons), vans, industrial engines, and buses are sold in more than 170 markets. The FUSO brand is based on four core brand values; Trusted Quality, Economic Efficiency, Solid & Functional Design, and Committed Services.
E-FUSO at a Glance
E-FUSO is the all-electric product brand of Mitsubishi Fuso Truck and Bus Corporation (MFTBC). With vast experience in the development of alternative drivetrains, MFTBC is committed to release all-electric versions of its entire product portfolio including light, medium, and heavy-duty trucks and buses. In 2017, Mitsubishi Fuso became the first global OEM to launch an all-electric, series-produced light-duty truck: the eCanter. 
Daimler Trucks Asia at a Glance
Daimler Trucks Asia (DTA) is an organizational unit that jointly operates Mitsubishi Fuso Truck and Bus Corporation (MFTBC)   an icon of the Japanese commercial vehicle industry with more than 80 years of history   and Daimler India Commercial Vehicles (DICV), a young challenger in the Indian market.  DTA has a strategic business model that allows its group entities to collaborate in product development, production, exports, sourcing and research activity to provide the best of value products.
MFTBC at a Glance
Based in Kawasaki, Japan, Mitsubishi Fuso Truck and Bus Corporation (MFTBC) is one of Asia's leading commercial vehicle manufacturers. In 2016, the company sold a total of 130,000 vehicles including light, medium, and heavy-duty trucks and buses under the FUSO brand, with 89.29% of its shares owned by Daimler AG and10.71% by various Mitsubishi group companies. MFTBC is an integral part of the Daimler Trucks division of Daimler AG.