Mitsubishi Fuso celebrates milestone of 10,000th vehicle handed over to local customers in Taiwan
Daimler Trucks Asia Taiwan Ltd. (DTAT), handed over its 10,000th FUSO vehicle since start of operations in January 2017.
FUSO has been the market leader in Taiwan for over 25 consecutive years and offers customers full product coverage from light, medium to heavy-duty trucks as well as light and medium buses.
Joe Wong, CEO, DTAT: "Taiwan is one of FUSO's first international markets with a strong presence since 1958.  Since then, we have stepped up our commitment to Taiwanese customers with the setup of DTAT. Today, we are especially proud to hand over our 10,000th vehicle to our loyal and valued customer since DTAT started operations in 2017."
Taoyuan, Taiwan / Kawasaki, Japan, Mitsubishi Fuso Truck and Bus Corporation (MFTBC), part of Daimler Trucks, today celebrated its 10,000th FUSO truck handed over to a customer by Daimler Trucks Asia Taiwan Ltd. (DTAT).
The handover ceremony took place on July 25 in Taoyuan in the northwest of Taiwan at Guo Pu Concrete Industry Co. Ltd., the customer receiving the 10,000th vehicle. DTAT hosts a celebration event for every 5,000 vehicles handed over to a "lucky customer".
Joe Wong, CEO of DTAT, said at the event that "Taiwan is one of FUSO's first international markets with a strong presence since 1958.  Since then, we have stepped up our commitment to Taiwanese customers with the setup of DTAT. Today, we are especially proud to hand over our 10,000th vehicle to our loyal and valued customer since DTAT started operations in 2017."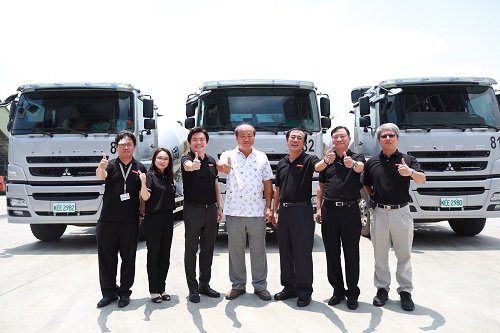 DTAT Team members with the "lucky customer"
FUSO has a rich history in Taiwan. In 1936, FUSO's B46 light bus entered the Taiwanese market and local distributorship was established in 1958, since then growing to become FUSO's second largest export market in Asia after Indonesia. Today, FUSO is a leading commercial vehicles brand in Taiwan and market leader for over 25 consecutive years. With over 30 sales and service outlets across Taiwan and over 70 outlets where FUSO vehicles can be serviced, FUSO has the most extensive sales and service network coverage in Taiwan. DTAT's dealer network will continue to expand and is developing a next generation of workshops in Hsinchu and Luzhu in Northern Taiwan.
DTAT was established in July 2016 (start of operations in 2017) to consolidate FUSO wholesale activities to further enhance customer dedication in Taiwan. The joint venture between MFTBC and Shung Ye Trading Co., a leading player in the Taiwanese commercial vehicles market, is the sole distributor of the FUSO brand in Taiwan and responsible for the exclusive import and wholesale businesses for the entire range of FUSO products, including light, medium, heavy-duty trucks, as well as light and medium-duty buses.

Media Contact
Florian Laudan, Head of Communications, Daimler Trucks Asia
Phone: +81 44 330-7970 E-mail: florian.laudan@daimler.com
Humza Ahmad, Manager, International and Domestic PR, Corporate Communications, MFTBC
Phone: +81 44 330-7857 E-mail: humza.ahmad@daimler.com

FUSO at a Glance
FUSO is a Daimler Truck brand, covering nearly all regions around the world. FUSO's light-duty to heavy-duty trucks (GVW 3.5 49 tons), vans, industrial engines, and buses are sold in more than 170 markets. The FUSO brand is based on four core brand values; Trusted Quality, Economic Efficiency, Solid & Functional Design, and Committed Services.
MFTBC at a Glance
Based in Kawasaki, Japan, Mitsubishi Fuso Truck and Bus Corporation (MFTBC) is one of Asia's leading commercial vehicle manufacturers. In 2016, the company sold a total of 130,000 vehicles including light, medium, and heavy-duty trucks and buses under the FUSO brand, with 89.29% of its shares owned by Daimler AG and10.71% by various Mitsubishi group companies. MFTBC is an integral part of the Daimler Trucks division of Daimler AG.
Daimler Trucks Asia at a Glance
Daimler Trucks Asia (DTA) is an organizational unit that jointly operates Mitsubishi Fuso Truck and Bus Corporation (MFTBC)   an icon of the Japanese commercial vehicle industry with more than 80 years of history   and Daimler India Commercial Vehicles (DICV), a young challenger in the Indian market. DTA has a strategic business model that allows its group entities to collaborate in product development, production, exports, sourcing and research activity to provide the best of value products.