Mitsubishi Fuso introduces 2018 model year Rosa
with new design language
Light bus Rosa features first new front face since 1997
First FUSO vehicle with new headlamps integrating daytime running lights
Kawasaki, Japan – MFTBC   Mitsubishi Fuso Truck and Bus Corporation, under the umbrella of Daimler Trucks Asia (DTA), today launched the 2018 model year Rosa light bus, available for sale at all Mitsubishi Fuso sales outlets across Japan.
The 2018 model introduces the first new face for the Rosa since 1997. The design language integrates the "Fuso black belt" a design element that enhances the "FUSO" logo and signifies the new brand identity of upcoming Mitsubishi Fuso vehicles. Further, the 2018 Rosa features optimized headlamps and new style LED fog lamps available on certain Rosa models.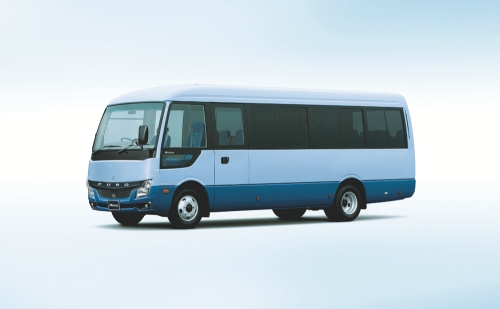 2018 model year Rosa light bus
Vehicle Specifications
Vehicle Designation
Engine
Transmission
Capacity
Drivetrain and trim
BE640G
4P10 (T6)
129KW (175PS)
6 Speed
Duonic 2.0
29 passengers
2WD
Long body, Basic grade
Media Contact:
Florian Laudan: + 81 44 330 7970, florian.laudan@daimler.com
Humza Ahmad: +81 44 330 7857, humza.ahmad@daimler.com
MFTBC at a Glance
Based in Kawasaki, Japan, Mitsubishi Fuso Truck and Bus Corporation (MFTBC) is one of Asia's leading commercial vehicle manufacturers. In 2016, the company sold a total of 130,000 vehicles including light, medium, and heavy-duty trucks and buses under the FUSO brand, with 89.29% of its shares owned by Daimler AG and10.71% by various Mitsubishi group companies. MFTBC is an integral part of the Daimler Trucks division of Daimler AG.
Daimler Trucks Asia at a Glance
Daimler Trucks Asia (DTA) is an organizational unit that jointly operates Mitsubishi Fuso Truck and Bus Corporation (MFTBC)   an icon of the Japanese commercial vehicle industry with more than 80 years of history   and Daimler India Commercial Vehicles (DICV), a young challenger in the Indian market. DTA has a strategic business model that allows its group entities to collaborate in product development, production, exports, sourcing and research activity to provide the best of value products.