Mitsubishi Fuso delivers all-electric light-duty truck eCanter to S-line Group
Five eCanters delivered to S-Line Group
S-Line Group is the first company to deploy the all-electric light-duty truck in the Chubu region
Mitsubishi Fuso Truck and Bus Corporation (MFTBC; headquarters: Kawasaki City, Kanagawa Prefecture; President and CEO Hartmut Schick), in line with its Vision to lead the commercial vehicle industry into the future, today announced it delivered five eCanter electric light-duty trucks on February 9 to S-line Gifu Co., Ltd. (headquartered in Ginancho, Hashima-gun, Gifu; headed by President Yoshihiko Yamaguchi) and S-line Kakamigahara Co., Ltd. (headquartered in Kakamigahara City, Gifu; headed by President Kimihisa Hashimoto). 
The S-line Group picked the eCanter because it helps the company implement initiatives for addressing global warming, introducing environment-friendly vehicles, and offering eco-friendly logistics services, which are the priority challenges under the group's activities to improve the environment.
As the eCanter is electrically-driven, it emits no exhaust gas and is noise- and vibration-free, reducing the effect of the vehicle on the environment significantly. Moreover, compared with the conventional diesel counterpart, it vibrates less, alleviating physical burdens on the driver; it is thus expected to improve a work environment further.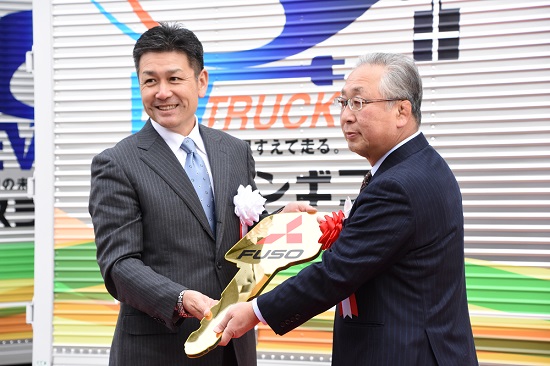 Ceremonial key handover / Right: S-Line CEO Yamaguchi. Left: Tokai Fuso CEO Ishii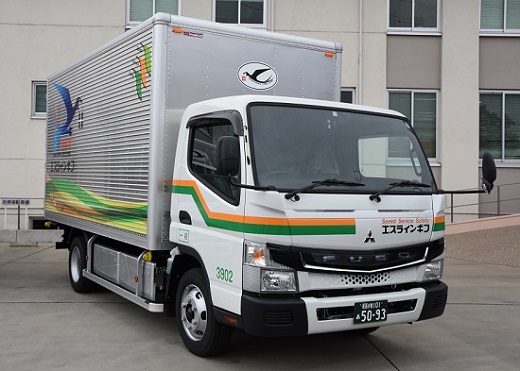 FUSO eCanter in S-Line "EV Truck" Livery
Media Contact
Florian Laudan, Head of Communications, Daimler Trucks Asia
Phone: +81 44 330-7970 E-mail: florian.laudan@daimler.com
Humza Ahmad, Manager, International and Domestic PR, Corporate Communications, MFTBC
Phone: +81 44 330-7857 E-mail: humza.ahmad@daimler.com
FUSO at a Glance
FUSO is a Daimler Truck brand, covering nearly all regions around the world. FUSO's light-duty to heavy-duty trucks (GVW 3.5 49 tons), vans, industrial engines, and buses are sold in more than 170 markets. The FUSO brand is based on four core brand values; Trusted Quality, Economic Efficiency, Solid & Functional Design, and Committed Services.
MFTBC at a Glance
Based in Kawasaki, Japan, Mitsubishi Fuso Truck and Bus Corporation (MFTBC) is one of Asia's leading commercial vehicle manufacturers. In 2016, the company sold a total of 130,000 vehicles including light, medium, and heavy-duty trucks and buses under the FUSO brand, with 89.29% of its shares owned by Daimler AG and10.71% by various Mitsubishi group companies. MFTBC is an integral part of the Daimler Trucks division of Daimler AG.