Mitsubishi Fuso Releases
2019 Model Year Aero Queen and Aero Ace Large Coach Buses


Comes standard with:
Active Side Guard Assist (ASA), Japan-first for large coach buses
Emergency Driving Stop System (EDSS)
Active Brake Assist 4 (ABA®4) with pedestrian detection
BusConnect® telematics system capabilities
Face-lift features:
New LED headlamp & fog lamp
"Fuso Black Belt" design
Mitsubishi Fuso Truck and Bus Corporation (MFTBC; headquarters: Kawasaki City, Kanagawa Prefecture; President and CEO Hartmut Schick), today announces the release of the 2019 model year Aero Queen and Aero Ace large coach buses. They will be available through MFTBC dealers and sales branches across Japan as of April 2019.
The 2019 Aero Queen and Aero Ace buses come with enhanced safety features, such as Active Sideguard Assist (ASA), a Japan-first feature in large coach buses, which monitors the driver's blind spot on the left side to assist safe driving, Emergency Driving Stop System (EDSS), which allows for automatic stop of the vehicle in case of problems with the driver, and Active Brake Assist 4 (ABA®4) with a pedestrian detection feature added. With these features, the 2019 models offer even greater support for safe driving as compared with the 2017 models, which come with the ShiftPilot® 8-speed automated transmission and the 6S10 lightweight engine as well as a wide array of safety features, including Active Attention Assist, which constantly monitors the driver's attention, the Active Brake Assist 3 (ABA®3) collision mitigation system, and a lane departure warning system, thereby achieving a high level of safety, comfort and economy. 
Following the Rosa, which launched last year, the new models adopt the "Fuso Black Belt" design and new LED headlamp & fog lamps, sporting a revamped exterior design. This new design represents its integration into Fuso Black Belt, which highlights the FUSO logo, and Mitsubishi Fuso's brand identity.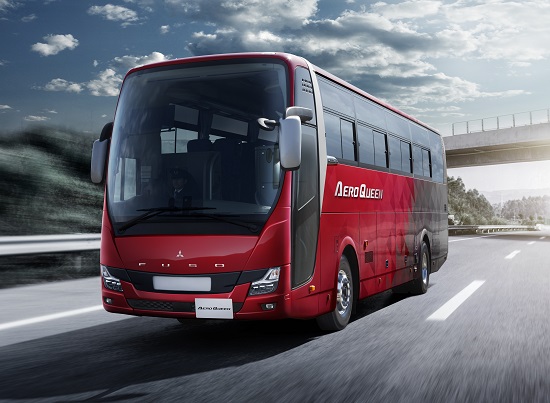 2019 Aero Queen (illustration)
Features of the 2019 Aero Queen/Ace
1.      Active Sideguard AssistTM (ASA)
ASA monitors the driver's blind spot on the left side of the vehicle and detects a pedestrians, cyclists or vehicles through radar. When detecting an object, including a pedestrian, the lamps on the left side of the cockpit and on the instrument cluster will illuminate yellow and when the driver steers to the left or gives a left-turn signal, the lamps will illuminate red and the seat vibrator (left side) will be activated to warn the driver.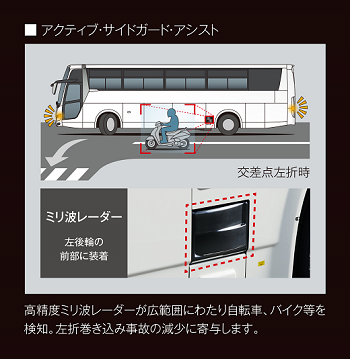 2.      Emergency Driving Stop System (EDSS)
When something goes wrong with the driver, the vehicle can be brought to an emergency stop by pressing the emergency buttons installed on the left side of the driver's seat and at the front row of the passenger seats.  When the system is activated, a warning will be issued through sound and light both internally and externally and the vehicle will gradually slow down to inform those around the vehicle of an emergency stop. In addition, when the system is working, a bus dispatcher will be contacted regarding the emergency stop through BusConnect®.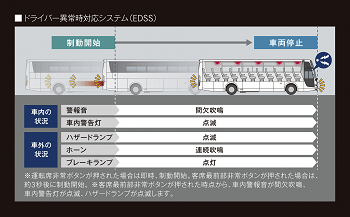 3.      Active Brake Asist 4 (ABA®4)
When there is a running or standing vehicle or a pedestrian in front of the vehicle and a risk of collision is detected, a warning alarm will sound and the brakes will be applied in phases, thereby alleviating collision damage or entirely avoiding collision.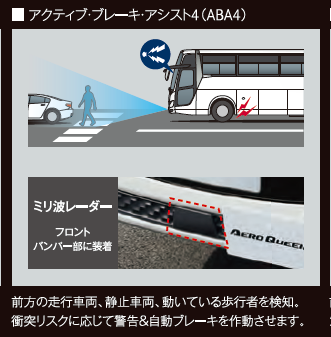 4.      New LED Headlamp & Fog Lamp
The new models come with low/high beam, position lamp and fog lamp in LED form. They enhance visibility at night or in dense fog while extending lamp life as well.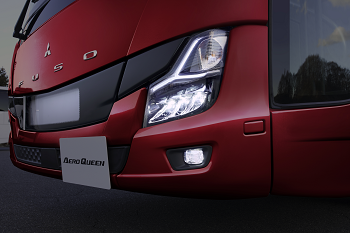 5.      BusConnect®
BusConnect® provides a remote bus dispatcher with information (on the location and route of a vehicle, how safe the driving is, fuel economy, etc.) on buses in operation in real time. Moreover, when EDSS or Active Brake Assist 4 (secondary braking) is activated, the bus dispatcher will be contacted with an emergency warning. It also records information on the history of operations of the lane departure waring system and Active Sideguard Assist.

6.      All models come standard with a fluid retarder
All models now come standard with a fluid retarder, which was in great demand from customers. Thanks to its coordinating control with the engine and transmission, the fluid retarder assists vehicle speed control and braking. The fluid retarder utilizes a liquid as an auxiliary brake to generate deceleration and distributes braking force stably in cooperation with engine braking.  
7.      Equally divided 3 span large-capacity trunk room (excl. Aero Ace Night Line)
The span of the trunk room is now equally divided to make efficient loading of suit cases possible.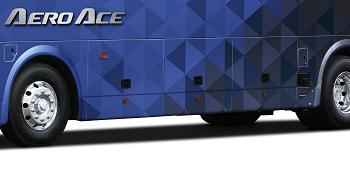 Vehicle Specs and Selling Price in the Tokyo Region
Main Model
Engine
(Output)
 
Transmission
Capacity
(seats + auxiliary seats + crew) 

Main Specs.

Price (JPY)
2TG-MS06GP
(Aero Queen)
6S10 (T2) type
(280kW/381PS)
 
ShiftPilot®
8-speed AMT
 
57
(45+10+2)
Premium Line
Super High Decker
11-row seats
Underfloor direct cooling
49.2 million
2TG-MS06GP
(Aero Ace)
62
(49+11+2)
Premium Line
High Decker
12-row seats
Ceiling direct cooling
 
46.8 million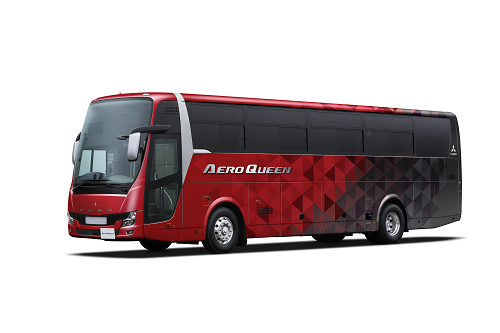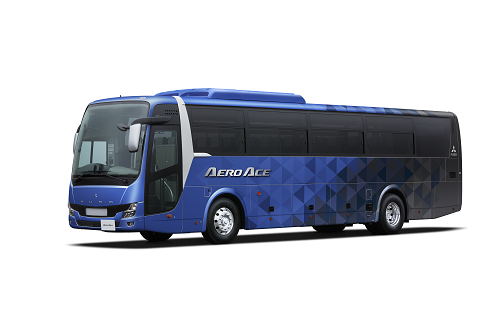 ※1:ABA®, ShiftPilot® and BusConnect®  are MFTBC's registered trademarks.
※2:Active Sideguard Assist is MFTBC's trademark.
Media Contact
Florian Laudan, Head of Communications, Daimler Trucks Asia
Phone: +81 44 330-7970    E-mail: florian.laudan@daimler.com
Humza Ahmad, Manager, International and Domestic PR, Corporate Communications, MFTBC
Phone: +81 44 330-7857    E-mail: humza.ahmad@daimler.com
FUSO at a Glance
FUSO is a Daimler Truck brand, covering nearly all regions around the world. FUSO's light-duty to heavy-duty trucks (GVW 3.5–49 tons), vans, industrial engines, and buses are sold in more than 170 markets. The FUSO brand is based on four core brand values; Trusted Quality, Economic Efficiency, Solid & Functional Design, and Committed Services.
MFTBC at a Glance
Based in Kawasaki, Japan, Mitsubishi Fuso Truck and Bus Corporation (MFTBC) is one of Asia's leading commercial vehicle manufacturers. In 2016, the company sold a total of 130,000 vehicles including light, medium, and heavy-duty trucks and buses under the FUSO brand, with 89.29% of its shares owned by Daimler AG and10.71% by various Mitsubishi group companies. MFTBC is an integral part of the Daimler Trucks division of Daimler AG.