Mitsubishi Fuso Delivers eCanter LDT to Meitetsu Transportation
5 eCanter LDTs delivered to Meitetsu Transportation
To be used for pickup and delivery services based in Tokyo's Shinsuna Branch
Mitsubishi Fuso Truck and Bus Corporation (MFTBC; headquarters: Kawasaki City, Kanagawa Prefecture; President and CEO Hartmut Schick), in line with its Vision to lead the commercial vehicle industry into the future, today announced it delivered five eCanter all-electric light-duty trucks to Meitetsu Transportation Co., Ltd. (headquartered in Higashi-ku, Nagoya-shi, Aichi Prefecture; headed by President Watraru Uchida).
As part of its medium-term business plan and efforts to tackle various social challenges, Meitetsu picked the noise- and emission-free eCanter as trucks for pickup and delivery services in a bid to reduce environmental loads with a view to co-existence and co-prosperity with the local community group-wide. Moreover, given that compared with conventional diesel-powered vehicles, eCanter causes less noise and vibration, which alleviates the burden not only on the environment but on drivers physically and mentally as well, it is expected to improve their working conditions further.
"As a priority challenge under our medium-term business plan, we are working on social issues.  We are deploying vehicles that place lighter burdens on the environment and increase value for all stakeholders, thereby working toward preserving the global environment. Additionally, by introducing all-electric trucks, which produce less noise and vibrations, we expect to be able to play a part in enhancing drivers' work environment as well," Meitetsu President Uchida said.
"We are confident that this delivery is extremely significant in that a vehicle manufacturer and a vehicle user join hands in addressing broad-scope social challenges like cutting CO2 emissions and reducing the burden on drivers. I expect this sort of initiative to expand throughout Japan in the future," MFTBC Chairman Kazuo Matsunaga said.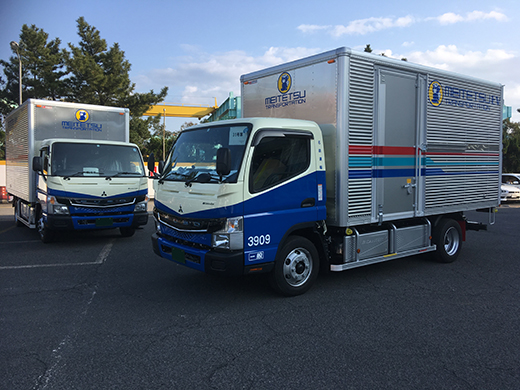 eCanter LDT delivered to Meitetsu Transportation
Media Contact
Florian Laudan, Head of Communications, Daimler Trucks Asia
Phone: +81 44 330-7970 E-mail: florian.laudan@daimler.com
Humza Ahmad, Manager, International and Domestic PR, Corporate Communications, MFTBC
Phone: +81 44 330-7857 E-mail: humza.ahmad@daimler.com
FUSO at a Glance
FUSO is a Daimler Truck brand, covering nearly all regions around the world. FUSO's light-duty to heavy-duty trucks (GVW 3.5–49 tons), vans, industrial engines, and buses are sold in more than 170 markets. The FUSO brand is based on four core brand values; Trusted Quality, Economic Efficiency, Solid & Functional Design, and Committed Services.
MFTBC at a Glance
Based in Kawasaki, Japan, Mitsubishi Fuso Truck and Bus Corporation (MFTBC) is one of Asia's leading commercial vehicle manufacturers. In 2016, the company sold a total of 130,000 vehicles including light, medium, and heavy-duty trucks and buses under the FUSO brand, with 89.29% of its shares owned by Daimler AG and10.71% by various Mitsubishi group companies. MFTBC is an integral part of the Daimler Trucks division of Daimler AG.