Mitsubishi Fuso Truck & Bus Corp. launches model year 2019 Canter light-duty truck
・Advanced safety features now standard on over 7.5t GVW models
・Emissions performance in accordance with 2016 regulations
・Compliance with J-OBD II standard
Mitsubishi Fuso Truck and Bus Corporation (MFTBC; headquarters: Kawasaki City, Kanagawa Prefecture; President and CEO Hartmut Schick), announces the model year 2019 Canter light-duty truck, to go on sale at MFTBC sales companies and regional dealerships nationwide in May for less than 7.5t GVW models, and in July for models over 7.5t GVW.
Models under 7.5t GVW now all achieve emissions performance in line with 2016 regulations, and models over 7.5t GVW are in compliance with the J-OBD II engine diagnostics system standards. Further, advanced safety features introduced to the Canter in model year 2018.5, including Advanced Emergency Braking System (AEBS) and Electronic Stability Program (ESP), will now be introduced as standard for models over 7.5t GVW. Comfort, safety and drivability are improved through inclusion of a break wear indicator lamp on the dash, a new Bluetooth® audio system as well as an improved DUONIC ECO transmission mode.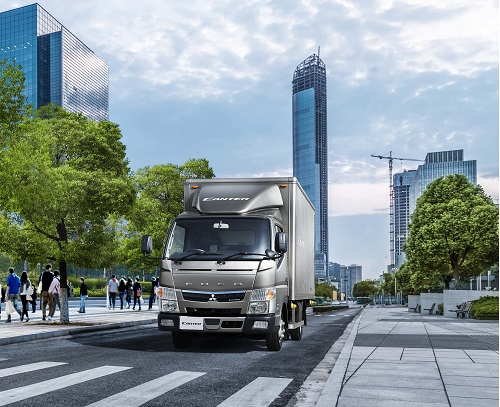 Selected new features for the model year 2019 Canter light duty truck:
AEBS : Advanced Emergency Braking System (over 7.5t GVW models)
Through a millimeter-wave radar installed on the front bumper, when detecting the vehicle travelling ahead, a stopped vehicle or a pedestrian, AEBS warns the driver of a possible collision and when the risk of a collision grows, it applies the brakes automatically, thereby helping avoid a collision or alleviate damage at the time of collision.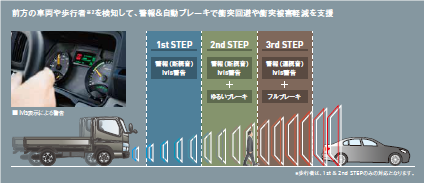 ESP ®: Electronic Stability Program (over 7.5t GVW models)
ESP detects the vehicle attitude constantly through a sensor.  Should a risk of skidding or overturning arise when it takes a curve, it controls engine power or braking force optimally, thereby helping avoid danger.
LDWS: Lane Departure Warning System (over 7.5t GVW models)
If the vehicle departs from a lane without signaling on an expressway, for instance, its road white line recognition camera detects the departure, urging the driver to drive safely through a warning buzzer and a message displayed on the Ivis multi-information system within the meter cluster.

EPB: Electric Parking Brake (over 7.5t GVW models)
Thanks to the assistance of the electric motor, EPB allows the driver to operate the brakes with light operating force. When parking on a slope, it helps retain more stable braking power. (Optional equipment.)
Improved emissions performance (under 7.5t GVW models)
Achieves average NoX emissions of 0.7g/kWh to 0.4g/kWh (upper limits of 0.9g/kWh to0.7 g/kWh), in line with regulations announced in 2016, through changes to the engine injectors, engine software, fan clutch and EGR cooler.
Improved implementation of DUONIC 2.0 ECO transmission mode (all models)
ECO mode now applied as default transmission mapping setting each time engine is turned on, potentially contributing to improved fuel efficiency.
Break wear indicator (all models except for 4WD and FGB70)
Via sensors placed on the brake pads, alerts driver to when one or more brake pads have worn down. (Customers are encouraged to regularly check the condition of brake pads directly.)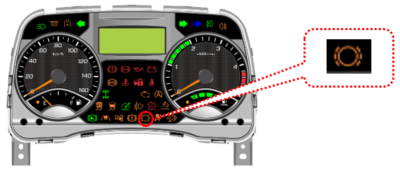 Bluetooth® audio system (all models except for garbage trucks fitted with sliding doors)
New audio system offering connection to smartphones and other devices wirelessly via Bluetooth® technology as well as via USB cable.
Media Contact
Florian Laudan, Head of Communications, Daimler Trucks Asia
Phone: +81 44 330-7970 E-mail: florian.laudan@daimler.com
Humza Ahmad, Manager, International and Domestic PR,
Corporate Communications, MFTBC
Phone: +81 44 330-7857 E-mail: humza.ahmad@daimler.com
FUSO at a Glance
FUSO is a Daimler Truck brand, covering nearly all regions around the world. FUSO's light-duty to heavy-duty trucks (GVW 3.5–49 tons), vans, industrial engines, and buses are sold in more than 170 markets. The FUSO brand is based on four core brand values; Trusted Quality, Economic Efficiency, Solid & Functional Design, and Committed Services.
MFTBC at a Glance
Based in Kawasaki, Japan, Mitsubishi Fuso Truck and Bus Corporation (MFTBC) is one of Asia's leading commercial vehicle manufacturers. In 2018, the company sold 164,000 vehicles including light, medium, and heavy-duty trucks and buses under the FUSO brand, with 89.29% of its shares owned by Daimler AG and10.71% by various Mitsubishi group companies. MFTBC is an integral part of the Daimler Trucks division of Daimler AG.