Mitsubishi Fuso launches flagship heavy-duty truck in Australia and overseas markets 
Following Japan, Hong Kong, Singapore and New Zealand, Australia is the latest market to introduce Fuso's new flagship heavy-duty truck.
Enhanced safety features and fuel economy were tested extensively in market to ensure product performance.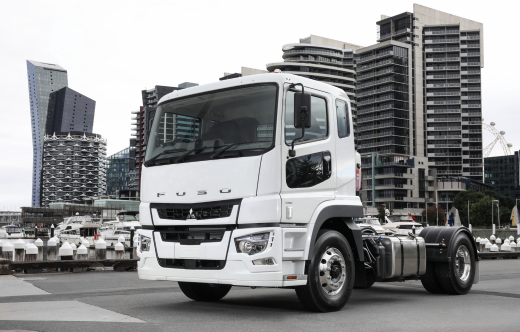 Mitsubishi Fuso Truck and Bus Corporation (MFTBC; headquarters: Kawasaki City, Kanagawa Prefecture; President and CEO Hartmut Schick) launched the new heavy-duty truck at the Brisbane Truck Show in Brisbane, Australia on May 16, 2019.
The Fuso brand's newest flagship truck, known as the Shogun in Australia and New Zealand, complies with Euro-VI emission standards and comes equipped with the OM470 11-liter common rail engine that allows for improved fuel efficiency in comparison to the previous model. It also features the 12-speed "ShiftPilot" automated manual transmission (AMT), which ensures a smooth drive unaffected by changes in cargo load or road conditions. Extensive tests covering nearly 50,000 km were conducted in Australia to confirm the vehicle's fuel economy and the performance of its advanced safety features under local conditions. These safety features include the "Proximity Control Assist" adaptive cruise control technology with automatic start and stop functions, the Lane Departure Warning system, and the enhanced "ABA4" emergency breaking system that can now detect pedestrian movement.
Driver comfort was a main focus in the development of this model; all vehicles are installed with integrated seatbelts that allow for better fit regardless of seat position. The newly added creep function, which is activated by releasing the break pedal, reduces demands on the driver in congested traffic. Special care was taken to optimize shift mapping in the development of the Australia and New Zealand-bound vehicles, taking into account shifting behavior unique to drivers in the two markets. Furthermore, improved vibration reduction and cushioned seating supported by air-suspension — ergonomic features preferred by Australian drivers — mitigate fatigue on long-distance hauls and journeys over rough terrain.
The new Super Great was launched in Japan in May 2017, before its international debut in Hong Kong the following August. Since then, MFTBC has brought its most advanced heavy-duty truck to several more markets in the Asia-Pacific region, namely, Singapore, and, most recently, New Zealand, where in-market field tests were also conducted.
Media Contact
Florian Laudan, Head of Communications, Daimler Trucks Asia
Phone: +81 44 330-7970 E-mail: florian.laudan@daimler.com
Humza Ahmad, Manager, International and Domestic PR,
Corporate Communications, MFTBC
Phone: +81 44 330-7857 E-mail: humza.ahmad@daimler.com
FUSO at a Glance
FUSO is a Daimler Truck brand, covering nearly all regions around the world. FUSO's light-duty to heavy-duty trucks (GVW 3.5–49 tons), vans, industrial engines, and buses are sold in more than 170 markets. The FUSO brand is based on four core brand values; Trusted Quality, Economic Efficiency, Solid & Functional Design, and Committed Services.
Daimler Trucks Asia at a Glance
Daimler Trucks Asia (DTA) is an organizational unit that jointly operates Mitsubishi Fuso Truck and Bus Corporation (MFTBC) – an icon of the Japanese commercial vehicle industry with more than 80 years of history – and Daimler India Commercial Vehicles (DICV), a young challenger in the Indian market.  DTA has a strategic business model that allows its group entities to collaborate in product development, production, exports, sourcing and research activity to provide the best of value products.
MFTBC at a Glance
Based in Kawasaki, Japan, Mitsubishi Fuso Truck and Bus Corporation (MFTBC) is one of Asia's leading commercial vehicle manufacturers. In 2016, the company sold a total of 130,000 vehicles including light, medium, and heavy-duty trucks and buses under the FUSO brand, with 89.29% of its shares owned by Daimler AG and10.71% by various Mitsubishi group companies. MFTBC is an integral part of the Daimler Trucks division of Daimler AG.