Mitsubishi Fuso delivers all-electric light-duty truck eCanter to Tokyo Nohin Daiko
Two eCanters delivered to Tokyo Nohin Daiko
First hanger-rack body of the all-electric truck is designed to carry apparel products for Louis Vuitton retail outlets in Tokyo
Mitsubishi Fuso Truck and Bus Corporation (MFTBC; headquarters: Kawasaki City, Kanagawa Prefecture; President and CEO Hartmut Schick), in line with its Vision to lead the commercial vehicle industry into the future, today announced the delivery of two eCanter all-electric light-duty trucks to Tokyo Nohin Daiko Co., Ltd. (headquarters: Ichikawa-City, Chiba Prefecture; President Hiroyuki Ito). 
As a group company of integrated logistics company SENKO Group Holdings, Tokyo Nohin Daiko takes charge of its fashion logistics business. FUSO's eCanter picked up by Tokyo Nohin Daiko is the very first "hanger-rack" body electric vehicle in Japan, which enables carriers to hang clothing on the rack inside of the vehicle body to avoid damage. The hanger-rack body eCanters will be used exclusively to carry Louis Vuitton products to Louis Vuitton retail outlets in Tokyo. Additionally, these will be the first electric trucks introduced by Senko Group Holdings.
The SENKO Group has been promoting "Green Logistics," and as a group company, Tokyo Nohin Daiko has been actively introducing CNG vehicles, hybrid vehicles and clean diesel vehicles with the aim of reducing CO2 emissions. Tokyo Nohin Daiko has also been addressing environmental issues in the automotive industry through what it calls "Modal Shift" by switching from truck to railroad transportation. In Europe, where Louis Vuitton Japan's headquarters is based, there has been high interest in addressing environmental protection issues, which are leading to growing needs and demands toward environment-friendly logistics networks on a global scale.
Louis Vuitton Japan and Tokyo Nohin Daiko introduced zero-CO2 electric vehicles (light-weight freight vehicles) in 2014 as a pioneer initiative. Now, with MFTBC's advanced technology and support, Tokyo Nohin Daiko is able to introduce the 7.5 ton all-electric light-duty truck eCanter.
"We logistics providers do business on public roads. We aim to protect the environment as part of our business operations. FUSO's electric truck is also highly evaluated by Louis Vuitton Japan. We will promote our operation of the eCanter as a symbol of our company. We will continue to actively promote 'Green Logistics' together with our customers toward a better future for the global environment," Tokyo Nohin Daiko President Ito said.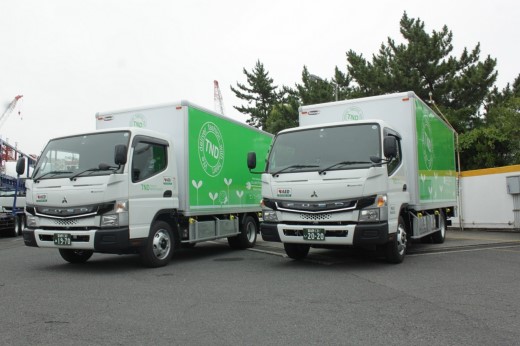 eCanter LDT delivered to Tokyo Nohin Daiko
Media Contact
Florian Laudan, Head of Communications, Daimler Trucks Asia
Phone: +81 44 330-7970 E-mail: florian.laudan@daimler.com 
Humza Ahmad, Manager, International and Domestic PR, Corporate Communications, MFTBC
Phone: +81 44 330-7857 E-mail: humza.ahmad@daimler.com 
FUSO at a Glance
FUSO is a Daimler Truck brand, covering nearly all regions around the world. FUSO's light-duty to heavy-duty trucks (GVW 3.5–49 tons), vans, industrial engines, and buses are sold in more than 170 markets. The FUSO brand is based on four core brand values; Trusted Quality, Economic Efficiency, Solid & Functional Design, and Committed Services.
MFTBC at a Glance
Based in Kawasaki, Japan, Mitsubishi Fuso Truck and Bus Corporation (MFTBC) is one of Asia's leading commercial vehicle manufacturers. In 2016, the company sold a total of 130,000 vehicles including light, medium, and heavy-duty trucks and buses under the FUSO brand, with 89.29% of its shares owned by Daimler AG and10.71% by various Mitsubishi group companies. MFTBC is an integral part of the Daimler Trucks division of Daimler AG.