Mitsubishi Fuso presents its first fuel cell concept truck
"Vision F-CELL" at Tokyo Motor Show 2019
·       Comprehensive lineup of connected, automated, safe and electrified trucks and
buses on display
·       Vision F-CELL light-duty truck exploring fuel-cell technology
·       New Super Great heavy-duty truck with Level 2 automated driving
·       Aero Queen large coach bus, winner of the 2019 Good Design Award
·       Rosa light-duty tour bus with new safety features
Kawasaki, Japan – Mitsubishi Fuso Truck and Bus Corporation (MFTBC), under the umbrella of Daimler Trucks Asia (DTA), will exhibit five vehicles at the 46th Tokyo Motor Show 2019. MFTBC's booth will feature the world premieres of the "Vision F-CELL", a concept fuel cell-powered light duty truck, and the model year 2019 Super Great heavy-duty truck, Japan's first series-produced commercial vehicle equipped with SAE(Society of Automotive Engineers)  Level 2 automated driving technology.
Vehicles on exhibit
1. Vision F-CELL light-duty truck exploring fuel-cell technology
The Vision F-Cell is our concept of an electric truck that uses the power of a Fuel Cell as one option to extend the range of an electric vehicle. Fuso is a leader in electric trucks and was the first brand to launch an all-electric truck in small series production in 2017, the eCanter. Since then, more than 140 eCanters have been delivered to customers in Japan, Europe and the United States. With the Vision F-Cell, a fully drivable concept model, we explore the benefits of fuel cell technology for use in our vehicles.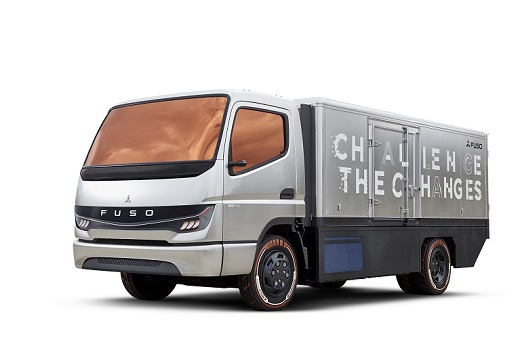 Specifications
Max. motor power: 135kW
Max. continuous power: 75kW (fuel cell) + 135kW (3 HV battery)
Energy storage: 13.8 – 40 kWh (HVB) + 5 to 10 Kg H2 @ 70MPa (3 -4 tanks)
Range: 270-300km (estimate)
Gross vehicle weight: 7.5 tons
2. New "Super Great" heavy-duty truck with Level 2 automated driving functions
Japan's first heavy-duty truck equipped with SAE Level 2 automated driving technology. Through automated actuation of the steering wheel, accelerator and brakes, and equipped with various driver assistance technologies, driver burdens are reduced and safe driving is supported.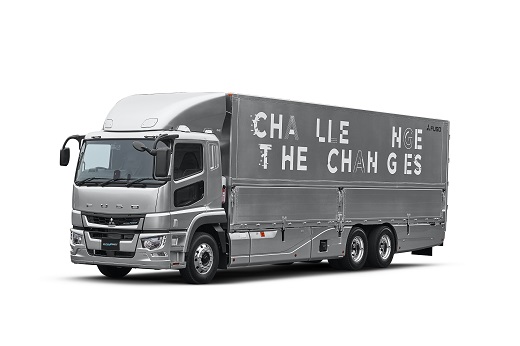 Specifications
Model: FU74HUZ2XVC
Engine: 6R20 (T3)
Engine displacement: 10.7L
Maximum engine power: 290kW(394PS )/1,600rpm
Maximum torque: 2,000N・m(204kgf・m)/1,100rpm
Transmission: 12 speed ShiftPilot
Suspension: Rear air suspension
3. Aero Queen large coach bus
Japan's first heavy-duty touring bus installed with Active Side Guard Assist, a safety feature that monitors the driver's left side blind spot. The Aero Queen also includes safety features like EDSS, which allows passengers to press a button and bring the vehicle to a safe stop in case the driver loses consciousness, and Active Brake Assist 4 (ABA®4), an automatic braking system with slow-speed pedestrian detection function. In addition, Fuso's connectivity solution BusConnect® provides fleet managers with real-time information (bus location/trajectory, safe driving, fuel consumption, etc.) of buses in operation. In addition, the system is equipped with a 24-hour monitoring function, such as an emergency response system, when the driver is in trouble and Active Brake Assist 4 (secondary braking) is activated. In addition, the body's design, which followed the new Fuso Black Belt design identity won the Good Design Award 2019.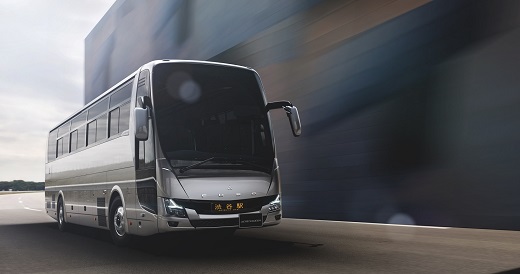 Specifications
Model: MS06GP(QUBV)
Engine: 6S10 (T2)
Engine displacement: 7.7L
Maximum engine power: 280kW (381PS)/2,200rpm
Maximum torque: 1,400N/m (143kgf/m)/1,200-1,600 rpm
Transmission: 8 speed ShiftPilot
4. Rosa light-duty tour bus with new safety features
The model year 2019 Rosa has been upgraded with new safety features like AEBS (Advanced Emergency Braking System), ESP (Electronic Stability Program), and LDWS (Lane Departure Warning System) as well as EZGO & Hill Start Assist. This year's model is available as a Luxury version, which is a luxury coach that reflects the growing demand for high-end transport of smaller tourist groups. It is currently the only Luxury small bus in Japan that, contrary to luxury vans, offers more luggage and passenger space than the standard model.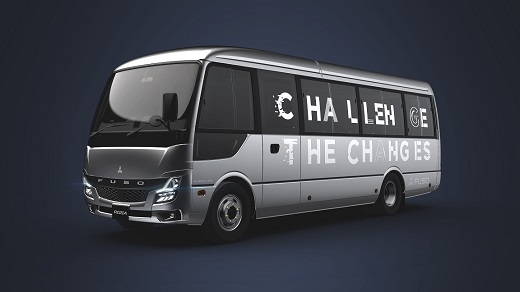 Specifications
Model: BE740G
Engine: 4P10(T6)
Engine displacement: 2.998L
Maximum engine power:129kw(175ps)/ 2,860rpm-3,500rpm
Maximum torque: 430N・m(43.8kgf・m)/ 1,600-2,860rpm
Transmission: 6 speed AMT
5. "ATHENA" 4×4 light-duty rescue truck
A vehicle that has been jointly developed together with Kokushikan University on the assumption that it will be used in disaster situations. The vehicle is based on a four-wheel drive version of Fuso's light-duty truck Canter.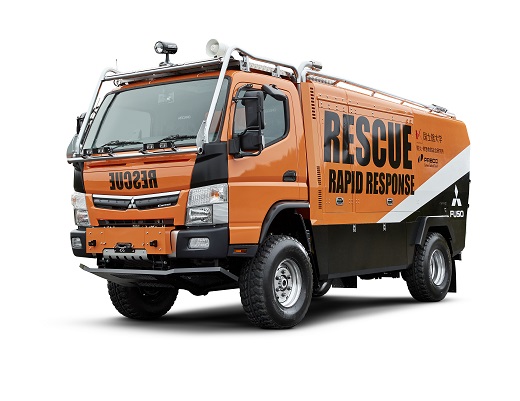 About the 46th Tokyo Motor Show 2019
Name of Event: The 46th Tokyo Motor Show 2019
Organizer: Japan Automobile Manufacturers Association, Inc. (JAMA)
General Public Days: October 25 (Fri) – November 4 (Mon)
Venue: Tokyo Big Sight (Aomi Hall, West/ South Hall, MEGAWEB, Symbol Promenade Park, parking lot next to Tokyo Fashion Town (TFT) Building)