August 20, 2020
Mitsubishi Fuso Launches New eCanter With Advanced Safety System
New features introduced for safer emissions-free transport
Sales in Japanese market to start in August, other regions to follow
Kawasaki, Japan – Mitsubishi Fuso Truck and Bus Corporation (MFTBC), one of Asia's leading commercial vehicle manufacturers under the Daimler Trucks Asia umbrella, is pleased to announce that it will introduce a new all-electric light-duty eCanter®* truck with enhanced safety features. The upgraded eCanter will be launched in Japan in August, with further introductions in Europe as well as the Asia Pacific region planned in the following months.
The new eCanter in series production now comes standard with advanced features to better support safety on the road:
• The Advanced Emergency Braking System (AEBS) detects vehicles ahead, as well as moving pedestrians, through the millimeter-wave radar installed in the front bumper. The AEBS activates braking and warns the driver when risk of collision is detected.
• The Electronic Stability Program (ESP®**) constantly monitors the postural stability of the vehicle with a sensor and controls the wheels' motor output and braking force when there is risk of rollover or skidding at a curve.
• The Lane Departure Warning System (LDWS) detects lane deviances through a white line recognition camera. When the vehicle deviates from a lane without a turn signal, the system emits an alert to the driver and displays a warning on the dashboard.
Driven by an electric motor, the emissions-free eCanter is MFTBC's answer to the increasing need for environmentally conscious transportation. With less noise and vibration compared to diesel-powered vehicles, the eCanter is the ideal solution for urban delivery services that are scheduled late at night or early in the morning. The vehicle can be charged during the night-time as well, which may boost operational efficiencies. Since its global launch in 2017, the eCanter has been in active operation on delivery routes in Japan and around the globe, winning high evaluations from customers worldwide.
"As the need for environmentally-friendly logistics continues to grow on a global scale, Mitsubishi Fuso is contributing to this cause as a pioneer in electric trucks. Already, our many customers are operating our electric trucks worldwide. The new and improved eCanter is testament to our commitment to Japan and its society as we work towards achieving a CO2-neutral portfolio in the country by 2039."(President and CEO Hartmut Schick)
About the eCanter
The eCanter is an electric light-duty truck developed by MFTBC as a solution to environmental problems in cities such as noise, exhaust gas and CO2 emissions. Over 160 eCanter units are in operation globally and with their cumulative driving distance exceeding two million kilometers. The eCanter, which falls under the 7.5-ton gross vehicle weight class, ensures a range of about 100 kilometers per charge. The electric drive system carries a motor (maximum output: 135 kW; maximum torque: 390 Nm) and six high-voltage (370 V, 13.5 kWh) lithium-ion battery packs. With quick-charging stations, the vehicle only takes approximately 1.5 hours to fully recharge.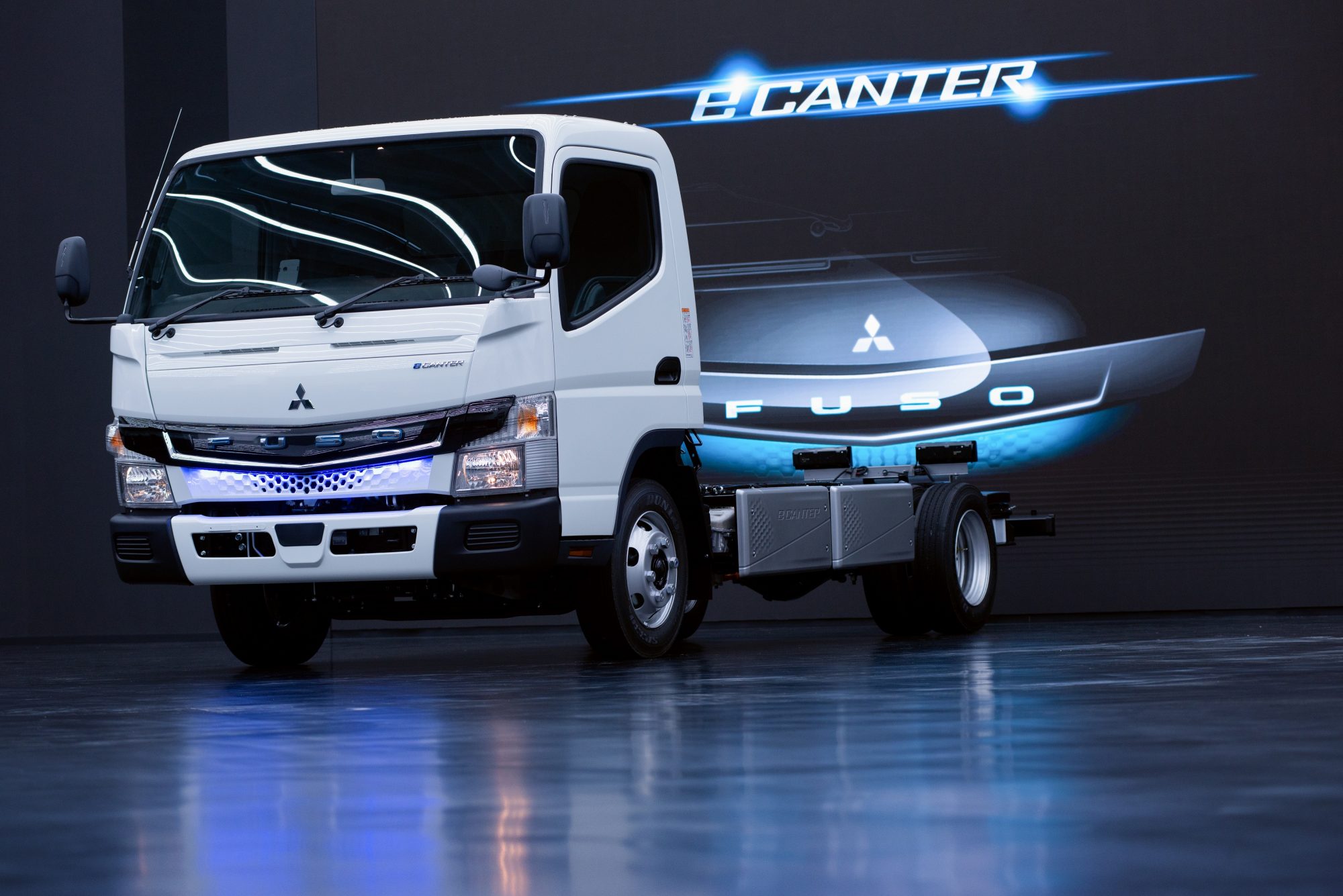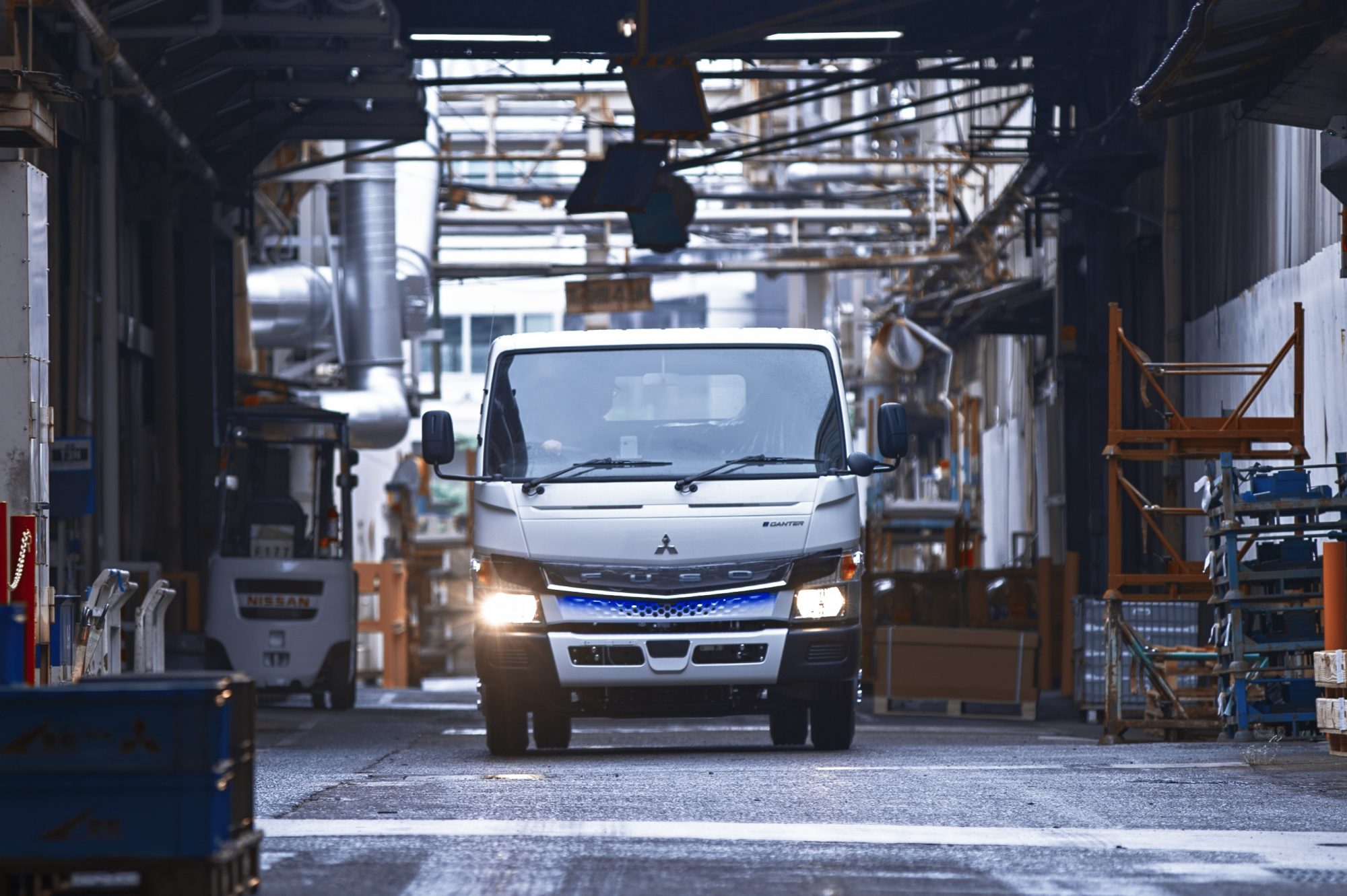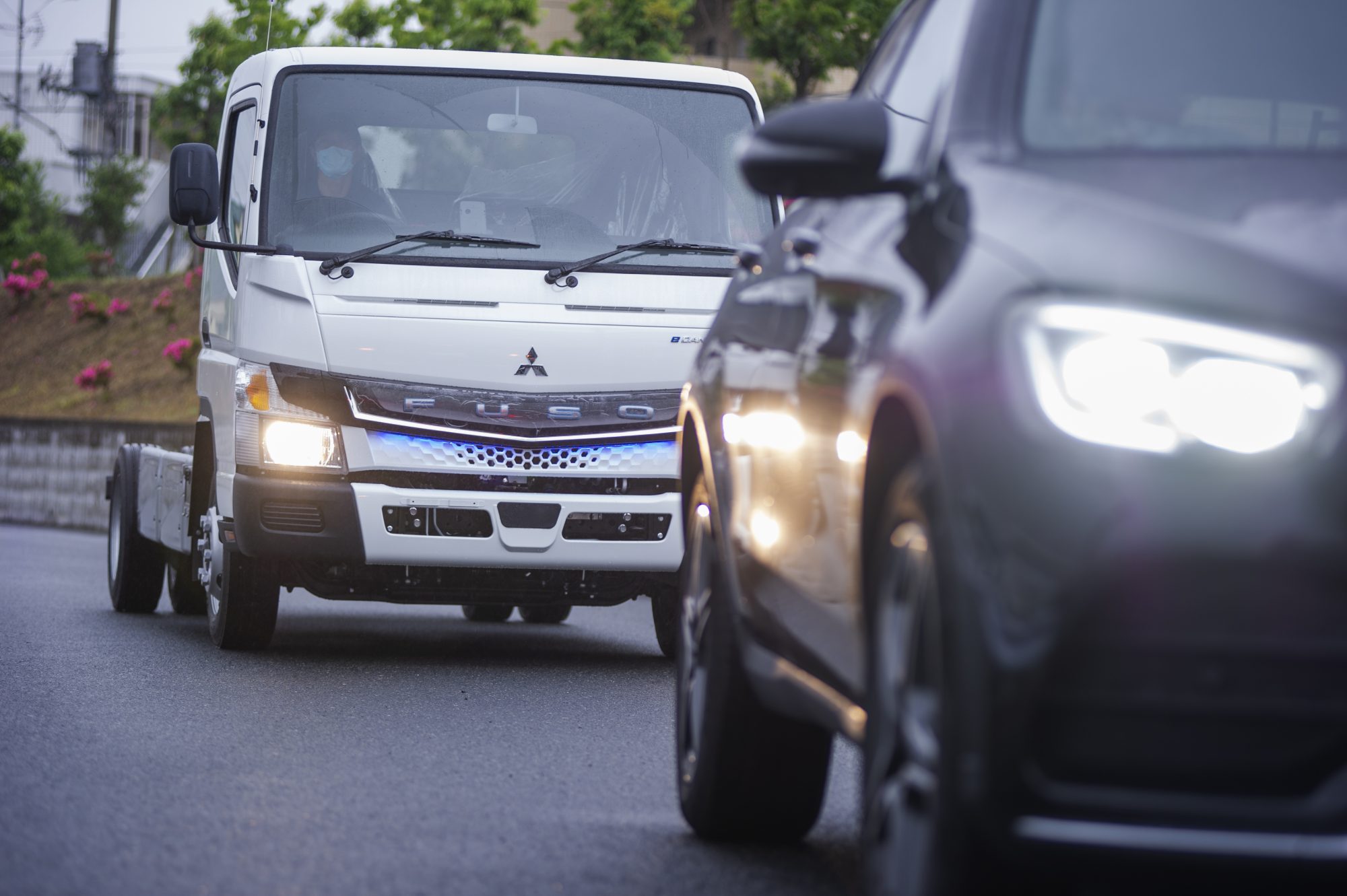 The new eCanter***
*eCanter® is a registered trademark of Mitsubishi Fuso Truck and Bus.
**ESP® is a registered trademark of Daimler AG.
***The pictured vehicle has been specially prepared for communication purposes only.
Advanced Safety Devices

Advanced Emergency Braking System (AEBS)
A millimeter-wave radar installed in the front bumper detects moving or stationary vehicles, as well as pedestrians crossing. When detecting danger of collision, it emits an alarm and activates the brakes automatically as the situation demands, thereby minimizing the damage when a collision is unavoidable.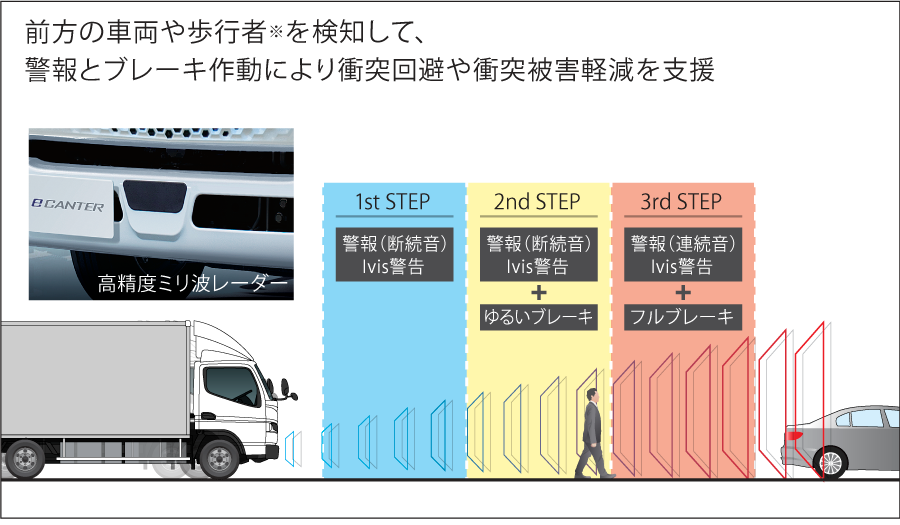 Electronic Stability Program (ESP®)
The ESP detects a vehicle's stability through a sensor. Should it detect any risk of skidding or overturning on corners, it controls the motor's output or the four wheels' braking force, thereby helping avoid danger.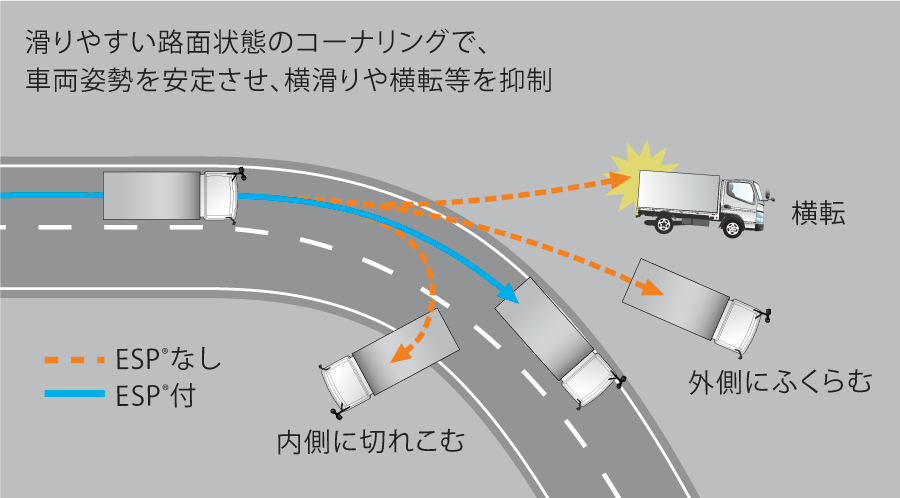 Lane Departure Warning System (LDWS)
When a vehicle departs from its lane without giving a directional signal on a freeway, for instance, its white lane recognition camera detects the departure, urging the driver to drive safely with warning sounds and notifications on the Ivis* (multi-information system).
*Ivis is a registered trademark of Mitsubishi Fuso Truck and Bus.