MFTBC launches the "FUSO GreenLab" open innovation project
to develop mobility  solutions for a sustainable future
・FUSO GreenLab is an ambitious project to foster close collaboration with external innovators to develop mobility solutions to embrace a better life for people and the planet.
・FUSO GreenLab consists of a startup accelerator, a social incubator and a mobility-focused blog with community discussion.
Kawasaki, Japan – Mitsubishi Fuso Truck and Bus Corporation (MFTBC), one of Asia's leading commercial vehicle manufacturers, cooperating with Daimler India Commercial Vehicles Pvt. Ltd. (DICV) under the umbrella of Daimler Trucks Asia (DTA), announces the launch of FUSO GreenLab, an open innovation platform where MFTBC will collaborate closely with startups, researchers and students, with the ambition to develop mobility solutions for a sustainable future. FUSO GreenLab officially kicks off today.
Sustainable business practices are not just a moral imperative but also provide excellent opportunities to explore new solutions that can benefit our communities and the world around us. Out of this worldview is based on DTA's vision: "to develop mobility solutions to embrace a better life for people and the planet". While Daimler Trucks Asia is committed to the decarbonization of its products and further sustainability throughout the entire value chain, the organization is also turning its attention beyond these two areas. Through its activities, FUSO GreenLab aims to collaborate more closely with external innovators to develop sustainable mobility solutions, products, and services.
MFTBC firmly believes in connecting with dynamic creators, be it in Japan or worldwide. Through co-creation and collaboration, the combined strengths of DTA, startups, and researchers can accelerate the pace of social and sustainable innovation. With the FUSO GreenLab startup accelerator, MFTBC will be offering potential partners market access, use of our world-class facilities including the proving grounds in Kitsuregawa, as well as knowledge sharing via technical and business mentorship workshops with MFTBC's experts.
Startups can submit their ideas and pitches on our website (fusogreenlab.com). Following submission, the FUSO GreenLab project team commits to evaluate the ideas in a timely manner and where relevant, to provide mentorship and resources to bring projects to life. FUSO GreenLab will also feature an idea co-creation space as well as a blog focused on mobility-related topics. The co-creation space will allow online community members to incubate early-stage ideas together, while the mobility blog will be a space to explore and discuss topics at the intersection of mobility, sustainability and social innovation.
Moreover, within the scope of these activities, MFTBC has joined J-Startup, a support program for making startups winning in global market. It is an initiative jointly organized by METI (Ministry of Economy, Trade and Industry of Japan), JETRO (Japan External Trade Organization) and NEDO (New Energy and Industrial Technology Development Organization), that helps connect startups and established corporations. In addition to FUSO GreenLab, our cooperation with J-Startup will provide us with another touchpoint to interact and collaborate with startups that are working on improving the world through innovation.
For more information on FUSO GreenLab, please visit:
(Japanese)  https://fusogreenlab.com/jp/
(English)     https://fusogreenlab.com/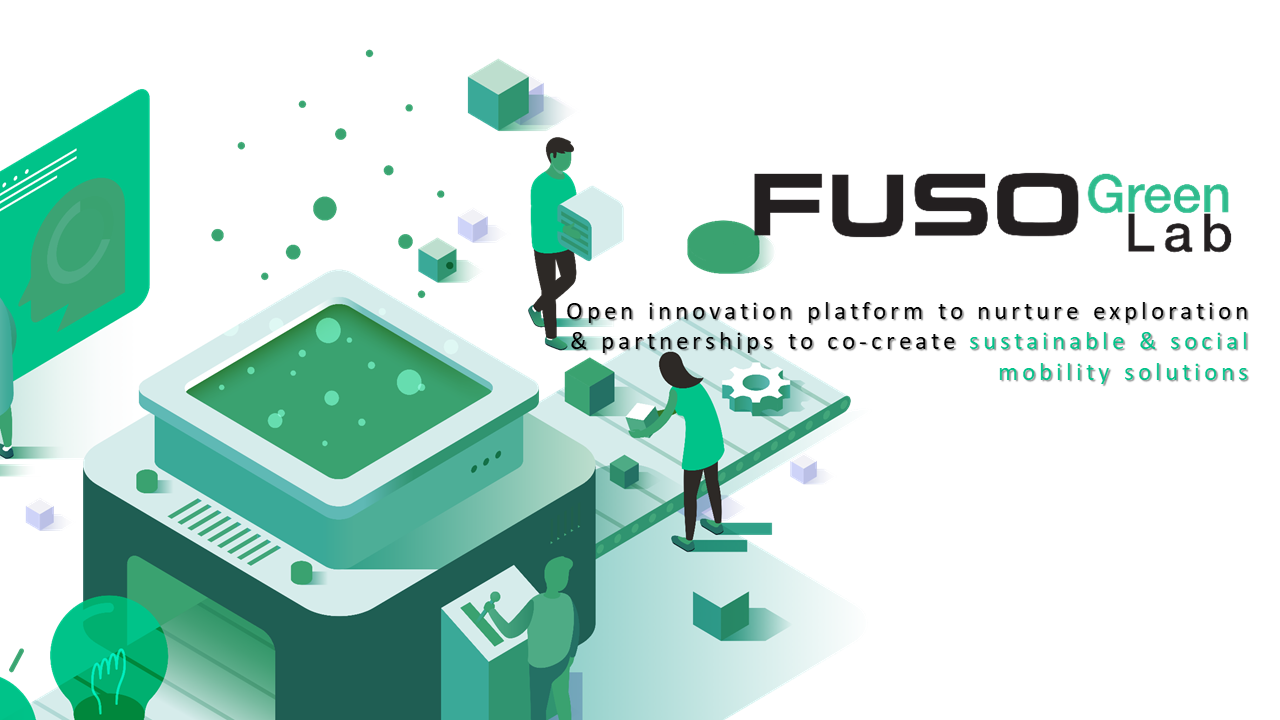 MFTBC at a Glance
Based in Kawasaki, Japan, Mitsubishi Fuso Truck and Bus Corporation (MFTBC) is one of Asia's leading commercial vehicle manufacturers, with 89.29% of its shares owned by Daimler Truck AG and10.71% by various Mitsubishi group companies. An icon in the Japanese commercial vehicle industry with a longstanding history of more than 85 years with its Fuso brand, MFTBC manufactures a range of commercial vehicles including light, medium, and heavy-duty trucks and buses, and industrial engines for over 170 markets worldwide. In 2017, MFTBC introduced the eCanter, the first all-electric light-duty truck in series-production and in 2019, the Super Great – Japan's first heavy-duty truck fitted with Level 2 Automated Driving Support Technology, a benchmark in the Japanese commercial vehicle market. MFTBC operates under the umbrella of Daimler Trucks Asia, together with its partner organization Daimler India Commercial Vehicles (DICV) in India. This strategic unit allows the entities to collaborate on areas such as product development, parts sourcing and production to provide the best value to customers.
Daimler Trucks Asia at a Glance
Daimler Trucks Asia (DTA), under Daimler Truck AG, is an organizational unit that jointly operates Mitsubishi Fuso Truck and Bus Corporation (MFTBC) – an icon in the Japanese commercial vehicle industry with more than 85 years of history with its Fuso brand – and Daimler India Commercial Vehicles (DICV), an up and rising challenger in the Indian market. DTA adopts a strategic business model that allows its group entities to collaborate on product development, production, exports, sourcing and research activity to provide innovative, cutting-edge and best value products to customers. DTA's vision is "to develop mobility solutions to embrace a better life for people and the planet", and is aligned with Daimler Truck's purpose "For all who keep the world moving."