Mitsubishi Fuso holds the Sustainable Mobility Forum,
records 300 units of the all-electric eCanter truck delivered globally
•the all-electric eCanter truck has covered a total driving distance of over 4 million kilometers worldwide
•Customers in Japan, Europe, the US, and now Australia and New Zealand are running over 300 units of the eCanter for their day-to-day business needs
•MFTBC also held its Sustainable Mobility Forum with key eCanter customers to introduce case studies of efforts toward a carbon-neutral society
Kawasaki, Japan — Mitsubishi Fuso Truck and Bus Corporation (MFTBC; headquarters: Kawasaki City, Kanagawa Prefecture; President and CEO Hartmut Schick), one of Asia's leading commercial vehicle manufacturers under the Daimler Trucks Asia umbrella, is pleased to announce that the number of all-electric light-duty eCanter trucks delivered worldwide has now exceeded 300 units. Following this milestone, MFTBC opened its doors on November 15th to hold the Sustainable Mobility Forum with participation from IKEA Japan K.K. (headquarters: Funabashi-shi, Chiba; CEO and Chief Sustainability Officer: Petra Färe) and DB Schenker (headquarters: Essen, Germany; CEO: Jochen Tewes) to share their carbon neutrality initiatives and learnings gained from eCanter operations over the past several years.
The eCanter serves a variety of industry verticals and logistics needs, from waste management to urban parcel deliveries. With a driving range of approximately 100 km per charge, the locally emission-free and near-silent eCanter has been proven to perform on inner-city routes while contributing to less noise and CO2 pollution in urban areas. Routes that require frequent stopping and starting, and early-morning or late-night operations, are particularly suited to the quiet eCanter. The delivery needs and progressive sustainability targets of first-mover customers – including logistics provider DB Schenker, which currently runs the largest eCanter fleet, and IKEA Japan, which operates two eCanter trucks to replenish their retail locations in the Yokohama-Tokyo metropolitan areas and another for customer deliveries through their logistics partner in Kanto area — have been ideal matches for these use cases. Voices from drivers speak to the reduced vibrations and easy acceleration that provide a smoother, less fatiguing driving experience. Additionally, feedback from customers have also shown reduced maintenance costs in comparison to conventional diesel counterparts. Currently, the eCanter has covered a cumulative driving distance of over 4 million kilometers worldwide and continues to gather valuable data from real-life operations.
The all-electric eCanter is an important hallmark of MFTBC's commitment to the electrification of its commercial vehicle lineup. As a pioneer of zero-emissions transportation, MFTBC has announced its ambitions of achieving a sustainable future by making all new vehicles in the Japanese market "tank-to-wheel" CO2-neutral by 2039. Valuable input from customers such as DB Schenker and IKEA have been integrated into the development process for future improvements to the eCanter, and will further be reflected into the electrification of other product segments. Having already launched a new model with advanced safety features in August 2020, MFTBC is currently preparing the next generation of the eCanter with further upgrades and a wider range of variations.
About the eCanter
MFTBC launched the eCanter in 2017 as the first series-produced all-electric light-duty truck in the Japanese market. Since then, customers in countries around the world, including the US, Europe, Japan, have been operating the pioneering vehicle. In Europe, over 190 units of the locally emission-free eCanter are running across 13 countries, in climates ranging from the winters of Helsinki to the summers of Spain. In Japan, over 70 eCanter trucks are contributing to customer businesses in the Kanto, Kansai, Hokuriku, Sanin, Tokai, and Shikoku regions. Earlier in 2021, the all-electric truck was introduced to Australia and New Zealand, adding two more major FUSO markets to the roster. The eCanter, which falls under the 7.5-ton gross vehicle weight class, ensures a range of about 100 kilometers per charge. The electric drive system carries a motor (maximum output: 135 kW; maximum torque: 390 Nm) and six high-voltage (370 V, 13.5 kWh) lithium-ion battery packs. With quick-charging stations, the vehicle only takes approximately up to 1.5 hours to fully recharge.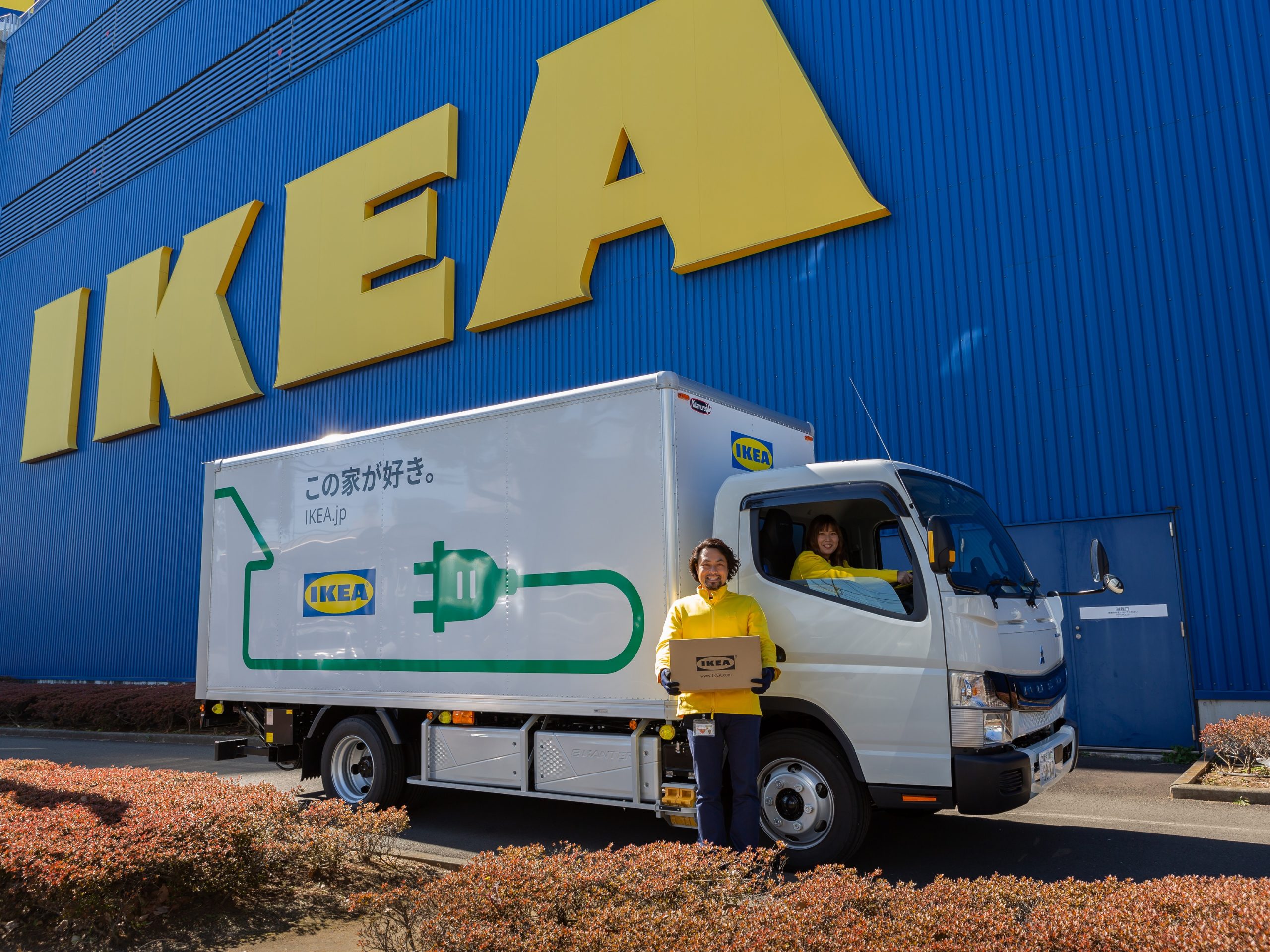 Image Copyright: IKEA Japan
An all-electric eCanter truck operated by IKEA Japan. IKEA Japan is committed to carrying out all last-mile home deliveries using zero-emission vehicles by 2025.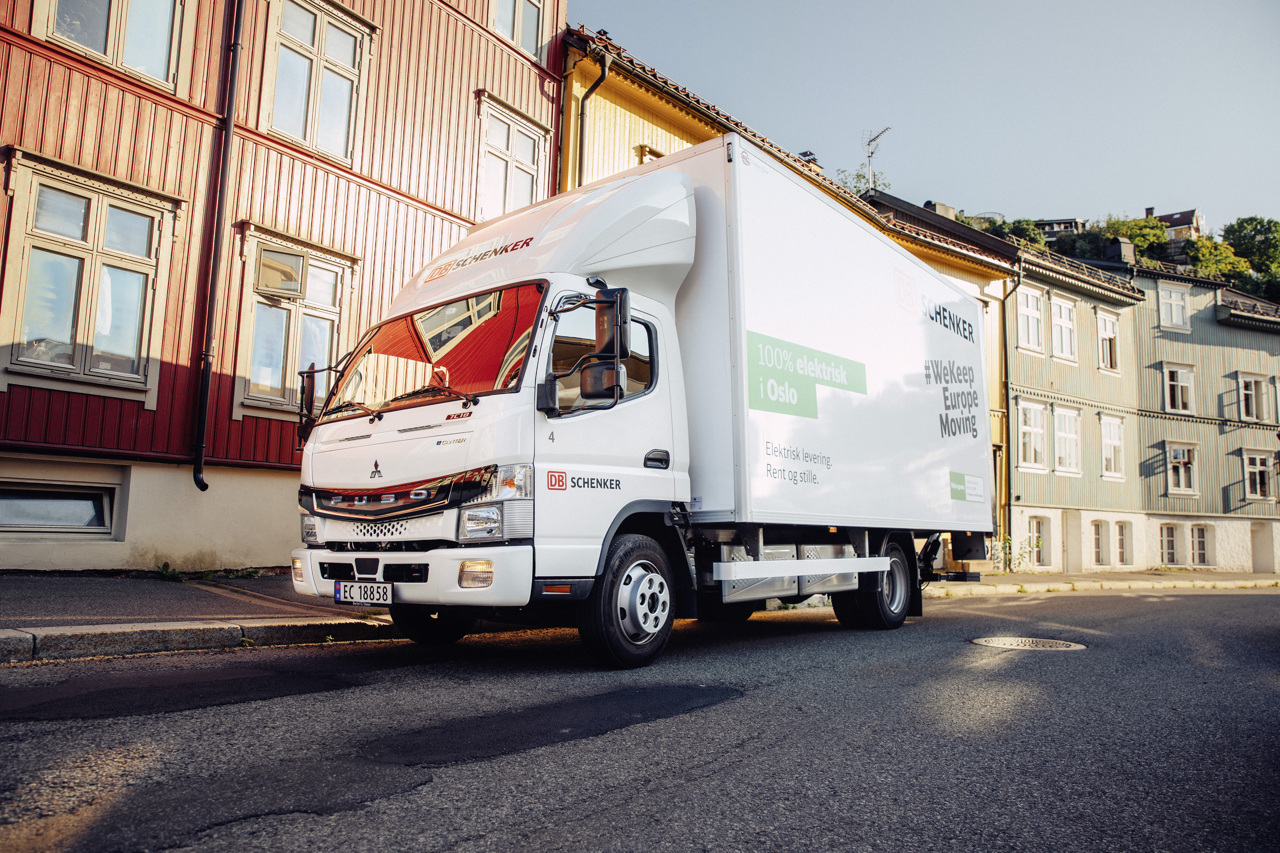 A DB Schenker driver operates an eCanter through the streets of Oslo. DB Schenker is committed to achieving CO2 neutral transport by the year 2040.
FUSO at a Glance
FUSO is a Daimler Truck brand, offering a range of commercial vehicles from light, medium, and heavy-duty trucks and buses, to industrial engines and connectivity solutions for over 170 markets worldwide. A longstanding landmark Japan's commercial vehicle landscape, the brand has leveraged Japanese quality and craftsmanship to set benchmarks in efficiency, safety, and comfort for over 85 years. FUSO is particularly renowned for its offerings in the light-duty segment. The Canter light-duty truck claims the top market share in various markets around the world. In 2017 the eCanter became the first series produced all-electric light-duty truck in Japan, establishing FUSO as a pioneer in eMobility. FUSO promises customers a "Future Together," a bold claim that continues to drive the brand's contributions to safe and sustainable transport.
MFTBC at a Glance
Based in Kawasaki, Japan, Mitsubishi Fuso Truck and Bus Corporation (MFTBC) is one of Asia's leading commercial vehicle manufacturers, with 89.29% of its shares owned by Daimler Truck AG and 10.71% by various Mitsubishi group companies. An icon in the Japanese commercial vehicle industry with a longstanding history of more than 85 years with its FUSO brand, MFTBC manufactures a range of commercial vehicles including light, medium, and heavy-duty trucks and buses, and industrial engines for over 170 markets worldwide. In 2017, MFTBC introduced the eCanter all-electric light-duty truck as a series-production model and in 2019, the Super Great – Japan's first heavy-duty truck fitted with Level 2 Automated Driving Support Technology, a benchmark in the Japanese commercial vehicle market. MFTBC operates under the umbrella of Daimler Trucks Asia, together with its partner organization Daimler India Commercial Vehicles (DICV) in India. This strategic unit allows the entities to collaborate on areas such as product development, parts sourcing and production to provide the best value to customers.
Daimler Trucks Asia at a Glance
Daimler Trucks Asia (DTA), under Daimler Truck AG, is an organizational unit that jointly operates Mitsubishi Fuso Truck and Bus Corporation (MFTBC) – an icon in the Japanese commercial vehicle industry with more than 85 years of history with its Fuso brand – and Daimler India Commercial Vehicles (DICV), an up and rising challenger in the Indian market. DTA adopts a strategic business model that allows its group entities to collaborate on product development, production, exports, sourcing and research activity to provide innovative, cutting-edge and best-value products to customers. DTA's vision is "to develop mobility solutions to embrace a better life for people and the planet," and is aligned with Daimler Truck's purpose "For all who keep the world moving."