Mitsubishi Fuso strengthens employee training programs on e-mobility with a new learning facility in the pipeline
• Additional e-mobility focused training facility for employees to open in Kitsuregawa Proving Ground.
• All owned retail branches within Japan to have a sales and customer services representative with e-mobility training by the end of 2022.
Kawasaki, Japan — Mitsubishi Fuso Truck and Bus Corporation (MFTBC; headquarters: Kawasaki City, Kanagawa Prefecture; President and CEO Hartmut Schick), announces the expansion of its employee e-mobility training programs in Japan. Currently organized out of the "FUSO Academy" training centers in Japan, employee education focused on e-mobility and the all-electric eCanter light-duty truck will soon be strengthened with the creation of a second "eLab" learning facility at the Kitsuregawa Proving Ground.
The new training room at Kitsuregawa will match the existing "eLab" facility in Kawasaki, which houses specialized learning equipment covering electric circuits and electronic architecture inside trucks, but will be designed with a heavier focus on eCanter-specific trainings. Work stations at these "eLab" locations cover fundamental concepts such as voltage conversion, or the mechanics of electric motors and high-voltage interlock circuits and advanced concepts such as high-voltage safety. The Kitsuregawa "eLab" facility is expected to become available for employee training courses starting in 2022.
The creation of the new "eLab" facility is part of MFTBC's push to accelerate the organization's focus on e-mobility, as it strengthens its sales efforts for the FUSO eCanter, and prepares for the eventual electrification of all product segments further in the future. At least one customer service representative at approximately 65 domestic sales branches have also already received trainings on the eCanter, with a remaining 120+ locations expected to be covered by the end of next year. The target for MFTBC is to have e-mobility specialists in all FUSO dealer outlets to cover customer needs in the future. The "eLab" trainings are also a focal point of the eMobility Expert program that aims to build experienced customer service representatives into internal ambassadors for the eCanter truck.
Additionally, EV chargers compatible with the eCanter are being installed in domestic staff training centers to provide regionally based employees and sales staff an opportunity to familiarize themselves with the operational needs of an electric truck. Charging points at three of the five training centers – at the Kawasaki Plant, Shimonoseki Sales Center, and Kitsuregawa Proving Ground – have already been installed, and another two are expected for the Sennan and Osaka Training Centers by the end of 2021.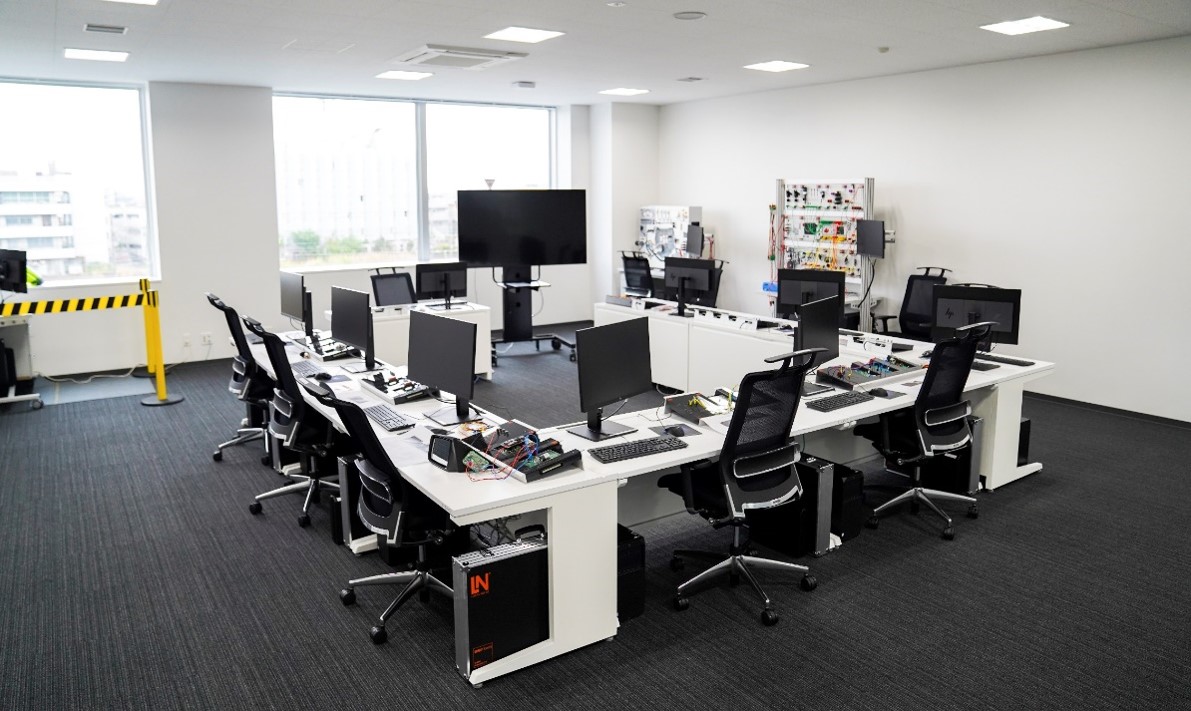 The eLab training facility in the Kawasaki Plant
About the eCanter
MFTBC launched the eCanter in 2017 as the first series-produced all-electric light-duty truck in the Japanese market. Since then, customers in countries around the world, including the US, Europe, Japan, have been operating the pioneering vehicle. In Europe, over 190 units of the locally emission-free eCanter are running across 13 countries, in climates ranging from the winters of Helsinki to the summers of Spain. In Japan, over 70 eCanter trucks are contributing to customer businesses in the Kanto, Kansai, Hokuriku, Sanin, Tokai, and Shikoku regions. Earlier in 2021, the all-electric truck was introduced to Australia and New Zealand, adding two more major FUSO markets to the roster. The eCanter, which falls under the 7.5-ton gross vehicle weight class, ensures a range of about 100 kilometers per charge. The electric drive system carries a motor (maximum output: 135 kW; maximum torque: 390 Nm) and six high-voltage (370 V, 13.5 kWh) lithium-ion battery packs. With quick-charging stations, the vehicle only takes approximately up to 1.5 hours to fully recharge.
FUSO at a Glance
FUSO is a Daimler Truck brand, offering a range of commercial vehicles from light, medium, and heavy-duty trucks and buses, to industrial engines and connectivity solutions for over 170 markets worldwide. A longstanding landmark Japan's commercial vehicle landscape, the brand has leveraged Japanese quality and craftsmanship to set benchmarks in efficiency, safety, and comfort for over 85 years. FUSO is particularly renowned for its offerings in the light-duty segment. The Canter light-duty truck claims the top market share in various markets around the world. In 2017 the eCanter became the first series produced all-electric light-duty truck in Japan, establishing FUSO as a pioneer in eMobility. FUSO promises customers a "Future Together," a bold claim that continues to drive the brand's contributions to safe and sustainable transport.
MFTBC at a Glance
Based in Kawasaki, Japan, Mitsubishi Fuso Truck and Bus Corporation (MFTBC) is one of Asia's leading commercial vehicle manufacturers, with 89.29% of its shares owned by Daimler Truck AG and 10.71% by various Mitsubishi group companies. An icon in the Japanese commercial vehicle industry with a longstanding history of more than 85 years with its FUSO brand, MFTBC manufactures a range of commercial vehicles including light, medium, and heavy-duty trucks and buses, and industrial engines for over 170 markets worldwide. In 2017, MFTBC introduced the eCanter all-electric light-duty truck as a series-production model and in 2019, the Super Great – Japan's first heavy-duty truck fitted with Level 2 Automated Driving Support Technology, a benchmark in the Japanese commercial vehicle market. MFTBC operates under the umbrella of Daimler Trucks Asia, together with its partner organization Daimler India Commercial Vehicles (DICV) in India. This strategic unit allows the entities to collaborate on areas such as product development, parts sourcing and production to provide the best value to customers.
Daimler Trucks Asia at a Glance
Daimler Trucks Asia (DTA), under Daimler Truck AG, is an organizational unit that jointly operates Mitsubishi Fuso Truck and Bus Corporation (MFTBC) – an icon in the Japanese commercial vehicle industry with more than 85 years of history with its Fuso brand – and Daimler India Commercial Vehicles (DICV), an up and rising challenger in the Indian market. DTA adopts a strategic business model that allows its group entities to collaborate on product development, production, exports, sourcing and research activity to provide innovative, cutting-edge and best-value products to customers. DTA's vision is "to develop mobility solutions to embrace a better life for people and the planet," and is aligned with Daimler Truck's purpose "For all who keep the world moving."