FUSO boosts product offering in GCC markets with the
new medium-duty Fighter
・The new Fighter is upgraded with Euro V-compliant emissions technology for a key overseas region
・The truck achieves a 60% reduction in greenhouse gas emissions and 80% fewer particle emissions compared to the previous model*
Kawasaki, Japan — Mitsubishi Fuso Truck and Bus Corporation (MFTBC; headquarters: Kawasaki City, Kanagawa Prefecture; President and CEO: Karl Deppen), announces the introduction of the new Euro V-compliant medium-duty Fighter truck for GCC (Gulf Cooperation Council) markets. With this rollout, both light- and medium-duty segments in the FUSO lineup will be available in the region with Euro V technology.
The new medium-duty Fighter is available in variants ranging from GVWs of 10.4 to 17.1 tons to support a variety of businesses, from consumer goods distribution to construction. Shipped as a built-up (BU) vehicle from MFTBC's Kawasaki plant, it pairs a robust, reliable chassis with the 6-cylinder 6M60 engine that provides drivers with torque, agility, and endurance. The vehicle also delivers improved fuel economy with the optimized engine, achieving a 60% reduction in greenhouse gas emissions as well as a 80% reduction in particle emissions*. Already launched in Qatar, the Euro V Fighter will also be introduced to Saudi Arabia, Kuwait, Oman, and Bahrain within the next few months. The rollout matches the expected implementation of more stringent emissions standards in the region; Qatar plans to mandate Euro V standards starting with 2023 models. The Euro V-compliant light-duty Canter is also already available in the UAE, Qatar, and Oman.
Countries in the GCC have been shifting quickly to integrate sustainability targets into their national strategies. Last year, Qatar unveiled an action plan to combat climate change, with the aim to reduce greenhouse gas emissions by 25% by 2030. Saudi Arabia has also announced plans to reach net-zero carbon emissions by 2060. As economies around the world transition their industries onto more environmentally conscious paths, MFTBC will continue to support these commitments and businesses everywhere with its proven technology.
*figures are based on a comparison for models availble in Qatar, measuring the Euro V medium-duty model against the Euro III medium-duty model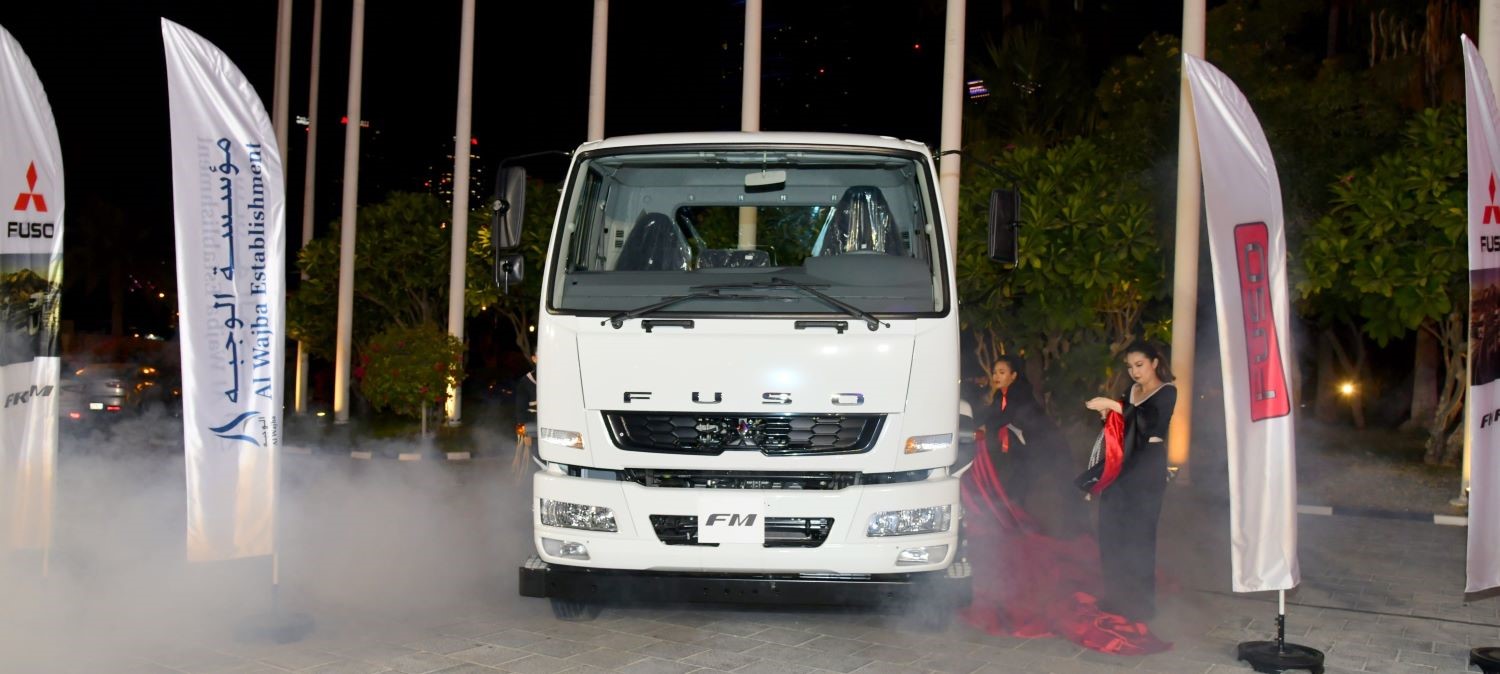 The medium-duty Fighter truck unveiled at the launch in Qatar
MFTBC at a Glance
Based in Kawasaki, Japan, Mitsubishi Fuso Truck and Bus Corporation (MFTBC) is one of Asia's leading commercial vehicle manufacturers, with 89.29% of its shares owned by Daimler Truck AG and 10.71% by various Mitsubishi group companies. An icon in the Japanese commercial vehicle industry with a longstanding history of more than 85 years with its FUSO brand, MFTBC manufactures a range of commercial vehicles including light, medium, and heavy-duty trucks and buses, and industrial engines for over 170 markets worldwide. In 2017, MFTBC introduced the eCanter, the first all-electric light-duty truck in series-production and in 2019, the Super Great – Japan's first heavy-duty truck fitted with Level 2 Automated Driving Support Technology, a benchmark in the Japanese commercial vehicle market. MFTBC operates under the umbrella of Daimler Truck Asia, together with its partner organization Daimler India Commercial Vehicles (DICV) in India. This strategic unit allows the entities to collaborate on areas such as product development, parts sourcing and production to provide the best value to customers.
Daimler Truck Asia at a Glance
Daimler Truck Asia (DTA), under Daimler Truck AG, is an organizational unit that jointly operates Mitsubishi Fuso Truck and Bus Corporation (MFTBC) – an icon in the Japanese commercial vehicle industry with 90 years of history with its FUSO brand – and Daimler India Commercial Vehicles (DICV), an up and rising challenger in the Indian market. DTA adopts a strategic business model that allows its group entities to collaborate on product development, production, exports, sourcing and research activity to provide innovative, cutting-edge and best value products to customers. DTA's vision is "to develop mobility solutions to embrace a better life for people and the planet," and is aligned with Daimler Truck's purpose, "For all who keep the world moving."
FUSO at a Glance
FUSO is a Daimler Truck brand, offering a range of commercial vehicles from light, medium, and heavy-duty trucks and buses, to industrial engines and connectivity solutions for over 170 markets worldwide. A longstanding landmark in Japan's commercial vehicle landscape, the brand has leveraged Japanese quality and craftsmanship to set benchmarks in efficiency, safety, and comfort for over 85 years. FUSO is particularly renowned for its offerings in the light-duty segment. The Canter light-duty truck claims the top market share in various markets around the world. In 2017 the eCanter became the first series produced all-electric light-duty truck in Japan, establishing FUSO as a pioneer in eMobility. FUSO promises customers a "Future Together," a bold claim that continues to drive the brand's contributions to safe and sustainable transport.