Mitsubishi Fuso to exhibit at JAPAN MOBILITY SHOW 2023
"Future Together" will be the concept of the Mitsubishi Fuso booth at Japan's largest automotive tradeshow
The all-electric eCanter, battery swapping technology, and e-mobility solutions to be on display
The newest model of the heavy-duty Super Great will also be unveiled in prototype for the first time
Mitsubishi Fuso Truck and Bus Corporation (Headquarters: Kawasaki City, Kanagawa Prefecture, President and CEO: Karl Deppen, hereafter "MFTBC") will be presenting its product and service offerings at the JAPAN MOBILITY SHOW 2023 that will be held between October 26 and November 5, 2023, at Tokyo Big Sight (Koto Ward, Tokyo).
The JAPAN MOBILITY SHOW 2023 (JMS 2023) is hosted by the Japan Automobile Manufacturers Association (JAMA) and was conceived as the successor to the biennial Tokyo Motor Show. At the JMS 2023, the Mitsubishi Fuso booth will focus on the vision of creating a brighter future with all who keep the world moving, as expressed by the FUSO brand tagline, "Future Together." The collaborative and creative aspect of the tagline will take form in a building block-inspired design motif applied to various aspects of the booth. MFTBC will exhibit actual vehicles, videos, and interactive displays to introduce products and services that contribute to the realization of a sustainable society.

New all-electric eCanter truck with tipper and garbage truck applications
One of the main highlights of the booth will be the latest eCanter and its expanded applications. MFTBC will showcase an eCanter with a tipper body, made possible through the new model's addition of a power takeoff device (ePTO). At the same time, a garbage truck will also be exhibited alongside the tipper truck will be an eCanter fitted for garbage collection that features a specially prepared, futuristic design. The vehicle's smooth surfaces are practical on several levels: blending into urban settings, imparting a clean and clutter-free impression, and also preventing the accumulation of unwanted dust. The eCanter does not emit any exhaust gas when running, and generates little vibration or noise, making it possible to perform work that is considerate of the environment and community needs.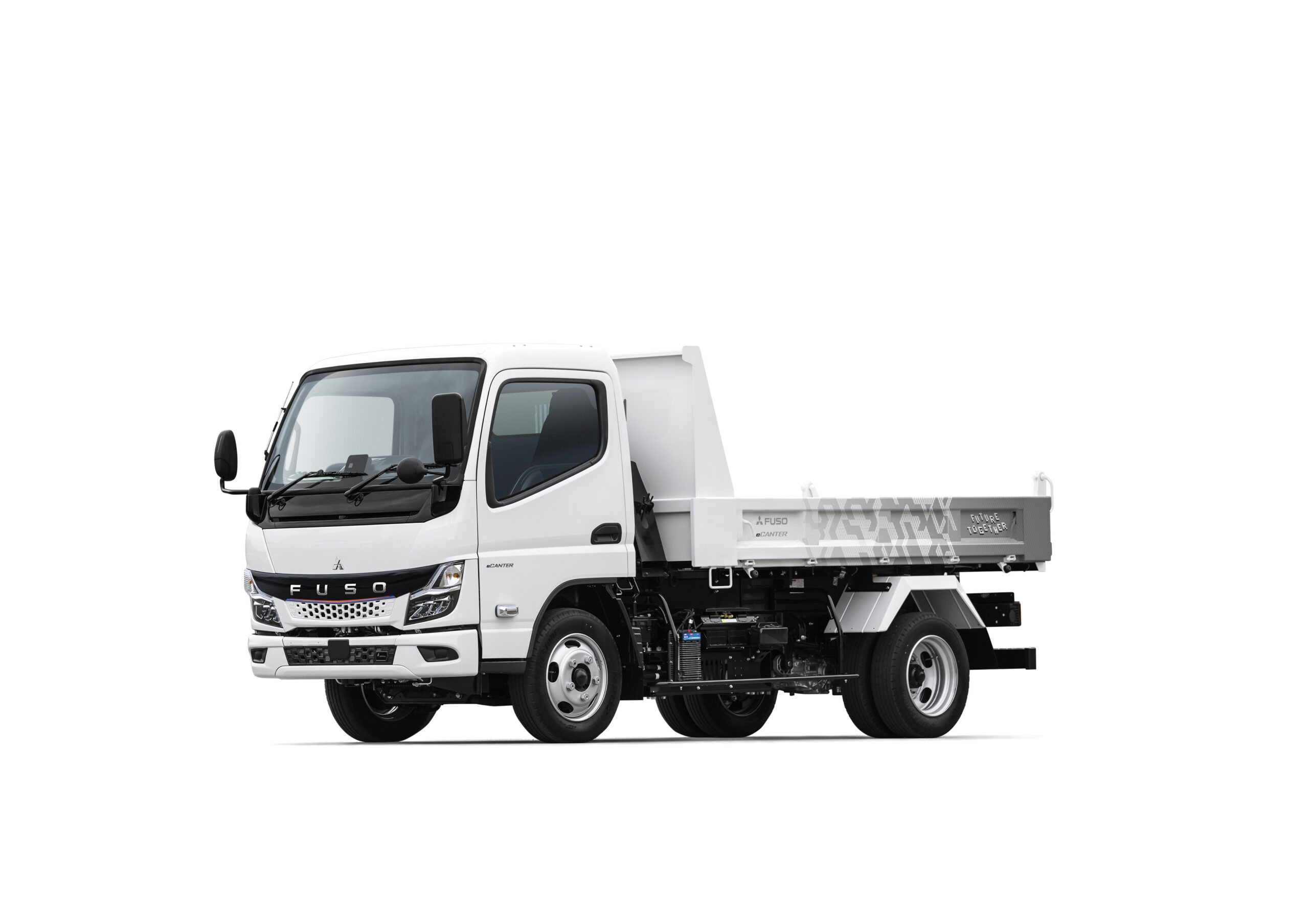 eCanter with tipper application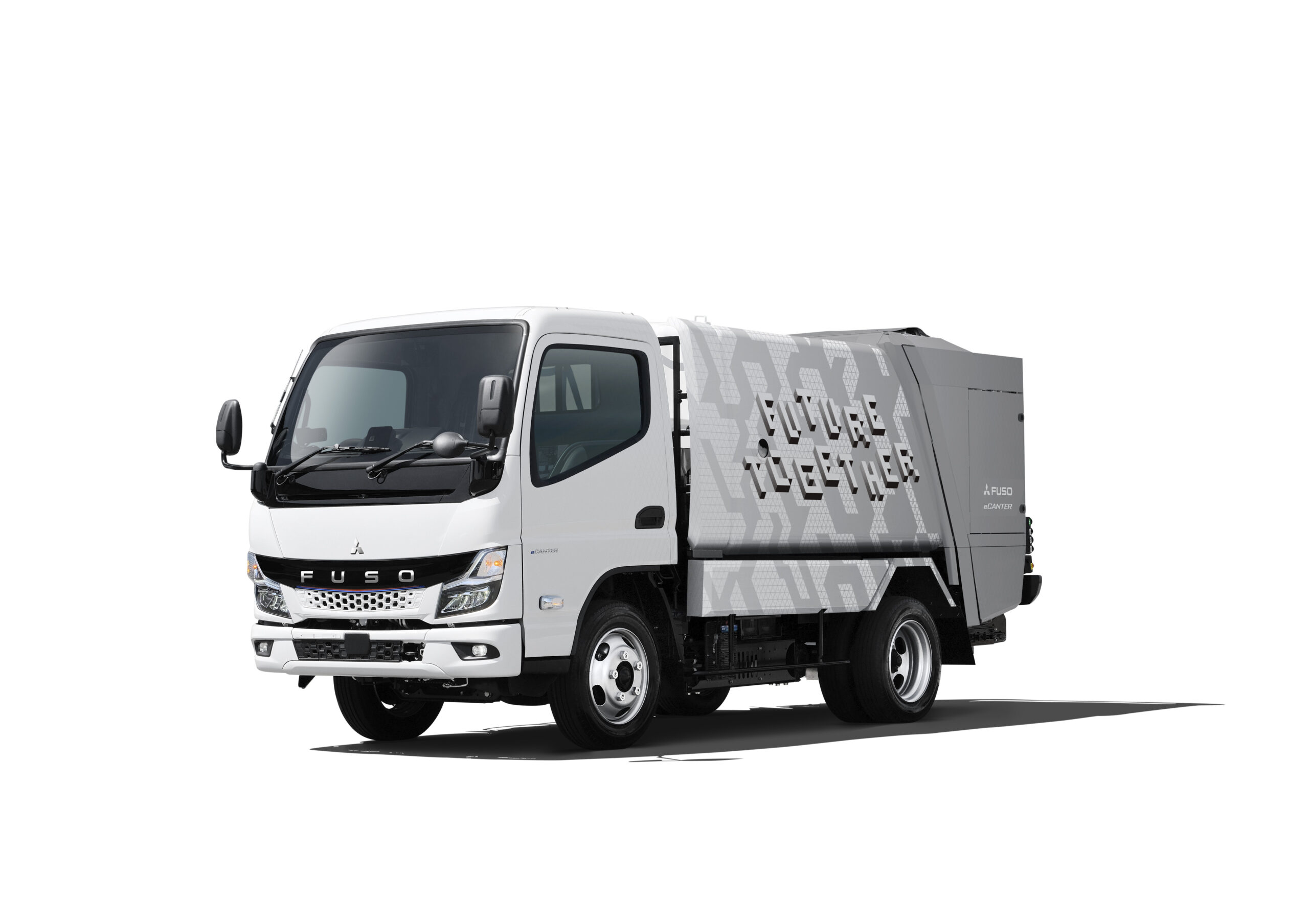 eCanter garbage truck
eCanter test vehicle with battery swapping technology
MFTBC and Ample Inc. (Headquarters: San Francisco, California, President: John de Souza, CEO: Khaled Hassounah, hereinafter referred to as "Ample") are collaborating on a pilot project on battery-swapping electric trucks, using the newest eCanter model. The two companies will install an eCanter with modular batteries that can be automatically exchanged at Ample battery swapping stations, a process that is eventually targeted to take 5 minutes. The test vehicle's trial on public roads is scheduled for this winter in Japan.  At the JMS 2023 booth, MFTBC and Ample will showcase the latest eCanter model with a swappable battery module, and the swapping station.
FUSO eMobility Solutions
Through FUSO eMobility Solutions, MFTBC is developing a selection of customer offerings that can comprehensively support the introduction and operation of EV trucks. At JMS 2023, MFTBC will introduce FUSO Green Lease, a leasing program designed exclusively for the eCanter in Japan, as well as Truckonnect®, a telematics service for vehicle management and monitoring , and other services.
*Truckonnect ® is a registered trademark of MFTBC

Prototype of the new heavy-duty Super Great
MFTBC plans to stage the world premiere of a prototype for the new heavy-duty Super Great truck at JMS 2023.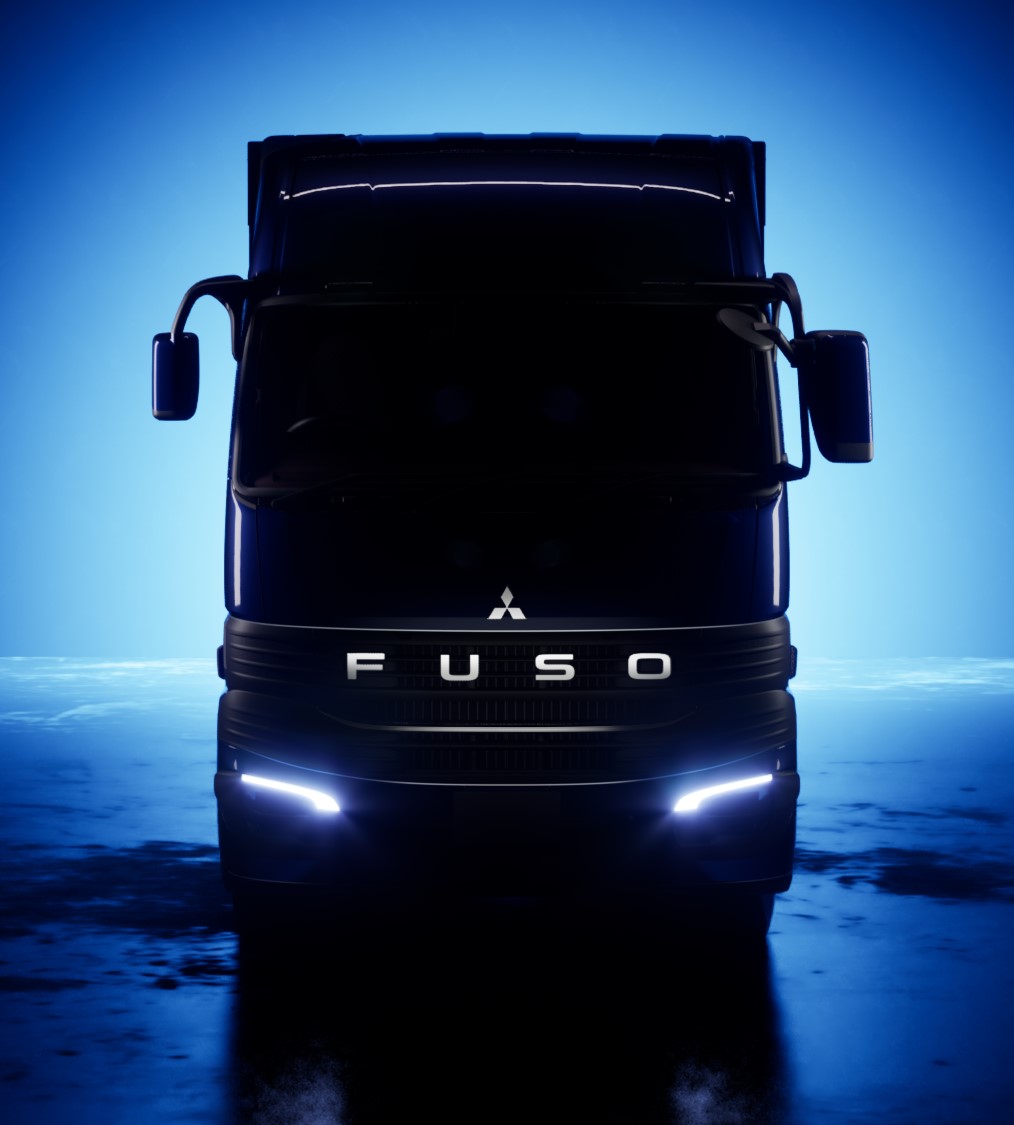 Overview of JMS 2023
Name:
JAPAN MOBILITY SHOW 2023
Event host:
Japan Automobile Manufacturers Association
Event period:
(General public days)
Saturday October 28 – November 5, 2023
Location:
Tokyo Big Sight

11-1, Ariake 3-chome, Koto Ward, Tokyo 1350063

URL:
https://www.japan-mobility-show.com/outline/
MFTBC at a Glance
Based in Kawasaki, Japan, Mitsubishi Fuso Truck and Bus Corporation (MFTBC) is one of Asia's leading commercial vehicle manufacturers, with 89.29% of its shares owned by Daimler Truck AG and 10.71% by various Mitsubishi group companies. An icon in the Japanese commercial vehicle industry with a longstanding history of over 90 years with its FUSO brand, MFTBC manufactures a range of commercial vehicles including light, medium, and heavy-duty trucks and buses, and industrial engines for approximately 170 markets worldwide. In 2017, MFTBC introduced the eCanter, the first all-electric light-duty truck in series-production and in 2019, the Super Great – Japan's first heavy-duty truck fitted with Level 2 Automated Driving Support Technology, a benchmark in the Japanese commercial vehicle market. MFTBC operates under the umbrella of Daimler Truck Asia, together with its partner organization Daimler India Commercial Vehicles (DICV) in India. This strategic unit allows the entities to collaborate on areas such as product development, parts sourcing and production to provide the best value to customers.
FUSO at a Glance
FUSO is a Daimler Truck brand, offering a range of commercial vehicles from light, medium, and heavy-duty trucks and buses, to industrial engines and connectivity solutions for over 170 markets worldwide. A longstanding landmark in Japan's commercial vehicle landscape, the brand has leveraged Japanese quality and craftsmanship to set benchmarks in efficiency, safety, and comfort for 90 years. FUSO is particularly renowned for its offerings in the light-duty segment. The Canter light-duty truck claims the top market share in various markets around the world. In 2017 the eCanter became the first series produced all-electric light-duty truck in Japan, establishing FUSO as a pioneer in eMobility. FUSO promises customers a "Future Together," a bold claim that continues to drive the brand's contributions to safe and sustainable transport.
About the eCanter
The eCanter is the Japanese market's first series-produced, all-electric truck developed by MFTBC as a solution to urban environmental issues such as noise, exhaust gas, and CO2 emissions. As the eCanter is locally emission-free with its electric motor and produces less noise and vibration compared to conventional diesel-powered vehicles, it is particularly suited to inner-city routes as well as operations during late night and early morning hours. After the launch of the first model in 2017, MFTBC released an improved model with enhanced safety equipment in August 2020. Since its launch, the truck has been chosen by customers in Japan, Europe, the United States, Australia, and New Zealand. In March 2023, MFTBC opened orders for the fully remodeled eCanter with a significantly expanded number of variants to cater to diverse business needs. The new model is also scheduled to be rolled out in additional overseas markets.